You've just bought some cute onesies and after first wash and tumble drying they shrank? In this article I'm going to share my best tips for drying baby clothes without shrinking or wrecking them.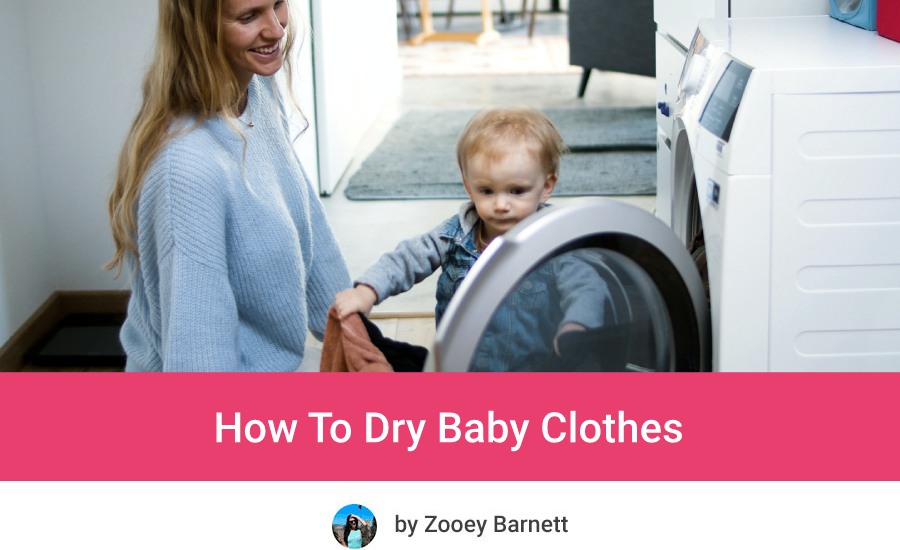 Baby clothes requires special care. In many cases parents don't pay attention to the fabric type or care instructions when they buy all those adorable onesies, pajamas and tees. Another problem is drying: some baby clothes are not tumble dry-safe and require air drying.
Some moms wash baby clothes in hot water or toss them in a dryer on high heat to boost disinfection. Unfortunately high temperature can only damage baby's clothing delicate fabrics.
The best way to avoid shrinking, snaps and holes in baby clothing during laundry process, is to:
Follow care instructions that you can find on laundry label tag
Wash baby clothes in cold water, on gentle cycle
Air dry baby clothes
Tumble dry them on low heat, but only if they are dryer-safe
How Do You Dry Baby Clothes Without Shrinking?
If you're really short on time, you can toss them in a dryer. Most baby clothes can be tumble dried, but only on low heat. Don't use dryer sheets, instead you may want to get some dryer balls (made from wool or rubber).
However, keep in mind that the best way to dry baby clothes is to let them air dry in the sun. Sunlight refreshes clothing and kills germs. Moreover, with white clothes it can work a bit like a bleach and make them appear whiter.
If you're worried that it will take a lot of time to air dry baby clothes, you need to know this one life-saving hack that I found on some Facebook moms group.
Instead of folding baby's onesies over a peg on the drying rack, button them up over the peg for drying – you don't have to use all the buttons, one will be enough (this will save you some space on the drying rack or clothes line for more clothes).
If baby clothes are left to hang freely, they dry 2x faster!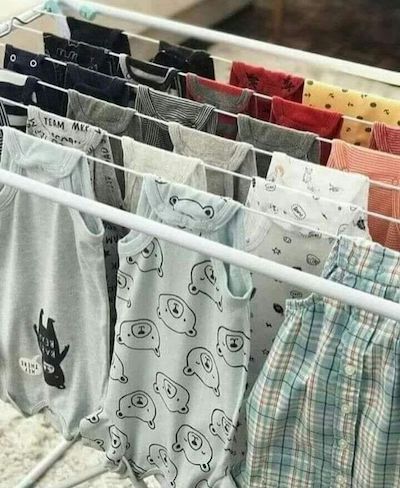 Is It OK To Put Baby Clothes In The Dryer?
In general, it is OK to put baby clothes in the dryer, using low heat setting.
However, make sure to check care labels for each piece of baby clothes if it's safe to tumble dry them. If the label says it is not safe, avoid putting baby clothes in the dryer, because they may shrink.
Why Do Baby's Clothes Shrink In Washing Or Drying?
One of the reasons for baby's clothes getting shrunk, is using hot water for washing or high heat for drying.
Moreover, some of the cheaper baby's clothes are made from loosely woven fabric which is more likely to shrink if you tumble dry it.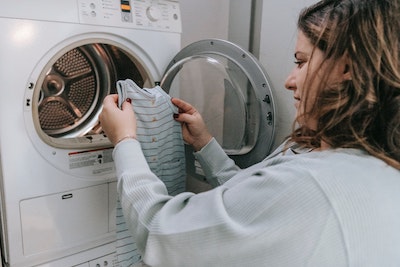 Best Tips For Washing Baby Clothes & Drying Them Without Shrinking
Use delicate wash cycle and cold water for wash baby clothes. If you want to avoid shrinking, use low heat cycle on the dryer. If your baby's clothes are not recommended to be tumble dried, leave them for air drying.
Here are some of the best laundry tips:
Before washing, identify the type of fabric. For example: wool clothes will definitely shrink in hot water.
Read the care label stitched inside the clothes and follow the instructions to avoid any damages to the fabric.
Use delicate cycle.
Use baby safe detergent that is free of harsh chemicals (because baby's skin is sensitive and their immune system is still developing.
When you're washing other baby items, like blankets or wrap carriers, also use special laundry detergent that is gentle and won't cause irritation on baby's skin. By the way, here you can check my tips for washing baby wraps from Solly Baby.
Avoid fabric softeners, because they contain perfumes and chemicals that can irritate baby's delicate skin.
Remove your kid's clothes from the dryer while they are still a bit wet and let them air dry in ventilated room (or even better – outside).
Once the laundry is fully dried, fold it and store in the closet, don't leave it on the clothes line.
Avoid high heat drying – I know that high temperature makes laundry dry faster and you'll be having loads of laundry with an infant, but it's not worth it to damage those sweet onesies.
It's best to line dry diaper inserts and hang dry delicate clothes (like dresses with lace).
Use wool or green dryer balls – they are non-toxic, reusable, help to get rid of static and avoid shrinkage. They are particularly useful when you're washing bigger items like baby blankets which may get staticky in the dryer. Wool dryer balls also help to prevent wrinkles. This is a safe chemical-free alternative to dryer sheets.
Do baby-only loads of laundry so it doesn't get in contact with harmful chemicals from other laundry.
Because babies are messy creatures, follow this one rule: always wash after wear. Babies drool and snot, and even if those fluids are not visible, they are there!
For small baby clothing items like socks use a delicates bag.
Wash your baby's clothes prior to first use, especially if your little one has sensitive skin or eczema. Remember that between the warehouse and your home, new clothes and hand-me-down clothes could pick up dirt, dust and other irritants that can cause skin rashes or allergic reactions.
Remove stains before washing and drying baby clothes – otherwise the stains will be conserved. Check out the best parenting hacks for removing stubborn stains (like baby oil or poop stains).
Choosing The Right Baby Detergent
Lots of parents are unsure if it's safe to wash baby clothes with the same detergent as they use for their own clothes. The short answer is no.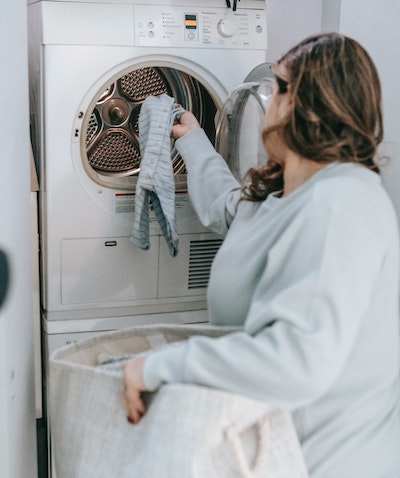 Because newborn babies have thinner and more sensitive skin (prone to irritations and rashes), you need to find a laundry detergent that is free of chemicals and thus less likely to irritate their skin. Look for non-toxic and fragrance-free gentle detergent (you may want to check baby-safe brands like Dreft or Babyganics).
Even when your kiddos get older, I recommend still using special laundry detergent that is safe and free of synthetic additives (no bleach, no fabric softener, no fragrance – I'm pretty sure you don't want these nasty phthalates anywhere near your child!).
Can I Use Dryer Sheets For Baby Clothes?
Some moms recommend adding dryer sheets to avoid baby clothes shrinkage in tumble dryer. However, I don't think it's a safe solution, even if you choose non-scented dryer sheets.
In general, dryer sheets contain harsh chemicals and fragrances, and they leave a film on the clothes. This can lead to skin irritation or even allergic reaction, because babies have very sensitive skin.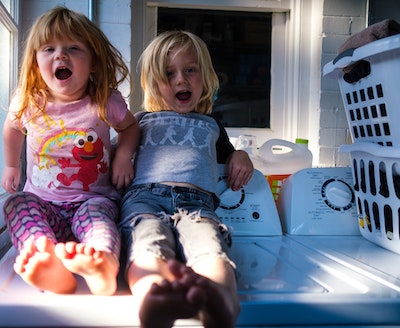 There's one more reason not to use dryer sheets for baby clothes: if your child's clothes are flame retardant*, dryer sheets will wreck them.
*Newborn clothes for sleeping don't need to be fire retardant, however children's sleepwear for age 9 months through size 14 must be flame resistant or tight fitting, according to current safety regulations in the US1. What's more, clothing with flame retardant requires special cleaning procedure (for example using fabric softener, which separates fabric's fibers to make it feel more fluffy, increases its flammability)2.
The best dryer sheets alternative is using wool or rubber dryer balls which also help to keep baby clothes less staticky and wrinkled, and prevent shrining.
---
The purpose of this article is informative. It's not a substitute for professional medical advice or medical care. Remember: safety first! Consult your doctor/pediatrician in case of any doubts. The author of this article does not accept any responsibility for any liability, loss or risk, personal or otherwise, incurred as a consequence, directly or indirectly, from any information or advice contained here.