There's always a first for everything – and since you are here, you'll likely be flying with a baby for the first time soon. It's also very likely that you are already feeling quite nervous and wondering how everything will turn out to be.
Now, being totally forthright with you, babies can be so unpredictable. That's to say that the flight can take any direction.
But with enough and timely prep work, we believe flying with baby can be less bumpy and pleasant for the 2 of you and everyone else on the plane.
Here are a set of strategies and tips for flying with a baby for the first time.
Flight Advice
Compare A Couple Of Airlines
Your choice of airline can make or break the flight whether you are flying with a young family member or not. Policies regarding flying with babies vary from one airline to the other. So do your homework and hunt for a carrier that will make your flight as much easy as possible.
To begin with, inquire whether your target airline has a minimum age requirement for babies. Although some don't have any minimum age restriction as long as you have a pediatrician's note, some including United Airlines will only allow you to fly with a baby at least 7 days old. Others like American Airlines allow you to fly with a 2 days old baby, but for a baby under 7 days old you will need special passenger medical form filled out by your physician.
Secondly, ask whether the airline will require any form of identification for a lap child or proof of age. If so, which documents are required? As crazy as it sounds, most US-based airlines and pretty much all international airlines will technically require proof of your baby's birthday.
In case this is a requirement, you want to be prepared with the right documents or else you'll have to purchase a seat for your little traveler. Note that same-day ticket prices are often astronomical assuming that they are even available.
Also keep in mind that for international flights, your baby will require a passport of her own whether she is in the lap infant phase or you've secured a seat for her.
Be Strategic On Your Travel Date And Time
If you can swing it, book your flight on the least busy days of the week usually Tuesdays, Wednesdays, and Thursdays.
To avoid a delayed takeoff – something that you really don't want when flying with baby, Forbes advises flying early. The first flights of the day are less prone to delays compared to afternoon and evening travels.
However, for a long haul flight, you may want to consider flying at night especially if it coincides with your baby's bedtime.
Choose Your Seat(s) Wisely
If the airline allows you to pre-select your seat when purchasing a ticket, move heaven and earth to get a seat at the front of the plane. Although sitting at the back keeps you closer to the toilets- which is great for diaper changes- the back of the plane tends to have a lot of noise and vibrations which might make even a mellow baby crabby.
On the same note, if you are flying alone with the baby on your laps, you might want to choose the seat at the window. While this might make movements in and out of the seat a little bit difficult, it is the best position if you prefer some privacy when nursing. Also, you don't want your cutie's legs to dangle in the aisle where the cabin crew is constantly moving back and forth.
If you'll be traveling with a partner, though, you can try to be smart by selecting a window and aisle seat and then hope that the middle seat will go empty. Even if it gets occupied, chances are that the person will prefer switching seats to avoid being inconvenienced as you pass the baby between the 2 of you.
Reserve A Bassinet Or Snag A Spot For Your Baby's Car Seat
Also known as skycots and cots, a bassinet can add to your odds of surviving a long flight with a baby. They are usually limited on most airlines, though, and, therefore, very popular among traveling families.
The rules for bassinet use vary between airlines but they are all subject to availability. If you'll be traveling on Air France, for instance, you'll need to make a bassinet reservation request at least 48 hours before departure and phone in to check availability.
With American Airlines, bassinets are only available at the gate and on a first-come, first-serve basis. In addition, skycots are only available in the bulkhead area and on certain aircrafts only.
Generally, there's no guarantee that you'll get a bassinet. In addition, we are not great fans of them as you are most likely going to be limited to the bulkhead section where you are not allowed to have your carry-on baggage with you during takeoffs and landing.
In that case, and if your budget allows for additional airfare, you may want to purchase a seat for your baby where you can install a car safety seat. On this note, remember to brush-up on how to install the car seat properly on a plane.
Packing Advice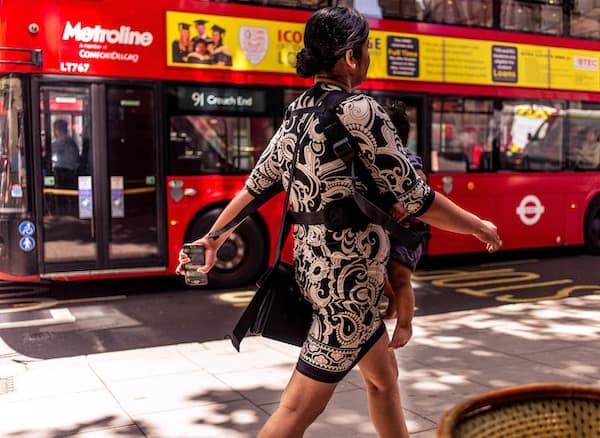 What Gear To Bring When Flying With A Baby
When it comes to traveling with a baby, the consensus of packing light does not perfectly apply. However, you still need to adhere to your airline's baggage regulations to avoid last-minute inconveniences and unforeseen charges.
So, be sure to contact your airline and enquire about what qualifies as a carry-on and what needs to be checked at the gate.
An important note here is that most airlines don't allot for your baby's luggage unless you purchase a ticket for them. Even with a separate seat, most carriers offer a half baggage allowance to baby's airfare.
You'll need to bring a stroller, a baby carrier, and/or a car seat. If you're traveling with at least 6 months old baby, an agile stroller such as this GB Pockit is necessary to minimize most of the stress that comes with moving around the airport.
Baby carrier that's allows you to wear the baby stress-freely will also come in handy as the stroller goes through the x-ray conveyor belt. Having your hands free at the airport is critical considering the numerous times you'll need to fish out your documents and receive them back. I invite you to check my list of the best baby carriers – you should definitely read it before your first flight with your baby.
Having your baby in a car seat creates a much safer and comfortable environment for the baby – and this may increase their likelihood of sleeping longer.
Well-Stocked Carry-On
It's hard to emphasize enough on the importance of a having a smartly and well-stocked carry-on bag. When we say well-stocked, we mean having more diapers (ideally one for each hour you'll be airborne and one for every hour spent at the airport), wipes, lots of healthy food, snacks, and drinks, and spare clothing for you and baby.
It's advisable to get a backpack for a carry-on to ensure that your hands are as free as possible. While we are still at it, the backpack itself should weigh close to nothing so it won't add to the weight of the stuff.
Of course, you also need to bring along a couple of toys, crayons, and teethers to sooth and divert the baby. A great trick here is to buy a few inexpensive toys and only let the baby have them once you board the plane. These are bound to peak their interest and hold their attention for longer.
At The Airport
How Early Should You Arrive At The Airport When Flying With A Baby?
Make sure to arrive at the airport early enough. The standard arrival time when traveling without kids is 2 hours for domestic flights and 3 hours for international flights.
However, considering all the hassle and stuff that babies come with, it's best to add an hour and arrive 3 hours earlier before a domestic flight and 4 hours before an international flight, if it's your first flight with a baby. Once you master it, you won't need that much time.
Arriving well before the standard time saves from the stress of weaving your way through the crowds and it's also much safer for the baby.
If you'll be bringing some breast milk, soya milk, formula, and food, the good news is that these are not subject to the 3.4-ounce restriction on all liquids. There are some guidelines, though.
The Transportation Security Administration (TSA) advises that these too are subject to security screening. You'll be required to inform an agent at the start of the screening process that you have baby food and liquids in your carry-on bag.
Boarding
Several airlines allow passengers with children to board first including American Airlines, Alaska Airlines, and Hawaiian Airlines. Boarding before the rest of the passengers can be quite a convenience for a family with a little passenger – but there is a caveat to it.
Keep in mind that after all the passengers have boarded, the plane will still need to taxi and wait in a queue to be cleared for take-off. All these processes can take up to 45 minutes- enough time for a baby who is confined in a car seat or bassinet to start getting antsy.
To minimize the time that your baby will spend in a cramped seat, you could have one family member board first with the carry-on bags and get the seat restraint system installed on the plane seat. Meanwhile, the person with the baby waits in the departure lounge with the rest of the passengers until regular boarding time.
If you are traveling alone, ask the agent at the gate to assist with fastening the car seat in the plane before others start boarding. Also, ask them to help you place your carry-on in an overhead bin.
Important tips before boarding:
Change your baby's diaper so you won't need to do it immediately after boarding (hopefully)
Don't feed the baby to ensure that she drinks some liquid during take-off
Inflight Advice
Take-Off And Descends
During ascent and descents, the air pressure in the cabin tends to change significantly thereby leading to pressure and popping in ears. While it's easy for adults' ears to adjust, babies may experience pain debit to their narrower Eustachian tubes.
To prevent this discomfort and pain, have the baby breastfeed, feed from a bottle, or suck on a soother (pacifier). This promotes swallowing and resultantly keeps the ears open.
Relax The Rules A Little
Being confined in an airplane is not so comfortable for babies and there are a lot of reasons why they'll want to throw tantrums and bawl. They are overwhelmed by the new surroundings, lots of people, different smells, and noises. They are also bound to get tired especially on long flights so they panic and cry.
To save your sanity (and that of other passengers), you might want to loosen up the rules on screen time a little bit. This is also a good time to allow them that treat that you've always withheld.
Final Words… Brace Yourself Mentally
Traveling with a young one is more or less of a head game; if you have a negative mindset and are nervous that everything will go wrong, then it's very easy for things to get worse.
So, be as calm as possible and roll with the punches. If the baby starts crying and won't stop, don't panic. Offer a favorite toy to distract him/her or try walking him/her up and down the aisle once you are in air. If he/she's inconsolable, take him/her to the back of the plane. The hum of the engines may help in masking their cry and even attract their attention.
And don't worry so much if the baby just won't stop screaming. Provided you are putting some effort to calm the baby, most passengers will have nothing but sympathy for you. Some may actually want to lend a helping hand. The cabin crew is also very likely to come to your rescue and try to mitigate the problem.
Finally, try not to give a heck about selfish passengers who decide to get downright rude on you. They definitely don't know what it is like to fly with a baby.
---
Before a flight with an infant, visit your doctor and make sure your baby is ready for the trip. This article is not a substitute for medical advice, its purpose in only informative.