Living in a small house has several big benefits. It saves you money (especially if you don't have it), it's easier to customize, and it also has lower maintenance costs.
Adding a baby to the mix, however, can easily lead you to the brink of losing your sanity. Although babies naturally don't occupy lots of space, you can't say the same about the stuff they come with.
But wait. Are we suggesting that you have to move to something bigger once you start planning to get a baby? No. With good strategy and planning, it's possible to make room for an additional family member with his/her belongings in your den and still find lots of fun in it.
Here's how to do it.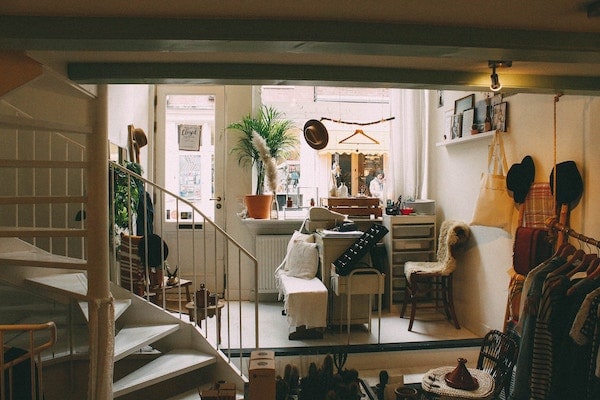 Invest In Space-Saving Baby Gears
With the knowledge that it's baby's stuff that consumes most space in your teeny-tiny house, it makes sense to consider compact gears that save space as much as possible. And the good news is that the market is full of baby items that are meant for this purpose.
For instance, a sleigh crib is going to be up there in your newborn's registry. But although essential, typical large size wooden cribs occupy a lot of space besides being difficult to move around every so often.
A great alternative to this would be a cozy bassinet that doesn't take up a lot of space. It offers a perfect snug spot for the kid and can be used for up to 5-6 months.
Keep in mind that some strollers offer bassinets that are approved for overnight sleep! It may be a smart solution to invest in a stroller with bassinet (pram) and use it for strolls, as well as for sleeping (with special foldable stand).
Travel cots- although popular among parents who travel with the baby a lot- can also be used to create a sleeping area for the baby at home. These can be easily folded away when not in use.
There are, for instance, affordable 2in1cots, that can be used as crib for sleeping at night and a play-yard when the baby is out and about.
Some also come fitted with a removable changing table which will save you both money and space.
Buy What You Need Now
Your baby will demand new stuff with every developmental stage. And it will be very tempting to stock up on things they'll need later in life especially if they are on sale now.
While this will save you some dollars, the hassle of maneuvering around idle baby furniture crammed in the small space in your house won't be worth it. If anything, it only makes the room hard to use and appear congested.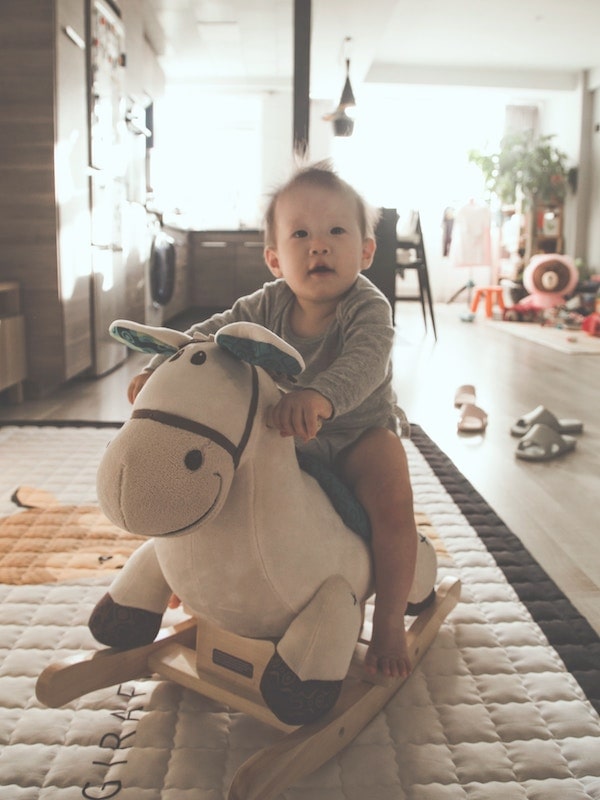 Create A Nursery & Office Combo
If you are a work-from-home parent, creating the baby's nursery in your office is an ingenious solution to not only saving space but keeping watch of your baby at all times.
While it may seem quite daunting to intertwine your working space with childcare, there are a lot of ways you can go around it without making your office scream 'the kid lives here' at first glance.
Begin by creating a common ground in terms of color combination. For instance, you could think of white, grey, and yellow and some pops of black. This will create a neutral environment for your office while being soft and sweet for the baby.
Next, go ahead and doll up the shelves and desktop space with baby stuff and toys that blend well with your office furniture.
Get More Storage Bins, Baskets & Boxes
The key to freeing up more space in your small house is having everything in its place. And this is where bins, baskets, trays, and boxes come to picture.
You really don't need to spend so much on these. But it's important to identify models with an incredible intersection of functionality and aesthetics.
Importantly, consider stackable bins or baskets than can hang from the ceiling. These will greatly help you utilize your vertical space thereby leaving you with more usable real estate. You might also want to go with storage solutions that can go under your bed and crib.
Don't forget to label the bins and baskets, by the way. This way, you won't have to get all the boxes out to get what you want.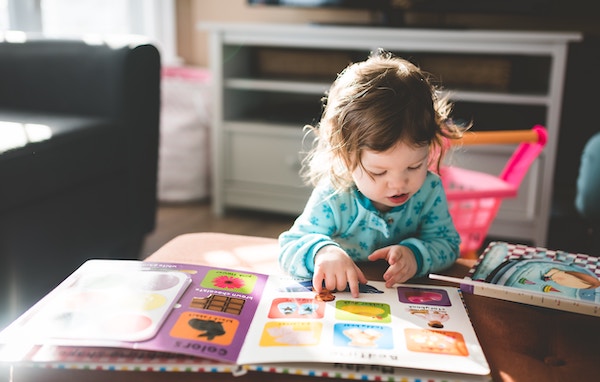 Be Creative With Your Corners
It's very common to have unutilized corners if you have more than enough space in your house. But if you are getting ready to live with a baby in a small house, then you got to come up with brilliant ideas for those dead corners.
If you have to add a self-standing diaper changing station to your baby furniture, then consider getting a corner table like this one. You could also build one and save the money for other stuff. Besides saving you space, a corner changing station positions the baby right in front of you thereby making changing soiled diapers much easier and free of messes.
On the other hand, you may want to skip the changing table at all, because there is other space-saving solution. If you have a big and sturdy drawer chest (or plan on getting one for storing baby clothes and toys), you can add a removable changing pad on top of it when needed, and store it under the bed or in a closet when not in use.
You could also use an unused corner in your house as a family command center with mail slots, calendar, and message board among other things.
Dead corners can also be brought to life with custom-built storages for extra bins, baskets, and boxes that hold all the clutter at one place.
Avoid The Giant High Chair
A high chair can be one of the biggest space consumers in a nursery even worse if it's the traditional model that comes fully packed with a reclining function and a tray to eat off.
If you don't mind compromising on these extras, a portable booster seat (like the one in the picture below) could be a great alternative. These seats cost a fraction of the full-sized models and attach to the counter or the family table. That way, you won't need extra space for an additional chair at the dining area.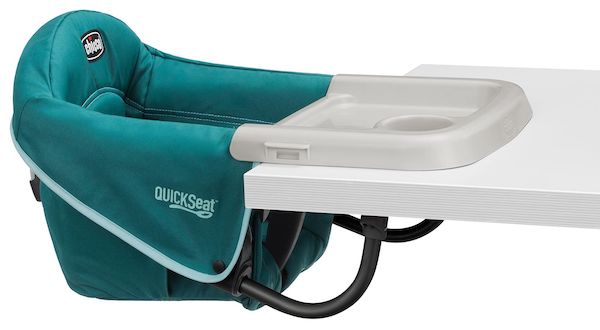 Actually, if you are super tight on both space and budget, you could do away with the high chair and booster seat altogether.
Provided the baby can sit comfortably without assistance (6+ months), you can have him/her sit on a washable blanket on the floor for meals. It's not the most appealing idea, but it leaves the available floor space with one less furniture to accommodate.
Be Sure To Get Compact Stroller
How could I forget this? A strong, stable, and safe stroller can make all the difference when it comes to exploring the world with your baby.
But city dwellers with shortage of space have another important consideration when purchasing these travel solutions: foldability. The market has tens of options in this category, especially lightweight strollers are top recommendation, because they offer most compact fold size.
Final Words
Living in a one-bedroom apartment or studio flat can be quite challenging especially if you have a young member in your family. But kids don't need big houses or lots of the stuff that we bombard them with.
The key to living in a small house with a baby is thinking big in terms of space usage and shopping around for other items that fit your lifestyle and home.