Being postpartum in the summertime can be tricky. It may be hard to feel confident in clothes that show some more skin than other seasons. I had two of my three babies during the summer months, so I know how important it is to stock up on the right clothes for the postpartum recovery. In this article I'm going to share my favorite postpartum summer outfits that will keep you feeling cool and comfortable, while still being nursing-friendly and super flattering.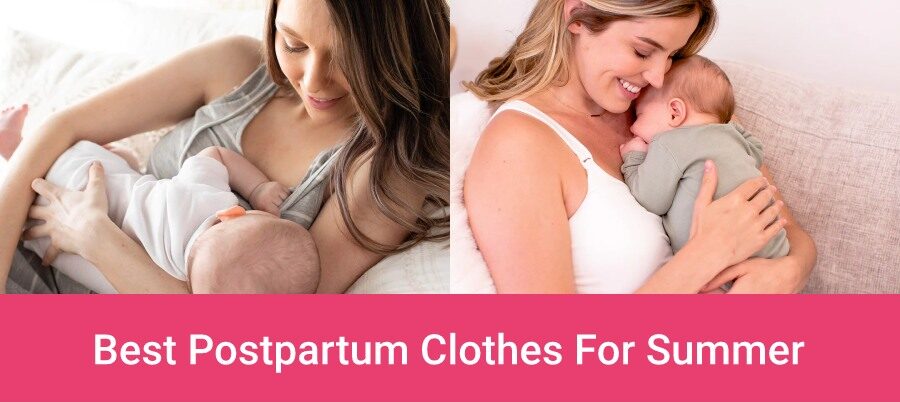 Medically reviewed by Raye Mariano – RN, BSN, BA
If you've just had a baby then your pregnancy journey is now over and so begins your postpartum one. Whether you had a vaginal delivery or c-section, either way your body has just been through a lot. I mean, you just grew and birthed a whole human! Your beautiful baby is finally here but you're most likely not feeling like your old self yet.
Even though you're not pregnant anymore, you might still look pregnant. It could actually take 6-10 weeks after giving birth for your uterus to get back to its pre-pregnancy size1. So, you might either still have that bump or maybe you have loose skin in the stomach area, aka the postpartum pooch.
On top of that, during those first few weeks (called the fourth trimester) you might still have some pregnancy side effects – tiredness, swelling, urinary leakage, back pain, plus stitches that are healing, breasts that are leaking, and a uterus that is still bleeding. You're probably sleep-deprived and maybe hormonal.
As a new mom with so much focus and energy going towards your baby all the time, it's easy to overlook how you yourself might be feeling once the baby comes. Don't forget you have to take care of yourselves too, postpartum moms!
Getting the right postpartum clothes can not only help the "new you" feel better but also make you way more comfortable during the recovery.
This article is not a substitute for medical advice or consultation. It contains affiliate links.
Best Features
❤️ Easy nursing access
❤️ Not too tight, not too baggy
❤️ Comfy for lounging at home and cute for outings with baby
✖️Better to avoid light colors because it's harder to get breastmilk stains off
❤️ Clip-down clips give you quick access for breastfeeding
❤️ Extra length helps to cover postpartum pooch
❤️ Holds up well through frequent washing
✖️Runs a bit large
❤️ Breathable bamboo fabric is perfect for warm weather
❤️ They doesn't cling to your skin or ride up
❤️ You can keep them under the belly or at your waist
✖️A bit on the higher end
advantage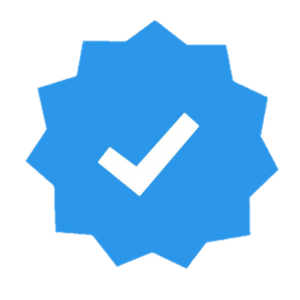 Recommended by 87% of verified buyers!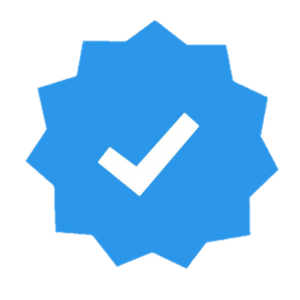 Recommended by 80% of verified buyers!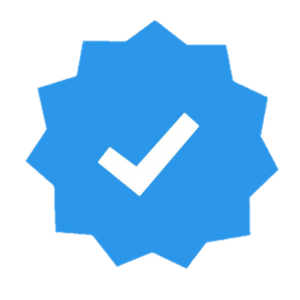 Recommended by 85% of verified buyers!
Moms' Favorite Choice
Best Features
❤️ Easy nursing access
❤️ Not too tight, not too baggy
❤️ Comfy for lounging at home and cute for outings with baby
✖️Better to avoid light colors because it's harder to get breastmilk stains off
advantage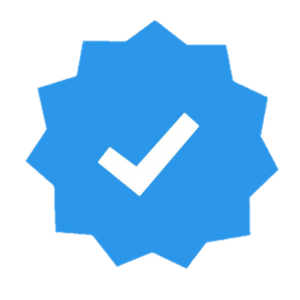 Recommended by 87% of verified buyers!
Best Features
❤️ Clip-down clips give you quick access for breastfeeding
❤️ Extra length helps to cover postpartum pooch
❤️ Holds up well through frequent washing
✖️Runs a bit large
advantage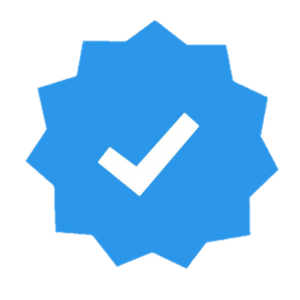 Recommended by 80% of verified buyers!
Best Features
❤️ Breathable bamboo fabric is perfect for warm weather
❤️ They doesn't cling to your skin or ride up
❤️ You can keep them under the belly or at your waist
✖️A bit on the higher end
advantage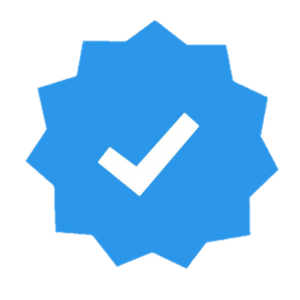 Recommended by 85% of verified buyers!
Last update on 2023-09-30 / Affiliate links / Images from Amazon Product Advertising API
With everything going on in these first few weeks, try not to worry about "getting your body" back or losing the baby weight right away. Instead, focus on choosing maternity wear that'll make your life easier, be comfortable, and also make you feel good about yourself.
Having summer baby means that you will need to add a few essentials to your wardrobe that will keep you from sweating and overheating, as well as keep you comfy all the way through postpartum recovery and ensure you have easy access to your boobs when it's time for nursing (or pumping), as well as quick access to your private parts so you could easily take care of yourself "down there".
What Are The Best Clothes To Wear Postpartum During Summer?
When you are looking for the right postpartum clothes for summer, the most important thing is your comfort. You want to look for soft, breathable fabrics and loose, flowy styles. You don't want to wear anything too tight right now, especially if you have a c-section incision. Also, outfits with elastic waistbands or adjustable drawstrings are a lifesaver so you have some extra room in the tummy area.
You won't need to get a whole new postpartum wardrobe, but it's important to have a few the essentials.
Here's my list of summer postpartum clothes that I couldn't live without.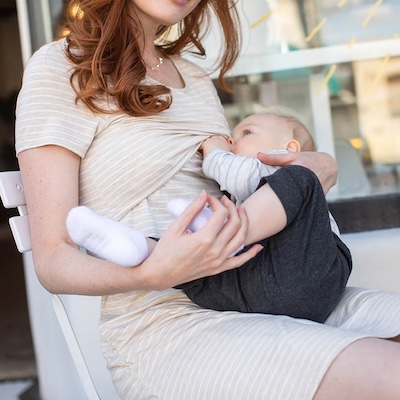 Dresses are always a must-have for summer, even if you've just had a baby. This one is the perfect casual T-shirt and nursing dress. It is made of super-soft bamboo fabric and its lightweight with a relaxed fit.
The nursing panel lifts up to make it convenient to breastfeed your little one (just wear your nursing bra underneath). This dress is versatile because you can wear it in fall or spring as well, just put on leggings underneath or a sweater or jacket over it! Its also a maternity dress, so you can use it during pregnancy or postpartum period.
PRO TIP: This is one of my favorite outfits to wear after C-section because nothing rubs your skin and incision site. I recommend it to all my new mom friends to wear home from the hospital after cesarean birth. They are awesome after vaginal delivery too, because nothing irritates your sore ladies parts!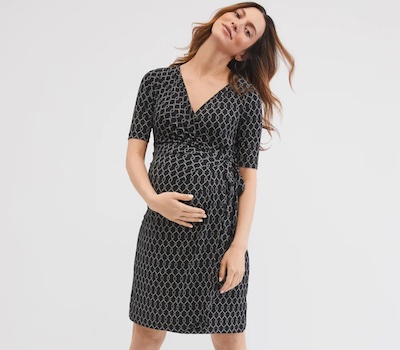 Here is another great option for your postpartum wardrobe for when you need to dress up a little bit more. It's a little bit thicker material-wise so the quality is definitely there but still has that nice stretch. It also has a flattering tie-wrap on the side. It can easily be dressed up or down, so this dress is great for working moms. And, you can wear it during maternity or postpartum.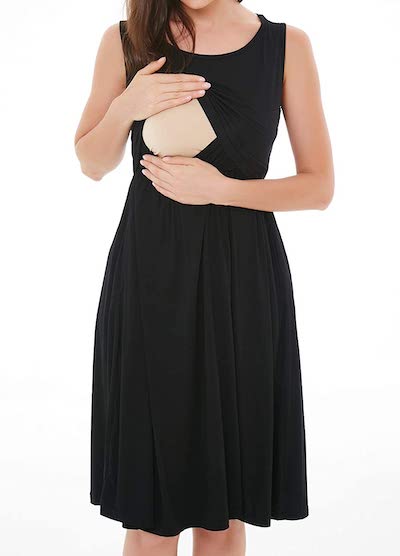 This is another nursing dress to have for when you want just throw something on but still look super cute. This one is a mid-length and falls a little below the knees.
It also lifts up like the other one in the bust area to provide easy and discreet access for breastfeeding. It's visually appealing as it shows off your curves. And another bonus is that it has pockets!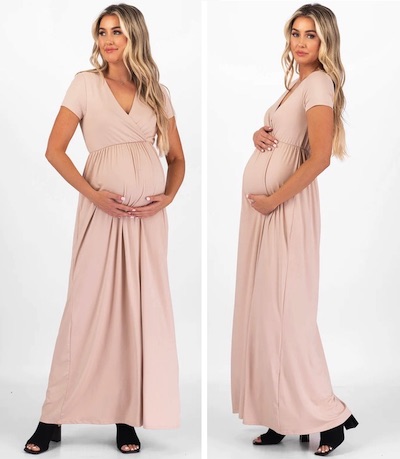 These long maxi dresses are so comfortable and stretchy. They are a little less casual and a bit more dressy. I wore one of these for my baby shower and everyone absolutely loved it!
They come in tons of different colors and patterns. Just keep in mind that it is very long, so if you aren't that tall you might actually have to put on wedges with it.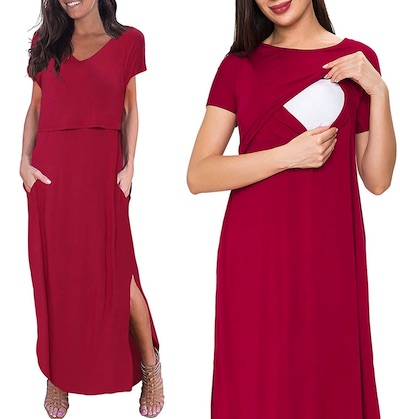 This is another great maxi dress for the postpartum period that's comfy, soft, and stretchy. Its made of a thin rayon fabric so its super breathable for hot days but yet not see through. It comes in a whole bunch of different color choices. Its also accessible for breastfeeding which, as we know, is very important.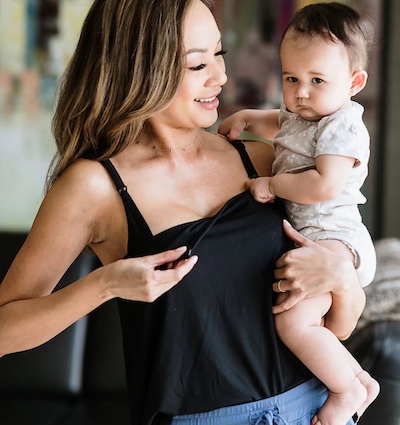 Another essential staple for summertime wardrobe are tank tops. This maternity and nursing tank is super soft, breathable, and lightweight. Its perfect for lounging around the house or sleeping in.
It has nursing clips at the top to take down just like a nursing bra. Perfect for staying cool and comfy while being nursing friendly for your little one. It also has a built in shelf-bra for some added support. I loved wearing these for pajamas!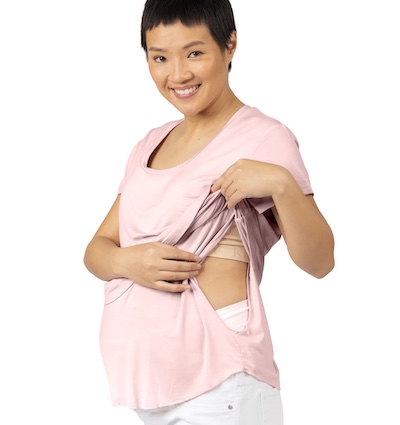 Besides dresses, you'll definitely need some t-shirts and tank tops after giving birth. These are the perfect nursing tops for postpartum loungewear. Its roomy but also flattering and has side access that you'll need for breastfeeding or pumping. It has a scoop neck top and you can get it with or without the little pocket in front.
You can pair this t-shirt with different shorts or leggings and make different postpartum outfits.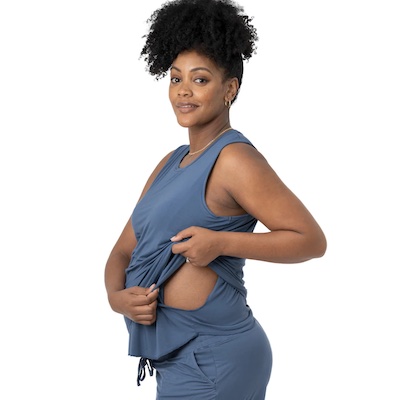 This is another tank top option that can be worn throughout maternity and postpartum. This one offers more coverage on top because it has thicker straps.
It has a two-layer construction which makes it hang nicely on your body without being clingy. It also has the essential breastfeeding accessibility like the other one. They even have matching shorts you can buy to go with the nursing tops to pair together as a set.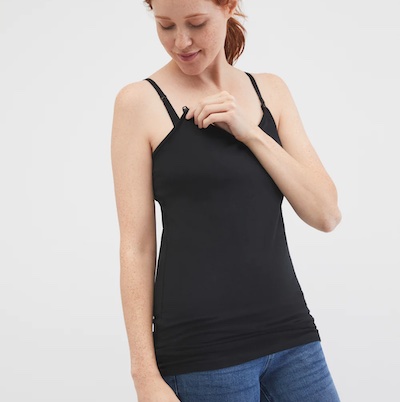 Another option for tank top to stay nice and cool are these motherhood maternity cotton ones. These are camisole style with clips to be able to take down the top for nursing. They are a little bit more fitted style and have extra length so you can use as a layering tank.
I have this one from 4 years ago and it is still holding up nicely so the quality is definitely there. The only thing is it runs large so might want to size down on this one.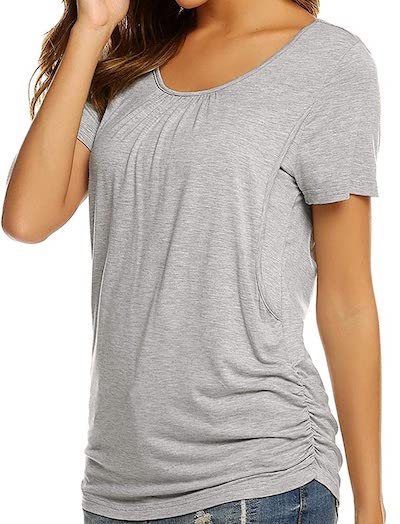 This is a casual short sleeve shirt with side access that makes it very easy to nurse in. Its flowy in the front and not tight at all so it hides that postpartum belly pooch.
These T-shirts are so stylish and versatile! You can wear them for leisure with leggings or even to work with pants or out and about with shorts. They look great with anything. Plus lots of color choices.
They are also an awesome option if you're on tighter budget.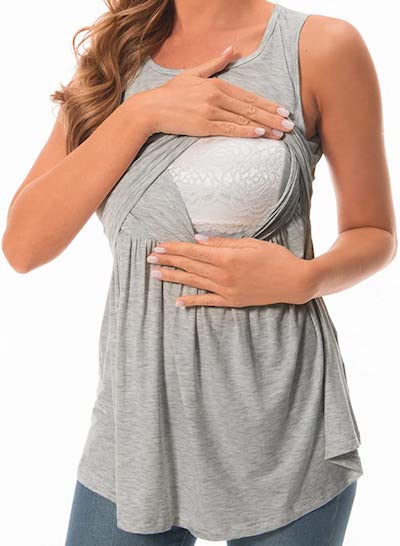 These sleeveless, scoop neck shirts are thin and stretchy. These shirts are great throughout any stage of pregnancy or postpartum with the lift up access for breastfeeding.
They are an a-line style where its more fitted on top and flowy on the bottom. Definitely great for curvier girls or if you are trying to disguise your midsection. Pair them with jeans or shorts and you have such a cute, comfy summer outfit.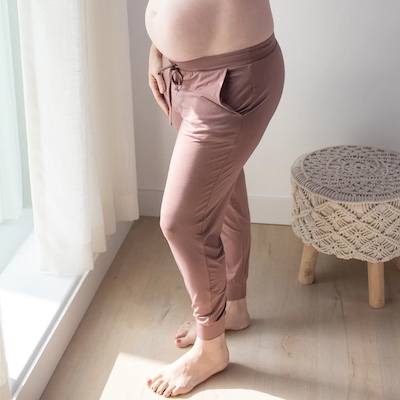 These lightweight and soft lounge pants for summer are a nice alternative to bulky sweatpants. These were my go-to for sleeping, lounging in the house, or even running errands.
The adjustable drawstring lets you accommodate for all stages of pregnancy and postpartum. You can wear them over or under your baby bump if you have one. They're tapered at the ankles so you won't have to worry about them being too long or tripping over them.
After 3 pregnancies, I have to admit that loose bottoms like these are definitely a must-have for C-section recovery.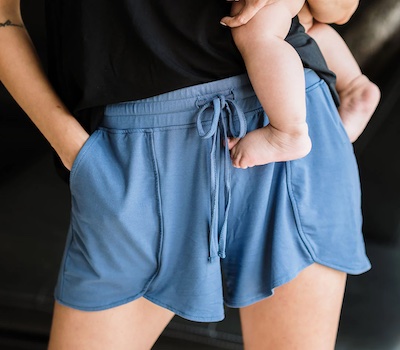 These are perfect lounge shorts for warm weather. Made from soft, breathable bamboo fabric with a loose, comfy fit so it doesn't cling to you or ride up like some shorts can.
If you're pregnant you can wear them under your bump and if you're postpartum put them at your waist. They've got an adjustable drawstring on the waistband and pockets. I'm 6 months postpartum now and I still live in these.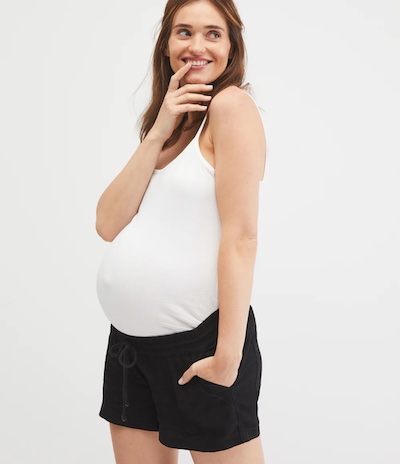 These are another great option for loose and comfy shorts to wear postpartum. Perfect for loungewear, even wearing over a bathing suit at the pool.
These shorts are made from French Terry material. They are super comfortable and the stretchy waistband helps so you don't feel squeezed in! The only downside is the drawstring is not functional—just for show. These are also a little bit shorter than some of the other options.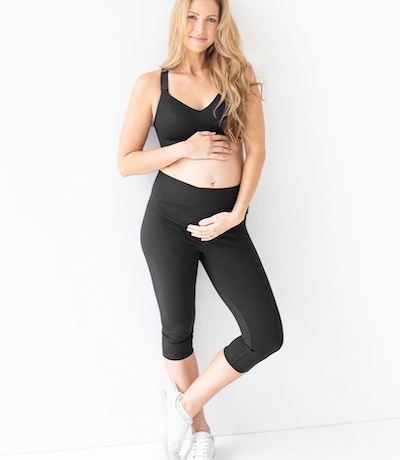 These high waisted leggings really mold to your changing body to fit perfectly. The best part is the compression, especially if you have weakened abdominal muscles.
The high elastic waist panel is almost like a belly band that covers your belly so it smooths out that postpartum stomach area. They are not too long or too short, come down to a little under the knee. They are great for going for walks or chasing around toddlers but still looking cuter than wearing sweatpants.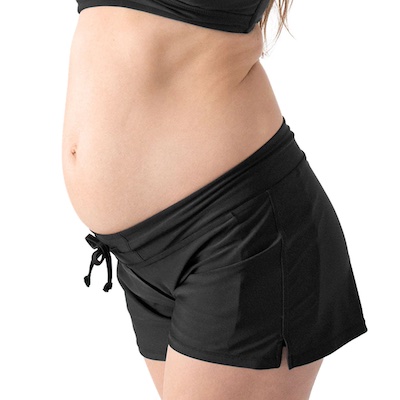 These full coverage swim shorts are better than wearing regular bathing suit bottoms because you won't feel like you're showing too much skin. There is even an extra layer of lining on the inside.
They are moisture wicking material and SPF 50, so perfect for being outside in the summertime sun. They have an adjustable drawstring so you can wear them before you give birth or after.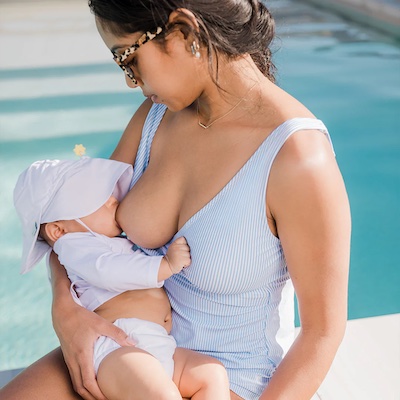 This tankini is perfect for being stylish and comfortable outside by the pool. It has a flattering crossover cut and loose mid section with ruching on the sides that can be worn pregnant or postpartum.
The straps are adjustable and full shelf bra for support. If you get the tankini top you can mix and match with other swimsuit bottoms or just wear your regular shorts with it.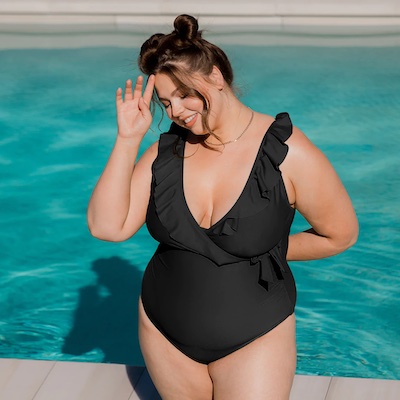 Just because you are postpartum doesn't mean you can't rock a bathing suit. This swimsuit is adorable and comes in several colors. Don't forget to wait until after six weeks post baby to swim, but either way you might want to lounge by a pool or go to the beach.
This one is nursing accessible, ties at the side for a wrap effect, and has pretty ruffled top, adjustable straps and full shelf bra! Also bigger cup sizes have wider straps for even more support.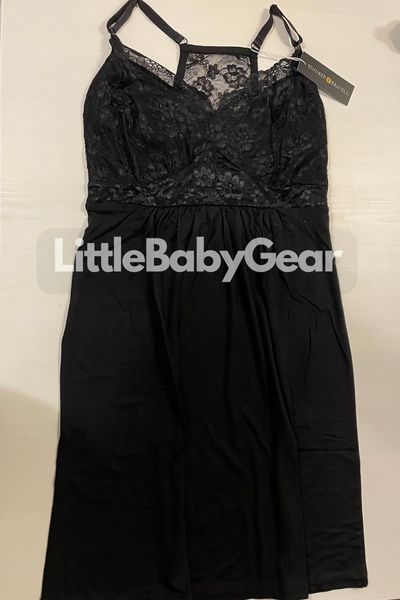 Don't forget postpartum pajamas! There's no reason you shouldn't feel feminine and sexy after having a baby.
This lacy nightgown will definitely make you feel pretty and comfortable with tons of room for a pregnant or postpartum belly. The material is soft and the lacy part is not itchy at all, and of course its nursing friendly.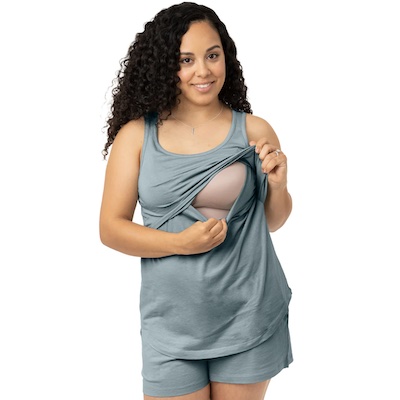 This is a cute matching set made of soft organic cotton. A lightweight and breathable sleep set perfect for warmer weather. It has a discreet nursing panel, adjustable drawstring, and convenient pockets. What more could you possibly need in postpartum sleepwear?
Extra tip: Don't forget about the undies! For up to six weeks after delivery, there is a lot of blood, mucus, and discharge2. You'll be wearing a big maxi pad for a while so you'll need large, comfortable, and supportive postpartum underwear.
How Do You Dress To Flatter Your Postpartum Body?
If you just had a baby you might not be so comfortable with the way your postpartum body looks yet. Maybe you still look pregnant or maybe you have that postpartum pooch.
Every new mama is different. If you do feel super confident in your postpartum body then the more power to you!
However, if you don't love your new body just yet then that's okay too. Here's some outfit ideas for a super flattering postpartum look:
Pair loose and flowy tops with more fitted bottoms to give a slimming illusion.
Darker colors – Wearing black will make you appear thinner & better hide bumps/bulges.
Go with small patterns – Bigger patterns might make you look bigger.
The right silhouette – A-line cuts for a defined waistline or peplum tops.
Make sure you wear the right size – You may need to size up now.
High waisted bottoms – Maternity jeans or skirts worn up high cover up that problem area.
Layering – Put a tank top under a t-shirt or a cardigan over a tank.
Extra tip: Don't immediately box up and put away your maternity clothes! Some of them you can definitely still wear even after giving birth.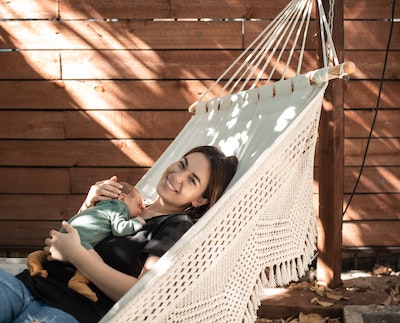 How Can I Hide My Postpartum Pooch?
Here are a few additional tips for your postpartum pooch (if YOU WANT to):
Try tunics or loose and flowy tops.
Tuck in your shirt into your jeans or skirt.
Wear compression clothes with elastic waistband.
Ruching on the sides draws the eyes away from the middle.
Shaping shorts like these ones to smooth and shape under your clothes.
Try belly band (tummy girdle) to smooth out your postpartum bump.
How To Choose Best Summer Postpartum Clothes
The best postpartum clothes are practical and convenient. This means breastfeeding-friendly if you are a nursing mom. You'll also appreciate clothes that are easy to put on and take off, because you never know when unexpected visitors will pop up to see your bundle of joy.
With a new baby, you'll have a lot of spit ups and messes so find clothes that are easy to wash and dry (like cottons ones) to save time and energy for yourself. Finally, you'll want clothes that'll make you look effortlessly amazing because who doesn't want to look good? Don't forget that what we put on our bodies can have a huge impact on how we feel3.
---
Article By Raye Mariano, RN, BSN, BA
Raye Mariano is a Registered Nurse who worked for years as a labor and delivery nurse and mother/baby nurse. Now, as a stay-at-home mom to 3 kids, ages 4 and under, she remains passionate about all things pregnancy, postpartum, and parenting.
---
The purpose of this article is informative. It's not a substitute for professional medical advice or medical care. Remember: safety first! Consult your doctor/pediatrician in case of any doubts. The author of this article does not accept any responsibility for any liability, loss or risk, personal or otherwise, incurred as a consequence, directly or indirectly, from any information or advice contained here.
References:
https://www.scarymommy.com/
https://www.whowhatwear.com/
https://my.clevelandclinic.org/
Source of pictures:
All pictures of Kindred Bravely tops, bottoms, dresses, PJs and swimwear belong to Kindred Bravely Brand. Source: https://www.kindredbravely.com/
All pictures of Motherhood Maternity bottoms, tops and dresses belong to Motherhood Maternity Brand. Source: https://www.motherhood.com/
All pictures of Smallshow dresses belong to Smallshow Brand. Source: https://www.smallshow.shop/
All pictures of Mother Bee dresses belong to Mother Bee Maternity Brand. Source: https://motherbeematernity.com/
All pictures of Ekoauer tops belong to Ekoauer Brand. Source: https://ekouaer.com/
All pictures of Bearsland tops belong to Bearsland Brand. Source: instagram.com/bearslandmaternity/