Baby bouncers, baby swings and baby rockers all have one thing in common: they are nothing short of a miracle for completely frazzled first-time parents who want a few minutes of sanity from colicky infants and fussy toddlers. They also support motor and cognitive development.
Are you confused which one will be most suitable for your child? Read my comparison and list of advantages & disadvantages of each to avoid waisting money on the wrong product!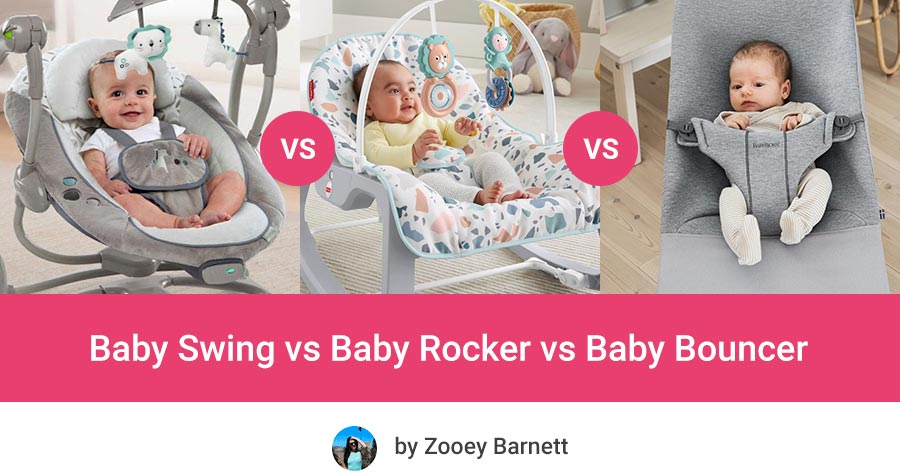 Would you like some help in soothing your crying baby or entertaining your infant? Maybe you need a hand-free moment to carry other pressing chores or just relax?
If you answered yes to any of these questions, then one of the baby swings, rockers or baby bouncers may be a game changer for you.
But what are the differences between the 3, and can you simply get any? Well, here is a low down of these baby chairs including their best fit, and how to choose the right one.
Baby swing
The reason why I opted to start with the swing is that it is what babes want during their very first few months.
Just as its name suggests, a baby swing is a nicely padded chair that is suspended on a sturdy frame just like an adults' swing. It keeps swinging back and forth (or side to side) in a motion akin to the womb's rocking motion, and can be used right from birth to when the baby is around 6-9 months old.
Od course there are also baby swings for older babies who can already sit upright – for indoor or outdoor use.
In addition to understanding and adhering to the recommended age groups and weight limits, most manufacturers and pediatricians advise parents to retire the swings once the user is able to sit unassisted or climb out and plunge to the ground.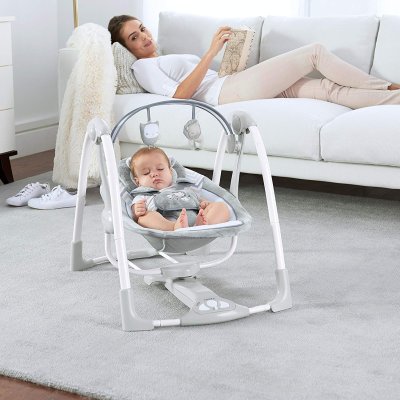 How to choose the best baby swing
Understand the type – baby swings come in all types ranging from basic models to combination swings that integrate the functionality of 2 types of chairs (a bouncer, a grinder, a rocker, and a cradle) to break the monotony.
Mode of powering – baby swings need power for their swinging motion and they can be powered either through batteries or electricity. Of course, battery-powered baby swings are the best if you want something that you'll be moving a lot with. The only twist is that batteries tend to be expensive to replace down the road.
Safety harness – generally, baby swings are expected to have a 3-point harness system at the minimum. But most of the recent models now feature a 5-point harness that includes an over-the-shoulder restraint in addition to the mandatory waist and belt harness system.
Type of motion – traditional baby swings rock head to toe. But most of the newer models now incorporate other types of motions including circular moves, and up and down hops and they are the best at soothing babies.
Pros
Cons

Pros

---

+ Great for calming the baby

+ Can be used for nap time

+ Allows some hands-free moments

+ Most of them accommodate newborns

Cons

---

- They require power (battery or electricity)

- In many baby swings motor makes a noise which may be disturbing for the baby (I picked the ones that work quietly HERE)
Baby rocker
If you've used an adults' rocking chair before, then a baby rocker shouldn't be so hard to understand. This is basically a kiddo's seat with 2 slightly curved bands at the bottom that allow you to push the chair in an arc motion by either using your hands or simply nudging it with your toe to initiate the rocking motion.
PRO TIP: 4moms mamaRoo is my favorite 2in1 baby swing and rocker. I used it A LOT during the first months with my baby girl. She was such a fussy and colicky baby. I bought mamaRoo on sale, otherwise I probably wouldn't afford it. It was totally worth the money. Check here if you can still get 20% discount >>
When should you use a baby rocker?
Similar to a swing, a baby rocker can also be used right from birth but most of them are only usable up to around 6 months.
Compared to baby swings, most baby rockers are generally more compact in that they have smaller frame (because they are not suspended mid-air like a swing chair).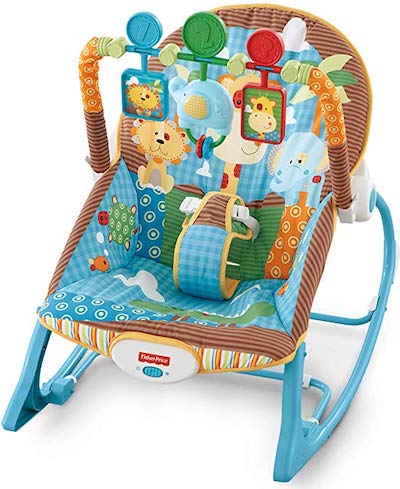 Psst! In addition to this comparison of baby swings, bouncers and rockers, I did some tests and picked the best ones that I can honestly recommend to other parents. If you're still hesitating what to choose -> read my newest ranking with reviews.
How to choose the best baby rocker
Frame – the functionality and reliability of a baby rocker mainly boil down to the sturdiness of the frame. The best baby rockers have a frame made of strong metal while most run-of-the-mill Chinese-made models are made of cheap plastics. Of course, the former will come at a cost, but the good thing is that they allow you to leverage the rocker throughout their usable life and can actually be passed down to younger kids thereby saving you money in the long run.
Wide base – consider a rocker with a wide base to alleviate the risk of tipping over.
Non-slip pads – double check whether the baby rocker has non-slip pads to prevent sliding dangerously especially on tile and wood floors.
Adequately padded seat – a nicely padded seat goes a long way in boosting the comfort level of the baby rocker. You don't want it overly done, though, or it will create issues of sinking uncomfortably into the seat thereby leading to other issues such as heat build-up and retention. The seat should also be soft on your baby's skin and not itchy.
Entertainment – most regular rockers don't offer much other than the rocking motions. If you don't mind spending just a little more, however, you'll be comparing some advanced baby rockers some which include lights, vibrating seats, and musical sounds to keep your young one occupied.
Pros
Cons

Pros

---

+ Studies show that it helps in calming crying babies

+ Most of them don't require power to operate

+ Don't require much overhead space

Cons

---

- Most of them are small - infants grow out of them quickly
Baby bouncer
Similar to the products above, bouncers are meant for infants who cannot sit unassisted yet and usually serve up to 9 months. After that time some of the baby bouncers can be used as a toddler chair (for example the Nuna Leaf Grow and BabyBjorn Bouncer Balance Soft).
At its most basic level, a bouncer is simply a seat on a wire frame that allows it to spring up and down. At first, the child can relax or sleep in the bouncer, while mommy or daddy are rocking it with their hands.
These chairs are also designed for playtime and come in handy when the tot realizes that a few leg and arm movements are all it takes to start the stimulating spring movements of a bouncer. So it actually helps to teach the baby cause and effect.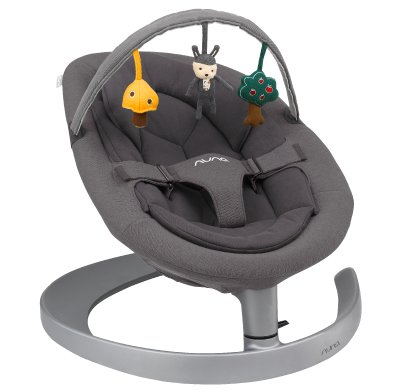 How to choose the best baby bouncer
Check the weight capacity – using a baby bouncer basically involves the toddler using her legs and arm muscles to spring up and down. While it's hilarious to see them do this, it's important to consider the weight restriction to eliminate the risk of toppling over due to intense vibrations.
High-quality textile and materials – kids generally love bouncing and you might find it hard to get them out of the bouncer once you put them on it. Considering the amount of time that they are bound to spend on the bouncer, it's of paramount importance to ensure that textiles won't cause any skin problem including itchiness and rashes.
Easy to clean – the fabrics and the whole surface should also be easy to clean considering how prone they are to messes. Good thing, most bouncers come with removable seats that can actually go into the washing machine. Not all are machine-washable, though, so remember to double-check.
Portability and ease of storage – do you plan to move a lot with the baby bouncer? If so, consider a travel bouncer that is lightweight and that can fold into a compact size for easy transportation. A bouncer that folds flat also makes a great alternative if you are pressed for space in your apartment.
Pros
Cons

Pros

---

+ Some models fold compact for breezy transportation and storage

+ They are designed to promote proper growth of the child's spine

+ Some of the baby bouncers can be converted to a child seat

Cons

---

- Their wide base, that is meant for stability, hinders easy movements in small rooms
---
References:
Picture of Ingenuity baby swings belongs to Ingenuity
Picture of Nuna bouncer belongs to Nuna
Picture of Fisher-Price rocker belongs to Fisher-Price.