Lightweight strollers are designed for toddlers and this type is usually used as a second stroller. Usually parents buy them when the baby is too big to ride in a bassinet or an infant car seat or when they realize they need smaller and more portable stroller for trips and travels.
Recaro
Easylife
BABYZEN
YOYO+
Mountain
Buggy
Nano
Quinny
Yezz
Inglesina
Net
Maclaren
Mark II

★★★★★

★★★★★

★★★★★

★★★★

★

★★★★

★

★★★

★★

Read my review
Read my review
Read my review
Read my review
Read my review
Read my review
I bought my first lightweight stroller when my daughter, Haley, was 8 month old and we were planning first flight with her. To be honest, we chose it without proper research. And eventually it lost a wheel on one of the gravel roads in my hometown 🙂 – but thanks to this adventure I learned how to choose the right vehicles for my children.
Now I have three toddlers and I've tested literally dozens of strollers to make my list of the best lightweight strollers in 2017.
Babies grow so fast. One day you are pushing your little one in a bassinet, the next day your baby can sit up straight and has developed head and neck control.
Suddenly, your little one is not so little any more and the infant car seat frame or pram you've been using, are no longer suitable! It is the perfect time to switch to a lightweight stroller or umbrella stroller.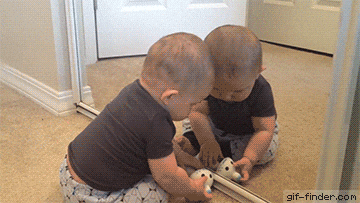 Once again you have to face the issue of choosing the right baby stroller. Which model is the best? How much should it weigh? Is it safe enough for the baby? Are the wheels big enough?
In my review I will try to answer these and many more questions you may have. Here I present you my ranking of the best lightweight strollers for toddlers and the best double lightweight strollers and my tips on how to choose the right one!
Reasons to buy lightweight/umbrella stroller
The lightweight or umbrella stroller is generally the second stroller that parents buy, after a standard one, pram or infant car seat frame. Even if the first stroller is convertible and has also a toddler seat, at some point parents realise that they really need more light and compact stroller.
Lightweight and umbrella strollers are much smaller and lighter than standard strollers, prams or joggers. They usually weigh from 8 to 17 lbs. The best lightweight strollers fold up very easily and have carry straps. This type of strollers is great for traveling and using public transportation. They are also very easy to storage and transport in a car trunk.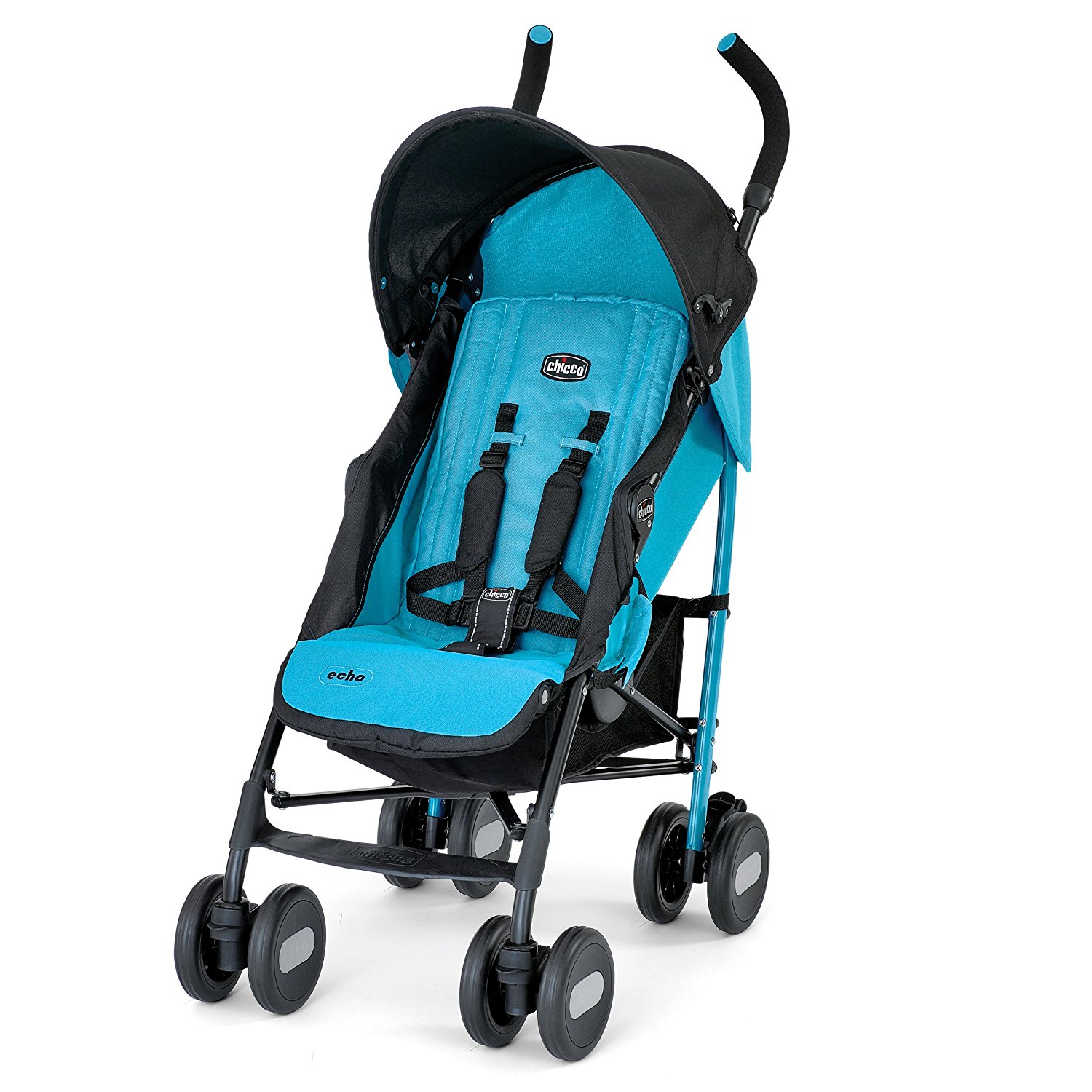 Remember: Even the best lightweight strollers and umbrella strollers are not suitable for babies under 6 month, because they don't provide enough protection and support for their delicate spin and head, and they don't have enough suspension to absorb shocks.
Therefore the baby under 6 m.o. (who doesn't have neck and head control) can be exposed to bumps and more vulnerable to injury.
Lightweight strollers are not off-road friendly and because of the small size they sometimes lack features that standard strollers have. But this type of pushchairs have specific purpose and serves it perfectly.
Besides, nowadays lightweight strollers are very flexible and offer a variety of functions.
Lightweight and umbrella stroller are the best for:
traveling by car or plane
quick transformation between car/public transportation and buildings,
everyday city use and running errands,
strolls over flat terrain,
quick day trips.
For some parents lightweight stroller might be the primary vehicle. It happens, when parents use infant car seat frame and practice baby wearing when their baby is a newborn. When the baby gets older they start using a lightweight stroller as their primary stroller.
Thanks to this approach, parents can recude the amount of baby gear to buy, which is very useful when their budget is limited. They can not only save money, but also save space in their home!
Types of lightweight strollers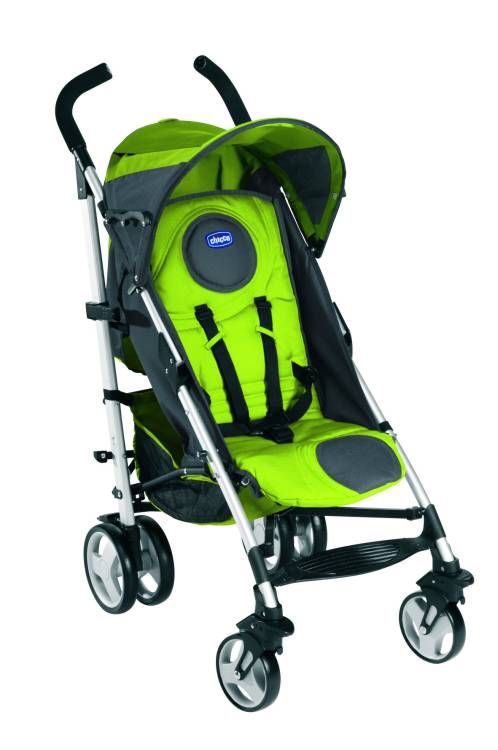 In this category of strollers we have two different types. First of all, we have typical, normal lighweight stroller. It is smaller than standard-sized stroller, but still has many practical features. Usually lightweight stroller weighs 10-20 lbs.
Generally these products have reclining seats, canopies, underseat baskets, some of them have adjustable foot rests and include cup holders. They provide a comfortable ride for the little passenger, as well for the parent.
Sometimes lightweight stroller is the primary (or even the only) stroller in the house! This type is very easy to use, fold, storage and transport. Some of them offer one-hand folding, automatic lock and self-standing.
We can place the lightweight strollers between standard-sized and umbrella strollers. They provide the best of these two categories. The best lightweight strolles are the ones that are pretty small, but also very useful and convenient!
Examples of lightweight strollers: The Recaro EasyLife, UPPAbaby G-LUXE, Graco Breaze, Graco LiteRider and Chicco Liteway.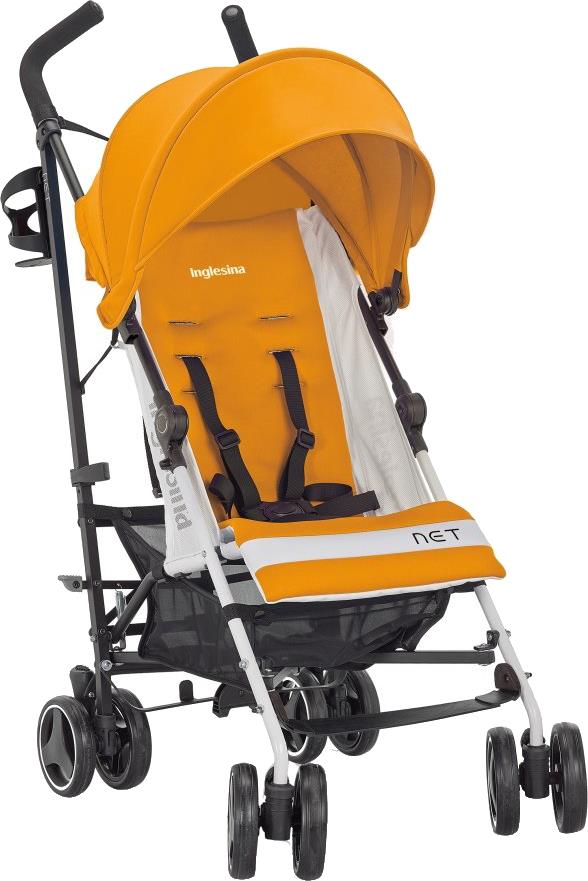 The other type is umbrella stroller which is even smaller than lightweight ones. Umbrella usually weighs around 10 lbs or less. Many models folds simply into small package which can be carried on a shoulder. They are easy to use, but they lack many features and convenient items.
Many of them have only a canopy and a harness to provide better comfort of riding, but lacks a storage basket. Umbrella strollers are smaller and lighter than normal lightweight stroller, but they are also less versatile and less comfortable for longer trips.
Examples of umbrella strollers: The Quinny Yezz, GB Pockit, Maclaren Mark II, Inglesina Net, UPPAbaby G-Lite, ZOE XL1.
These two types are very similar, both are great for travelling and transporting. But they also have few differences which I present you in the next section.
Differences between lightweight and umbrella strollers
Umbrella is more minimalistic and has limited features,
Many models of umbrella stroller are easier to fold and transport,
Umbrella is even smaller and more compact,
After folding many umbrella strollers look like a package,
Umbrella strollers usually don't have convenient items,
Lightweight strollers are more versatile and comfortable,
Many lightweight stroller have more features and convenient items.
Before I present you my list of the best lightweight strollers for toddlers, I would like to discuss few important features of this category of strollers.
What's the best lightweight stroller for toddler?
In this section I present you my ranking of the best lightweight strollers for toddlers in 2017.
1. Recaro Easylife Stroller
This is one of the best lightweight strollers available on the market. It weighs 13 lbs and offers easy one-hand folding and automatic lock.
After folding it stands on its own and take a little space, therefore it is a great stroller for travels and transporting.
Recaro Easylife Stroller has a full suspension system and lockable swivel front wheels. Pushing and turning is easy on flat terrain, a bit more difficult on rougher ground.
But this stroller doesn't veer off course, even on random bumps. The canopy is extendable and has SPF 50+ protection and a peek-a-boo window.
The seat has three reclining positions and 5-point harness with padded straps for better passenger's comfort. Both sides of the stroller are made of mesh fabric which provides great ventulation and air-flow.
Recaro Easylife 2017 comes with a cup holder which is a big plus. This stroller is also equipped with big, easy accessible underseat basket.
Easylife can also be transformed into travel system, because it is compatible with Recaro Performance Coupe infant car seat without any adapters.
Recaro Easylife 2017 has one more big advantage. It has one classic handlebar, instead of two handles like many lightweight strollers. Thanks to that, we can push this stroller with one hand. This is definitely one of the best lightweight strollers in 2017.

2. BABYZEN YOYO+
This is an example of more advanced lightweight stroller that has many features which provides convenient using and riding. It can acommodate a passenger up to 40 pounds and is equipped with 4-wheel suspension for more comfortable ride. Besides, it has single front wheels design which makes it easy to push and maneuver.
The newest model has 60% bigger storage basket underneath the seat with weight limit of 11 lbs, therefore you can be sure all of your baby's gear will fit there.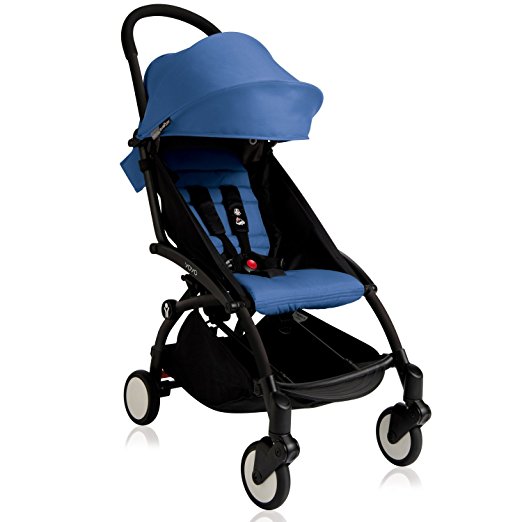 YOYO+ has very nice, extendable canopy with UPF 50+ protection. This stroller is compatible with many infant car seat (but we have to buy an adapter separately) and has an option of installing a bassinet! This stroller can be a good long-time investment.
BABYZEN YOYO+ is a high-end product. I bought it on a sale with free shipping and saved quite a few bucks. >>Check out if the sale is still on<<
Folding BABYZEN YOYO+ is pretty simple and after that we can use the strap to carry the stroller on a shoulder. Folded stroller takes up little spaces and is very convenient to storage or transport.
This stroller weighs only 14 lbs which is not so much for such a good-quality and well equipped lightweight stroller. It has reclining seat with soft padding and it comes with a rain cover.
Overall, this is one of the best lightweight strollers that I've had a pleasure to use.

Below you can see my comparison: Recaro Easylife vs BabyZen Yoyo +. These two strollers have similar features, but there are few differences. If you like these two lightweight strollers but can't decide which one to buy, this list of differences should be helpful for you.
Recaro Easylife vs BabyZen Yoyo +
Recaro Easylife
BabyZen Yoyo +
Weight
13 lbs
14 lbs
Capacity
Regular seat for toddlers: up to 50 lbs and 40";

Infant car seat (sold separately): from birth

Regular seat for toddlers: from 6 months up to 40 lbs;

Newborn fabrics: from 0 to 6 months;

Infant car seat (sold separately): from birth

Folded dimensions
21.5" x 19" x 23"
17" x 7" x 20.5"
Price
Around $250-$300
Around $500-$700 (with newborn carrycot)
However, Recaro Easylife is currently unavailable in online stores, therefore I would recommend you to go for the BabyZen Yoyo+. It's a great investment and perfect for travel with infant or toddler!
3. Mountain Buggy Nano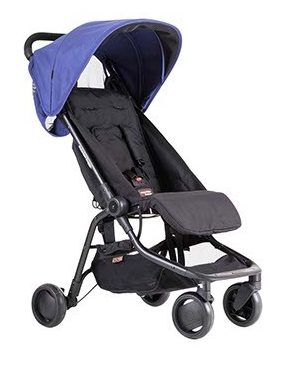 This lightweight stroller weighs 13 lbs and its weight capacity is 44 lbs. This behicle is suitable for kids up to 4 y.o. Mountain Buggy Nano comes with a travel bag and shoulder strap which is a big advantage. The newest model has more deeply reclining seat and bigger canopy and is 1" narrower.
The seat is nicely padded, as well as the leg rest, which is also adjustable. Nano can be turned into a travel system and it comes with proper adapters.
This lightweight stroller can be folded in two steps, you just have to push two buttons and it simply drops. Nano has also a manual lock and after folding it can be carried on a shoulder or transported in a travel bag.
This stroller has rear wheels suspension and single front wheels design which provides better maneuverability and more comfortable ride.
Pushing and turning Nano is very easy, even on grass and gravel. It has also single action brake, which is pretty unusual for lightweight strollers. Underseat storage bin can accommodate up to 11 lbs.

4. Quinny Yezz
For many parents this baby stroller is one of the best lightweight strollers for travel. It's super simple and compact, doesn't have many features and convenient items, but is very easy to use and transport.
It's suitable from 6 months up to 40 lbs. It weighs only 11 lbs thanks to light, but high-quality plastic frame. Folding is super easy and fast. We can carry folded stroller on a shoulder.
The seat is equipped with water repellant fabric. I noticed only one disadvantage of this umbrella stroller: the seat doesn't recline and has little support for baby's back. The seat lacks hard backing therefore this buggy is better for short strolls.
This stroller comes with a nice sunshade therefore our little passenger can enjoy riding on a sunny days. We can push Quinny Yezz with one finger 🙂
Besides, it's very maneuverable and easy to navigate and turn, even in tight spaces. This stroller doesn't have many convenient features, but it comes with a storage pocket placed on the back of the seat.
Quinny Yezz doesn't have many features and this is really simple stroller, but in a good quality. It's perfect for traveling by car and plane, it fits almost everywhere!

5. Inglesina Net
If you are looking for a compact and reliable lightweight stroller for toddler and your budget is rather tight, Inglesina Net might be the right choice for you!
This buggy weighs only 11.2 lbs and can stand on its own after folding and takes up small space, therefore it's very easy to transport. We can also carry it on a shoulder thanks to convenient strap.
This stroller has two-position reclining seat with soft, removable and washable padding. Seat cover is made of mesh which provides great air-flow.
To recline the seat we have to open a zipper on both sides. I would say that the angle changes only a little and I think it is not enough for cozy napping.
Nice-sized canopy is also removable and can be washed. It is also equipped with UPF 50+ protection.
This buggy has also a storage bin under the seat. It is not the biggest one, but we can fit there the most necessary gear.
Net has dual front wheels design which means this stroller is easier to push and more stable on even surfaces than rough terrain.
Inglesina Net rather can't be a primary stroller and doesn't provide enough comfort for very long rides. Nevertheless it's pocket-friendly and definitely one of the best lightweight strollers for toddlers in that price range.

6. Maclaren Mark II
This umbrella stroller weighs only 7.3 lbs and is suitable from 6 m.o. up to 55 lbs. The seat is equipped with great breathable mesh for better ventilation and baby's comfort.
The seat reclines only 2-3 inches when we unzipp the sides. The angle changes so little that the baby won't probably notice it. Reclining is not enough for napping. Seat fabric is removable and machine washable.
Large canopy provides proper cover and UPF 50+ protects baby from harmful sun reys. This stroller has also 4-wheel suspension for more comfortable ride and a good-sized basket under the seat with a weight limit of 4.4 lbs.
The stroller is light, easy to fold (one-handed collapsable fold) and compact. It has also a carry strap therefore we can carry the folded stroller on a shoulder.
This umbrella has double action brakes that requires using two pedals. Mark II handles only flat terrain, its small, plastic, dual front wheels aren't good for bumpy off-road trips.
This stroller is also more difficult to navigate and push in tight spaces. I also wish it has leg rest. Big advantage of Maclaren Mark II is that it comes with a wind-resistant rain cover.
Thanks to such a small weight this umbrella stroller is perfect for travels and running errands in the city.

The best double lightweight strollers
On the market there is a wide selection of double lightweight strollers for toddler twins. Some brands even offer the same strollers in both versions – single and double.
As I have 1-year-old twins, I have recently faced the task of choosing double lightweight stroller for them. I tested couple models and choose the best ones.
Here is my list of the best double lightweight strollers for toddlers.
UPPAbaby G-LINK
Chicco Echo Twin
Joovy Twin Groove Ultralight 2017

★★★★★

 ★★★★

★

 ★★★★★
1. UPPAbaby G-LINK Stroller
UPPAbaby has in its offer not only great single strollers, but also one double lightweight stroller.
The seat are place side-by-side but each can be recline individually. It is a great feature because one baby can take a nap while the other one is sitting and watching the world. Weight limit for each seat is 55 lbs so you can be sure this stroller will serve you for years! There are also adjustable footrests.
This double lightweight stroller is equipped with nice-sized canopies with peek-a-boo windows so we can keep an eye on our little adventurers. The canopies have also extendable part with UPF 50+ protection, therefore our passengers can enjoy strolling in sunny days.
This stroller is equipped with one-step brake placed on the right side. It's easy to use no matter if you are wearing sneackers or flip-flops.
G-LINK has four dual wheels. Pushing and navigating is pretty easy but this stroller works definitely better on a flat terrain than gravel or wooded trails. I can recommend G-LINK as one of the best double lightweight strollers for city use.
UPPAbaby G-LINK offers plenty storage space. Under the seats there is a large storage made of mesh. There also two additional pockets on the back of the canopies where parents can keep their essentials. On both sides of the strollers there are two cup holders so you can stay hydrated during long strolls 🙂
G-LINK weighs 24.5 lbs which is still quite a lot, but we have to remember that it's a double stroller! Carrying G-LINK is pretty convenient thanks to a carry handle (I'm not sure if the carrying strap would be more convenient).
However, this stroller is great for travels with toddlers thanks to easy folding mechanism and small size after folding. It can also stand on its own and doesn't take much space in a car trunk or a closet.
Now you're probably wonder how much G-LINK costs. The price ranges from $400 to $500 but often there are great sales. When I recently checked there was a 20% discount! >>Check out if the discount is still available<<

2. Chicco Echo Twin Stroller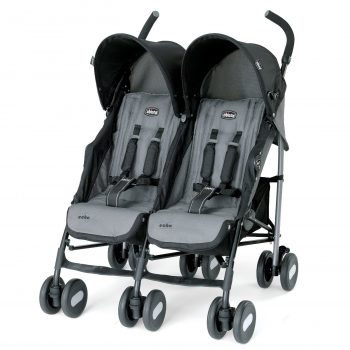 This is one of the cheap double lightweight strollers. It has two side-by-side seats with adjustable leg rest. The seats recline independently and there are four positions to provide the best comfort for little riders. The seats are suitable for babies at least 6 months old and each can accommodate a passenger up to 40 lbs.
Chicco Echo Twin has six dual wheels which is a typical solution for double lightweight strollers. Front wheels are lockable and pivoting and have suspension so we can be sure our babies are having nice and comfy ride.
Of course this suspension is different from joggers' suspension therefore this stroller will work definitely better on even terrain than bumpy trails.
Chicco Echo Twin is great lightweight travel stroller! It folds easily and has compact size when folded so the transportation and storage are simple.
This double lightweight stroller has one more big advantage: the canopies can be adjust individually and there is a zip at the rear flaps for additional ventilation.
I only wish Chicco Echo Twin had one classic handlebar instead of two handles. But that's only a little flaw, aside from this one thing, this stroller is worth recommending.

3. Joovy Twin Groove Ultralight 2017
Joovy proves that strolling with two doesn't  have to be twice as difficult, only twice more enjoyable!
Thanks to individually reclining seats one baby can enjoy sightseeing and the other can take a nap. Seats recline to almost flat position and have nice padding. There is also adjustable leg rest. Weight limit for each seat is 50 lbs so you could literally use this stroller util your baby goes to school! 🙂
This stroller has also six dual wheel, but what distinguishes him is the all-wheel suspension (instead of front-wheel suspension). Thanks to it, children have smooth ride and parents can push the stroller effortlessly.
Twin Groove Ultralight 2017 has two good-sized canopies that can be adjust or removed completely. Each has a peek-a-boo window and UV protection.
This double lightweight stroller has plenty storage. There is a double mesh basket under the seats and additional mesh pocket inside the seats where the little passengers can hold their snacks, drinks or toys. There are also two pocket on the back of the seat and three cup holders!
Joovy Twin Groove Ultralight 2017 is very compact after folding which makes it perfect double lightweight stroller for travel. It has also a carrying strap so the transportation is also very easy.

---
Still wondering how to choose the best lightweight stroller for toddler? Here is my lightweight strollers buying guide!
Choosing the best lightweight stroller for toddlers – features and functions
Size
As I mentioned before, lightweight and umbrella stroller differ in size. Generally these strollers are smaller than standard or jogging ones. We can say that this category of strollers were made because parents needed smaller and more compact pushchair for their babies.
Size is one of the most important features of lighweight strollers, because it has an impact on baby's and parent's comfort. Of course small size is a big advantage of this type of stroller, but if the stroller is TOO SMALL it very uncomfortable for the little passenger.
On the other side, if the lightweight stroller is TOO BIG it won't be suitable for travels and quick transportation (and of course it will fail to meet the user's needs).
There are many lightweight and umbrella stroller in a good size, very compact and easy to transport. But there are also some lightweight models that looks actually like a standard-sized strollers and are unsuitable for travels.
On the other hand we have so small, light and fragile umbrella strollers that they are actually more suitable for dolls than children!
Below you can see some photos of side profiles of different lightweight and umbrella strollers. I hope it will give you a perspective on how these strollers might vary in size.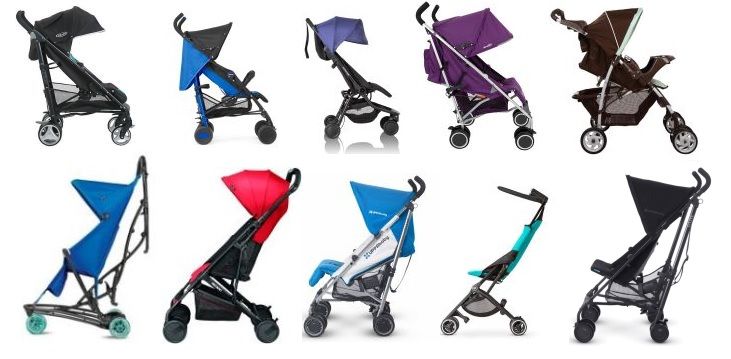 All of these strollers vary in size and weight, but they belong to one category: lightweight and umbrella strollers. The difference in size and weight might be a deal breakers, if we consider carrying the stroller, folding and transporting it.
Too big stroller won't meet parent's needs, but too small stroller will be unconvenient for the passenger. It is very important to find the best size for our needs.
Frame
As the name says, lightweight stroller should be of course light. Nevertheless, lightweight doesn't have to mean fragile and shaky. Parents should look for a stroller with light frame (usually they are made of aluminum), but also sturdy, stable and durable.
Of course there are frames so light and fragile that they look as if they were about to break during first stroll! But there are also many products with frames that combine light weight and stability. For example, Recaro Easylife frame is very robust and reliable!
Wheels
Most of the strollers in this category have dual front wheels (two wheels on each front leg). Only few models have normal single front wheels design.
Interestingly, many of these stroller with dual front wheels, have problems with maneuverability and getting over bumpy terrain. They have also troubles with getting stuck in gravel or grass. This issue refers for example to GB Pockit or UPPAbaby G-LUXE.
Strollers with single front wheels have better maneuverability, for example Quinny Yezz and BabyZen Yoyo + are very agile and easy to push and don't have problems with changes in terrain.
Also strollers with one dual front wheel (one leg instead of two) are more maneuverable and handle small spaces easier. It seems that in this category smaller amount of wheels is associated with better maneuverability.

However, dual front wheels design is very common in this category of stroller. Nevertheless, it clearly causes problems with maneuverability. You should keep that in mind while choosing the best lightweight stroller for your baby. Single front wheel design is definitely better, especially if the terrain in your neighborhood is not completely flat.
Safety
Regarding safety we have to consider few things. First of all: brakes. Some models in this category have single action brakes, others have double action brakes. The first one is definitely easier to use, beacuse we have only one pedal to set and release the brake. A great example of stroller with amazing and easy to use brake is BabyZen Yoyo+.
Sometimes brakes have also a color indicator that informs us if it's set properly. It is user-friendly mechanism. Most of the lightweight strollers have foot-operated brake. Hand-operated brakes are more popular in joggers.
Strollers with double action brakes or two pedals are more difficult to use, because parents can make a mistake or fail to engage both pedal simultaneously.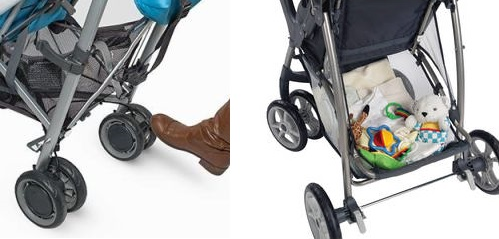 The best brake is the one that we can operate quickly and get used to. This is another important feature that parents should consider when buying a lightweight stroller.
The second dafety feature we should pay attention to is harness. The best one is the 5-point harness with adjustable straps, which provides comfortable ride for babies of different age.
Versatility
In general, lightweight stroller are less versatile than standard-sized strollers, but more flexible and functional than umbrella. But remember that having many features is an advatange only if they work properly!
When we are looking for the best lightweight stroller, we should consider if it has a good-sized canopy with proper ventilation, SPF 50+ and peek-a-boo window.
For example, Maclaren Techno XT and ZOE XL1 has a big sunshade that provides great cover on both sides and over the baby's head. On the other hand, we have GB Pockit that has only a small overhead hood.

Another features we should pay attention to are: reclining seat, adjustable footrest, adjustable handlebar, suspension, harness and extra accessories like cup holder.
How to choose the best lightweight stroller for toddlers?
Here I present you some question which I hope will help you to find the best lightweight stroller for your baby.
Where will you go for a stroll?
Are you looking for a lightweight stroller for running errands in the city center? Or will you be using it in parks our country area? Do you want a compact stroller for traveling by car and plane? Or maybe you want a stroller for family trips to the ZOO and Disneyland?
The way you will be using the stroller and the terrain you are planning to stroll over is very important. It should influence your decision which stroller you should buy.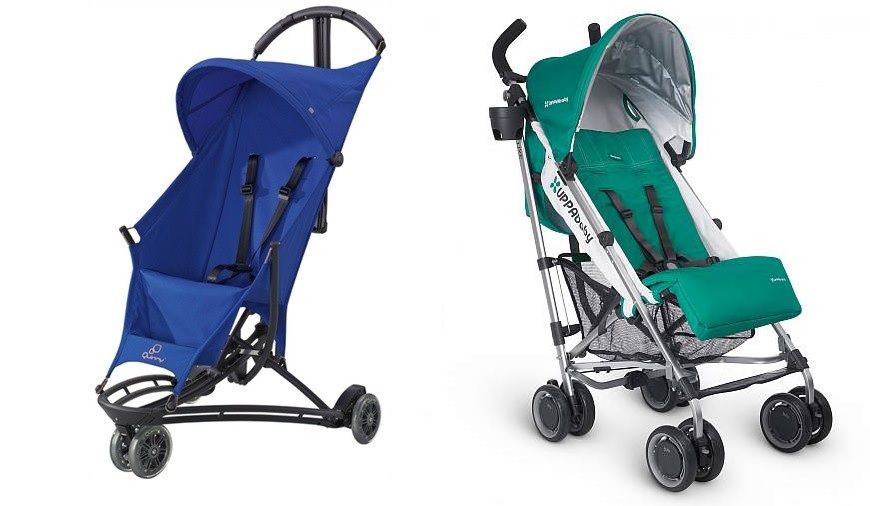 If you want a stroller for everyday city use, agile and small enough for quick getting through small spaces and using public transportation, you should pick a compact stroller like Quinny Yezz or GB Pockit Stroller.
They are very easy to use and fold. Quinny Yezz is very light and after folding you can carry it on a shoulder. On the other hand, GB Pockit turns into a small package after folding, very easy to storage and transport.
However, if you want a stroller for day trips to the park and grocery stores, you should look for a bigger pushchair, with more features for the passenger's comfort (your baby will be spending in it many hours!) and underseat basket. A great example of that stroller is UPPAbaby G-LUXE.
As you can see, size is not the only feature you should consider when buying a lightweight stroller. Another important thing is how you will use it. If you find a stroller, matching your lifestyle, it will meet your needs. Each parent has different needs, therefore for everyone a different stroller will be the right one.
There are so many strollers on the market today, that I'm sure you will find the best one for you, with the features you want and fitting in your budget.
How long and how often will you use this stroller?
Will you be using this stroller every day or just several times a year during trips? Only for quick running errands or day trips? Depending on that, you should choose a stroller that will provide you and the little passenger comfortable ride.
Here are some features you may consider to increase the comfort of using and riding a stroller: adjustable footrest, reclining seat, good-sized canopy. Great example of a stroller that has these three features is Mountain Buggy Nano, one of the best lightweight strollers.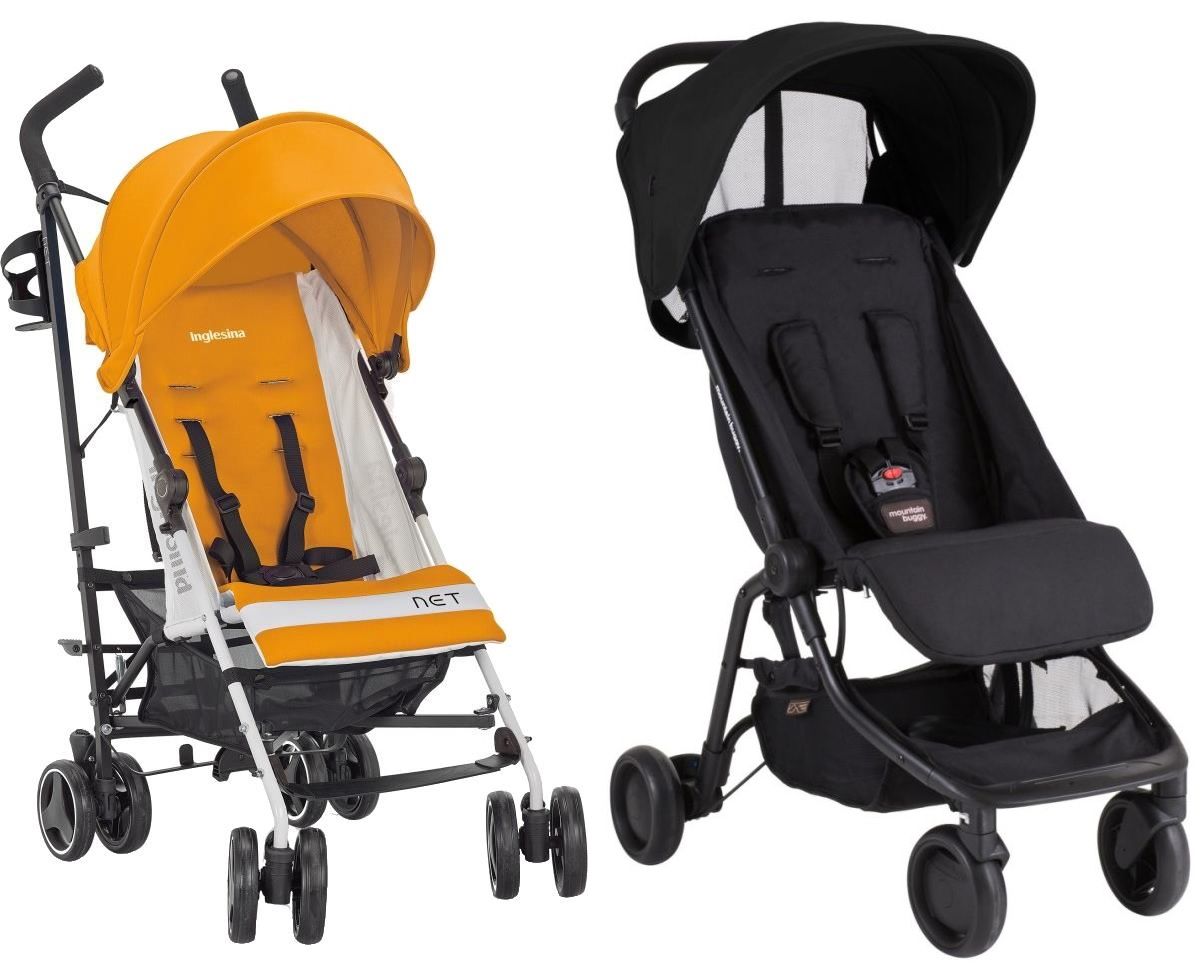 Another functions for better comfort are: underseat basket, storage pockets, cup holders… Generally, the longer you are planning to be out and strolling, the more features and comfort you will need (for you and your child).
For example, if your trips will be short and you have limited budget, Inglesina Net might fulfill your needs. It doesn't have many convenient features, but is light and compact.
But if you want a stroller with more features for longer journeys you should consider Graco Breaze or Chicco Liteway.
Another important thing is the quality of the stroller. If you plan to use this stroller really often and want it to last for couple of years, you should consider investing in a high-quality product with more features, to avoid getting frustrated every time you go for a stroller.
Budget
So you already know where, how often and how long you will use the stroller. Now it's time to consider how much money you want to spend on this baby gear. Generally lightweight strollers are cheaper than standard-sized and jogging pushchairs. But of course you can find in this category very similar strollers in a wide range of prices.
First of all, some parents might limit the amount of baby gear to buy, by using the lightweight stroller as a primary one. There are lightweight strollers with an option of installing an infant car seat.
Parents might also practice baby wearing and use the infant car seat frame, during the first 6 months and after that buy the lightweight stroller as a first vehicle for the baby. If you can buy one product instead of two, you can not only safe space in your home, but also stick to your tight budget.
Besides, if you are going to use the stroller only once or few time a year, there is no need to strain your wallet, but purchasing the cheapest stroller that performes poorly is also not the best approach.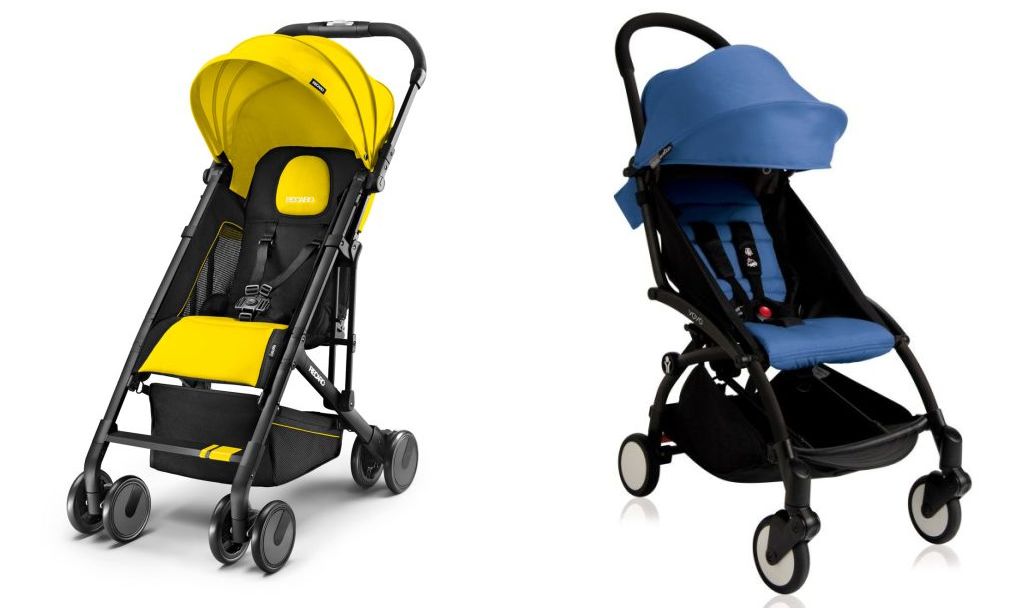 There are some strollers on the market, that are good-quality, have many comfort adjustment and are pocket-friendly at the same time. There are also high-end products with a lot of features, modern design and of course higher prices. For example, we have Recaro Easylife vs BabyZen Yoyo +. The first one has many great features for both parent and a child comfort and costs around $250. The second one costs twice as much but it is also more advanced lightweight stroller.
If you are not going to use the lightweight stroller very often and you don't need many features, Inglesina Net is a great choice. It's small, compact, easy to fold and costs around $150.
Nowadays there is a wide range of strollers, with many different features and functions and at different prices. I hope my tips will help you to define what product you really need and choose the best lightweight stroller for your family.

Hello Moms! I am Zooey. I am a wife and a mother of three amazing kids: 3-year-old Haley and almost 1-year-old twins Jesse and Matthew. I am a jogger, cooker and blogger
If you have a question or a comment, do not hesitate to write to me! 🙂