Baby Jogger 2016 City Mini GT is a perfect double stroller for every day strolls and running errands in the city jungle, but also works amazing for off-road excursions.
No matter if you are strolling through the countryside or riding over New York City streets, this stroller will work perfectly. No wonder it is a very popular stroller! It is multifunctional and will satisfy many parents!
Most Important Advantage
+ All-terrain, easy to use, with awesome folding system!
Most Important Disadvantage
– Might be heavy for some parents
Verdict:
This is a multifunctional everyday stroller, that provides comfortable and safe ride for babies and parents.
-> Click here to skip to my summary <-
-> Click here to check price <-
This stroller is equipped with hand-operated parking brake and adjustable handlebar that makes it all-heights-parents friendly.
It folds quickly and has automatic lock which not every stroller has.
The City Mini GT has forever air wheels so we don't need to worry about getting a flat. The front ones are swivel but can be locked when we plan on long strolling and need more stability.
The seats are very nicely covered with plush for our little passengers comfort and can be reclined almost flat. The seats can accommodate taller children thanks to the longer seat back and footrest. There are a five-point harnesses for babies safety. Each seat has weight limit of 50 lbs.
The stroller has great ventilation with vented seat tops. The canopies are adjustable and have peek-a-boo windows so we can spy on our little adventurers.
There is also a pretty big basket underneath the seat which is easily accessible, and there are also two pockets on the back of the seats.
Notice that this stroller is not a jogger and we should not run with it! Baby Jogger City Mini GT is designed for safety and stylish all-terrain cruising.
City Mini GT can be easily turn into a travel system with an infant car seat compatible with it (with an adapter) or a pram if we decide to buy a bassinet.
---
What are the improvements in the newest version?
You may wonder what is the difference between the newest model of City Mini GT double and previous version. Well, the 2016 version has a handlebar that extends farther and is 5.25" taller. There is a wider distance between rear wheels and greater distance between front wheels.
The newest verion is more stable and has different car seat adapters. The way we attach a car seat is also improved. I would recommend getting City Mini GT 2016 version, because it has couple improvements and the price is almost the same as the older (and poorer) version.
---
Features
Let's take a closer look to City Mini GT features and find out if this is a right stroller for you and your children.
Wheels
City Mini GT has all-terrain 8.5'' rubber wheels, so this is an excellent stroller not only for running errands in the city, but also for off-road trips. Front wheels are swivel for more maneuverability and lockable for greater stability.
There is also a front wheel suspension which makes the stroll very comfortable for kids. Although the wheels are relatively small, this stroller will handle cracks, bumps and debris and our passengers won't feel them at all! It will also work well on grass, mulch, old bumpy sidewalks and gravel.
Although it has wonderful tires that will handle all types of terrain, this stroller is not meant to be a jogger and it is not safe (for you and your babies) to run with it.
Brake
This stroller has hand-oparated parking brake, which is completely different than in most of other strollers. Thanks to the hand brake we have the full control within reach and steering is very easy and convenient.
Seat
City Mini GT has two seats padded with plush which make strolling very comfortable for our little passengers. Seats recline individually so one child can ride in a near-flat position and the other one can sit upright and watch the surroundings.
When the seat is fully reclined we can uncover a mesh window on the back for additional ventilation. There are also adjustable five-point harnesses for the babies safety.
Canopy
City Mini GT has very nice adjustable sun shades with SPF50+ to protect our babies from harmful UV rays. Each canopy opens and closes individually so one of our passengers can sleep while the other one is exploring the surroundings.
We can pull the canopies all the way down so there is no chance that sun will get into the children eyes and they will even cover babies feet! Each canopy has also two peek-a-boo windows so we can keep an eye on our little ones during the trip.
The only thing I didn't like about the canopy was the velcro closure in peek-a-boo windows, it is so noisy. I wish it has magnetic closure.
Handlebar
There is an adjustable handlebar so parents of different height can push the stroller with ease and comfort.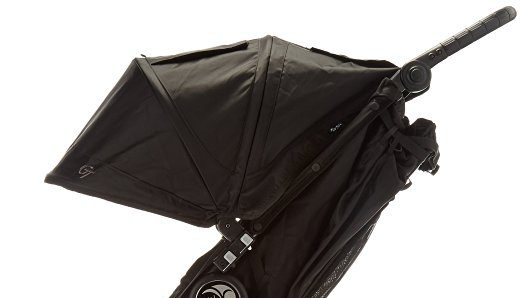 Using the stroller
City Mini GT pushes very smoothly and is super easy to steer with two hands (I have no problem even with pushing it with one hand with two passengers!).
Folding
Here starts the magic of the City Mini GT with special, patented folding technology named fold™. If we want to fold the stroller we just need to lift the straps and it will fold itself! I think it is one of the best (if not THE BEST) folding system I've ever used.
And it has an automatic lock to keep the stroller closed and very compact for storage or transportation. Dimensions of the folded product: 12.5″ x 29.75″ x 31″. There's only one drawback here – it doesn't stand on its own.
Here you can watch a video from Baby Jogger and see the magical folding process 🙂
Basket
This stroller has pretty roomy storage basket, but not as big as we wish it would be. It will be definitelly sufficient for our babies essential (I didn't mind taking only few diapers, not the whole bag because it wouldn't fit), but there might be no room for the bag of groceries. Especially because there is a bar in the middle of the basket.
That's a little drawback for me, because City Mini GT is designed for running everyday errands and shopping! Nevertheless, there are two additional back pockets for your things like keys, phone, wallet etc.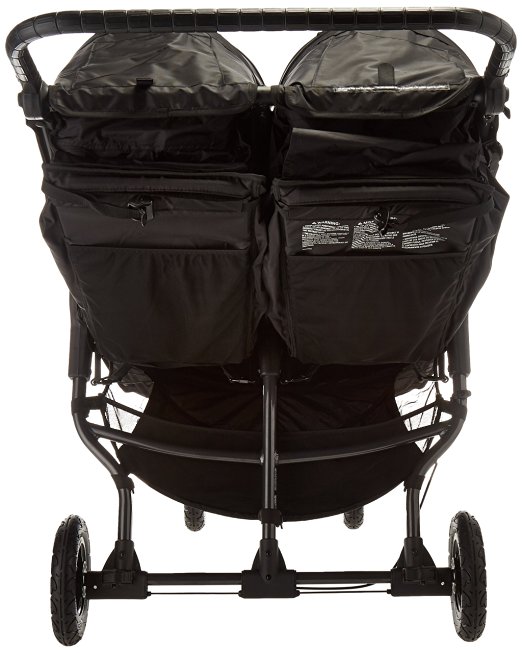 Travel system 
We can use the City Mini GT from birth if we purchase City GO infant car seat, specially designed car seat compatible with it. Of course we can also use many other car seat brands, but then we will need an adapter for it.
We can also turn this stroller into a pram with one or two bassinets. I really like City Mini GT for its versatility. Depending on our need, we can attach to the stroller two infant car seats, two bassinets or one of each.
Weight and size
This is not the lightest stroller on the market, but it is still not that bad if we consider it is a double pushchair which can be used literally on any type of terrain! It weighs 32.6 lbs and its dimensions are: 44″ x 29.75″ x 30-43.5″.
Nevertheless, City Mini GT is very narrow (for a double stroller) so we won't have any problems with getting through normal doorways or shop alleys.
---
| Pros | Cons |
| --- | --- |
| All-type terrain wheels, front ones are lockable and pivoting | Pretty heavy |
| Hand-oparated parking brake | Quite small basket under the seat |
| Individually reclining seats padded with plush | No accessories included |
| Individually adjustible canopies with SPF50+ | |
| Adjustible handlebar | |
| Amazing folding technology - stroller folds itself and locks automatically | |
| Narrow (for a double stroller) | |
---
Color versions
Baby Jogger City Mini GT double stroller is available in six color version: black, steel gray, black with gray, black with shadow, blue with gray and red with gray. You can find all of the color versions here.
---
Specification
| Stroller Type | All-terrain double standard stroller |
| --- | --- |
| Stroller weight | 32.5 lbs |
| Weight limit | 100 lbs (combined weight) |
| Stroller dimensions | 44" x 29.75" x 30-43.5" |
| Folded dimensions | 12.5" x 29.75" x 31" |
| Seat to canopy height | 21" |
---
Accessories
City Mini GT double stroller is quite an investment, but it comes without any accessories for our or our passengers convenience.
There is a lof of extra gear that we can purchase separately:
parent console
children tray
stroller organiser
weather shield
carry bag
---
What other parents say on City Mini GT?
Here you can read other parents reviews!
---
To sum up…
As the name says, City Mini GT is designed to be used as an everyday city stroller and it truly serves its purpose. This is a great choice for urban parents who also like to go for an off-road walk once in a while.
Thanks to the all-terrain wheels we can take our children for a stroll wherever we want and the terrain doesn't have to limit us! Nevertheless, remember that it is not a jogger and we can't run with it.
City Mini GT has comfortable seats, adjustable handlebar and what's the best – magical folding system which I wish every stroller would have.
If you are an urban parent, looking for an every day double stroller to run errands with, Baby Jogger 2016 City Mini GT will meet your needs!

Hello Moms! I am Zooey. I am a wife and a mother of three amazing kids: 3-year-old Haley and almost 1-year-old twins Jesse and Matthew. I am a jogger, cooker and blogger
If you have a question or a comment, do not hesitate to write to me! 🙂