For the past few months many parents were wondering if UPPAbaby is going to release upgraded version of CRUZ for 2018. And now it is finally available on the market! Find out what new features UPPAbaby CRUZ 2018 has and if it is better than older model.
You're probably curious what has changed for the newest version and which functions stayed the same. Many parents wonder if new CRUZ 2018 works better than previous model. In my review you will find out what distinguishes this stroller and if it's worth buying instead of CRUZ 2017.
Sale
UPPAbaby CRUZ 2018
Beautiful colors and high-quality materials
Smooth maneuverability & slim design
Allows you to attach infant car seat or bassinet for newborn
Large basket gives you plenty space for your essentials
Great choice for urban parents
Price range: $$$$
Last update on 2019-01-21 / Affiliate links / Images from Amazon Product Advertising API
New Features of UPPAbaby CRUZ 2018 – Review
The new CRUZ 2018 doesn't differ much from the previous version as the changes were rather small and related only to the stroller look.
Let's take a quick peek on upgraded features of UPPAbaby CRUZ 2018.
Handlebar & Bumper bar
Just like VISTA 2018, this stroller also has leather handlebar and bumper bar – included in all color versions. Leather details don't contain any chemicals – I love products designed with children and parents health and safety in mind. Besides, this leather handlebar is high-quality, looks stylish and feels really nice.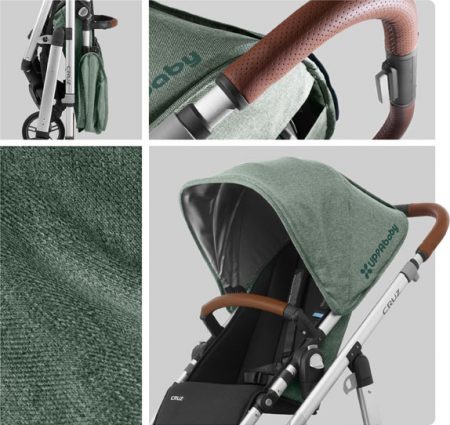 The leather cover for handlebar and bumper bar is available in black and brown.
Fashion
UPPAbaby CRUZ 2018 is available in 8 colors. Among standard colors we can find Denny (red) again!

There are 2 new color versions: Emmet (Green Mélange) and Jordan (Charcoal Mélange). For previous model UPPAbaby offered mélange fabric only for one color version. I must admit – I'm very excited that the brand added more colors for this fabric as it gives the stroller chic look.

Keep in mind that some color versions may not be available currently. Before you decide to buy this stroller make sure to check its availability and compare prices of different colors (you can do it here).
Keep in mind that UPPAbaby CRUZ 2019 comes in 5 fashions: Jordan, Emmet, Gregory, Jake and Denny. The brand discontinued Loic and Taylor in 2019.
Fabric
UPPAbaby also upgraded fabric texture for 2018 models. The fabric on the canopy and the seat has new type of texture and it is less shiny than it was in previous version. Now it has more mat finish.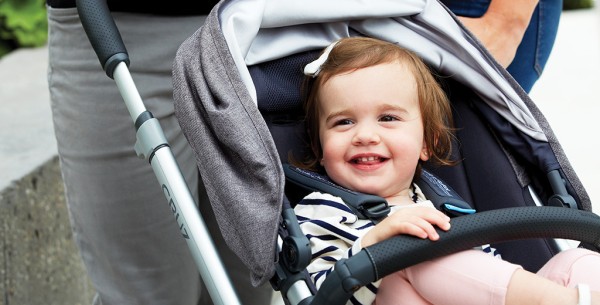 Frame
CRUZ 2018 has upgraded chassis, which now is powder-coated, instead of carbon-coated. It supposes to minimize risk of scratching on the frame. VISTA 2018 has the same upgraded frame.
Unchanged Features of UPPAbaby CRUZ 2018
Except for these changes UPPAbaby CRUZ 2018 is the same awesome single stroller for everyday city use and its other functions remain unchanged. You can read more about the previous model in my review of CRUZ 2017. Below you can find the most important information about the features that haven't been changed for CRUZ 2018.
Seat
This stroller is equipped with a roomy seat which is suitable for infants from 3 months and can accommodate a passenger up to 50 pounds. The seat is very comfortable thanks to soft padding and has adjustable 5-point harness.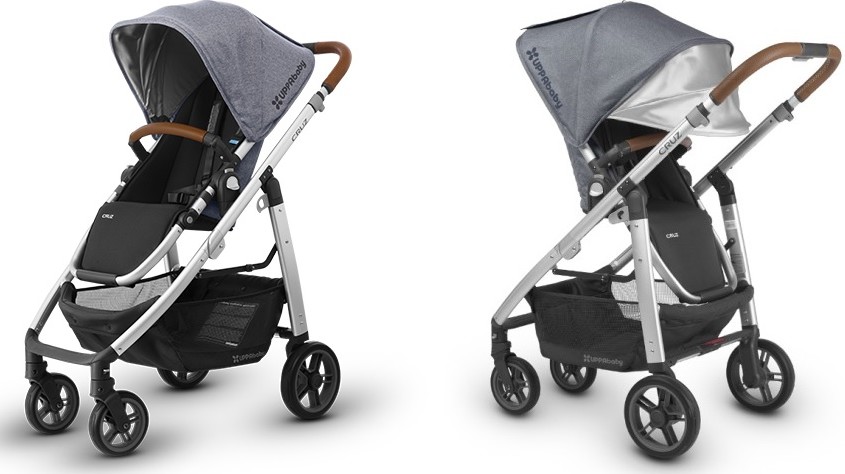 This seat is reversible so the baby can ride facing parent (which is useful when the baby is little) or the World (great option for curious toddlers). Reversing the seat is super simple, everything just clicks into the frame. It literally takes few seconds. And of course there is a one-hand recline and an adjustable footrest to create a cozy space for nap on-the-go.
Although the CRUZ doesn't come with the bassinet like VISTA, parents can buy it separately (check the bassinet for CRUZ here).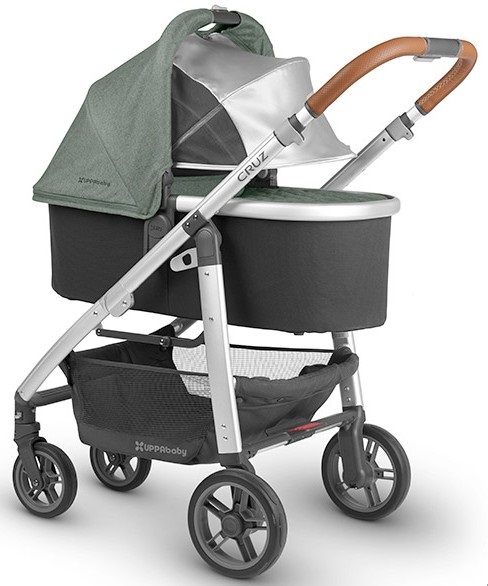 Moreover this stroller can be converted into a travel system with MESA Infant Car Seat (no adapters needed) or few other car seats (with adapters). If you are looking for a stroller that can be turned into a pram or travel system here is my list of the best convertible strollers of 2019.
Canopy
CRUZ 2018 has the same large and extendable canopy like the previous model. There is also pop out sun visor with UV protection. Thanks to it you can enjoy strolls on summer days without worrying about your baby getting sunburns.
The sunshade is equipped with mesh peek-a-boo window with silent magnetic closure. The best part is that the canopy moves up and down to give the baby more room to grow and accommodate taller toddlers.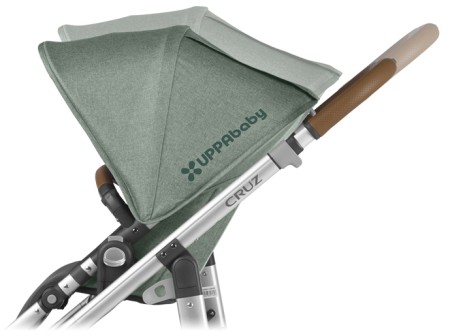 Handlebar
The handlebar telescopes in and out making pushing convenient for shorter and taller parents. The height settings range from 40.5" to 43" from the ground.
I prefer telescoping handlebar than a rotating one, because it gives tall parents more space behind the stroller. So if you're tall and have long legs you don't have to worry about kicking the rear axle with your feet. With CRUZ you will be able to walk and push the stroller comfortably.
Wheels
Last year UPPAbaby updated the wheels for 2017 model and CRUZ 2018 also has those wheels. They have high-quality and durable PolyUrethane tires.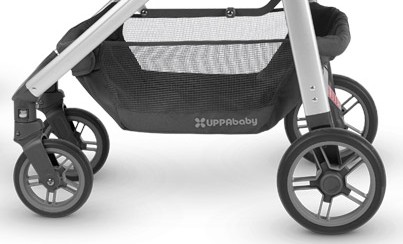 The wheels are rather on smaller side so they work better on flat terrain (like sidewalks, pavement, asphalt or flat dirt roads), but they don't handle rough, dirt trails. This stroller will bounce a bit on more bumpy terrain.
Storage basket
The new model of CRUZ has the same AWESOME storage bin with capacity of 25 lbs just like the older models. It provides enough space for shopping bags or essential gear for a day trip.
I love how easily I can fit there my large diaper bag and take it in and out of the basket without any problems.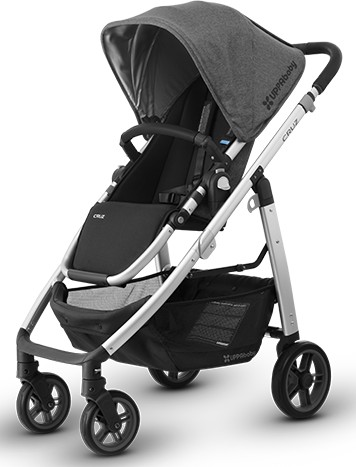 Weight, Size & Folding
CRUZ 2018 weighs 21.5 lbs, just like the previous model. The size also remains the same. CRUZ 2018 is only 22.3" wide therefore it is really slim convertible stroller.
Folding is a piece of cake and takes literally 5 seconds, however you will rather need two hands to do it quickly and without any problems. To fold the stroller you don't have to bend all the way to the ground. CRUZ locks automatically and stands on its own. To open the stroller you will need to bend a little bit, but it's also very easy to do in few seconds.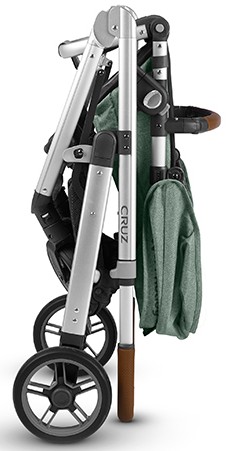 Specification
| | |
| --- | --- |
| Stroller type | Convertible stroller |
| Weight | 21.5 lbs (Frame + Toddler seat) |
| Weight limit | 50 lbs (Toddler seat) |
| Stroller dimensions  | 37″ x 22.3″ x 40.5″ (LxWxH) |
| Folded dimensions  | 17″ x 22.3″ x 36″ (LxWxH) |
| Wheels size | Rear wheels: 8.5", Front wheels: 6.4" |
| Handlebar height | 40.5" – 43" |
Ease of use and overall performance
I like that this stroller has adjustable handlebar therefor it is convenient to push for short and tall parents. It has very slim design which makes it perfect for narrow sidewalks, tight store aisles and small, crowded places.
However it works well only on smooth surfaces. Because of the small wheels and no suspension system, the ride is not cushioned on rough terrain and the stroller may wobble on bumps. Moreover steering usually requires using two hands.
Pros & Cons
Here is the list of the major advantages and disadvantages of UPPAbaby CRUZ 2018 (in my opinion).
Pros
Cons

Comfy, reversible seat with deep recline
Large canopy gives excellent shade from the sun and wind
Telescoping handlebar (gives taller parents more space behind the stroller for more convenient pushing and walking)
Capacious storage basket with easy access (for large diaper bag and grocery bags)
Slim and light design (as for a full-sized convertible stroller)
Many beautiful colors to choose
High-quality materials and fabrics
Smaller, lighter and less expensive than VISTA

Small wheels and lack of shock-absorbing suspension make this stroller not suitable for many types of terrain – I wouldn't recommend it for off-road strolls, cobblestone or bumpy gravel
If you want to use it from birth you need to buy proper accessories which are quite expensive (bassinet, MESA Infant Car Seat or other car seat with proper adapters)
UPPAbaby CRUZ 2018 Release Date
UPPAbaby CRUZ 2018 release date was scheduled for February 2018 and it was on time! CRUZ 2018 is in stores from February 1st.
Are you curious if the new model of CRUZ is more expensive than the previous one? Well, some of the color versions cost few dollars more. Don't forget to compare all prices for different colors, before making your purchase.
You can see currently available colors and latest price on Amazon (check CRUZ 2018 here).
Accessories
| | |
| --- | --- |
| | UPPAbaby Carry-All Parent Organizer – Perfect storage for parents essentials. thanks to this organizer you can keep you phone, wallet and other valuables at hand. |
| | UPPAbaby Cup Holder – In my opinion this accessory is a must-have, especially if you're a fan of long-distance strolls. It provides a safe place for your beverage, so you could always keep in within reach. |
| | UPPAbaby Snack Tray – Your baby needs a place for his snacks and sippy cup as well. This tray is a very useful accessory. |
| | UPPAbaby Infant SnugSeat – It gives additional support for infant's head, neck and back. You can add this insert to the toddler seat (in fully reclined position) to provide even more comfy and cozy place for your little baby. |
| | UPPAbaby Bassinet – CRUZ doesn't include the bassinet, so if you want to turn it into a pram and use it from birth, you will need this accessory. It's a comfy, safe and sheltered place for newborns. Breathable base and mattress prevent baby from sweating and large extendable canopy provides full shade from sun and wind. |
What other parents think about UPPAbaby CRUZ 2018?
CRUZ has hit the market in winter 2018 and last time I checked it on Amazon, it haven't had many customer reviews yet. You can also check it on your own here how many reviews it has right now and what's the overall customer rating. Below you can see my short summary of customer opinions.
Parents praise CRUZ's maneuverability and say it moves easily and smoothly. It's compact and has capacious basket under the seat which is a big advantage. Customers also say it looks gorgeous.
CRUZ 2018 or CRUZ 2017 – Which model is better?
Although the changes for 2018 are great and make CRUZ look even more chic and sleek, they don't affect the overall performance (like maneuverability, steering or quality of ride). If the fashion is important for you and the price doesn't matter I recommend you the new model.
However, if you love how the previous CRUZ operates and you have to stick to your budget, go for the 2017 model and you will be satisfied too!
Keep in mind
CRUZ 2018 doesn't come with many accessories – it has only two shields included. If you would like to have a tray or cup holder or add a bassinet, you need to buy them separately.
This stroller is design for city use only, it doesn't handle unbeaten roads or bumpy cobbled streets very well.
3 Reasons Why You Will Love UPPAbaby CRUZ 2018
1. This stroller is a smaller and lighter alternative for UPPAbaby VISTA. Not every parent needs large expandable stroller! But if you want a high-quality stroller for one child at a time for everyday use CRUZ is perfect choice.
2. The whole stroller is made of top-quality materials so you can be sure it is durable and will last at least several years.
3. Thanks to oversized basket you will always have enough space for your gear, no matter if you are going for a day trip to the zoo or shopping with your baby at the mall. 
If you are thinking about buying this stroller, don't forget to check customer reviews and available discounts (click here to skip to Amazon). If UPPAbaby CRUZ doesn't fit your needs, check other top-quality strollers this year.
All pictures belong to UPPAbaby. Source: https://uppababy.com/