For the past few months many parents were wondering if UPPAbaby is going to release upgraded version of CRUZ. We had to wait until October to find out that there will be new model – UPPAbaby CRUZ 2018.
You're probably curious what has changed for the newest version and most of all – when CRUZ 2018 will be available for purchase. At first, I'm going to tell a little bit about this new model and at the end you will find information about pricing and release date.
UPPAbaby CRUZ 2018 Review
The new CRUZ 2018 doesn't differ much from the previous version as the changes were rather small and only related to the stroller's look.
Let's take a quick peek on upgraded features of UPPAbaby CRUZ 2018.
Handlebar
Just like VISTA 2018, this stroller also has leather handlebar and bumper bar – included in all color versions. Leather details don't contain any chemicals – I love products designed with children and parents health and safety in mind. Besides, this leather handlebar is high-quality, looks stylish and feels really nice.
Frame
CRUZ 2018 has upgraded chassis, which now is powder-coated, instead of carbon-coated. It supposes to minimize risk of scratching on the frame. VISTA 2018 has the same upgraded frame.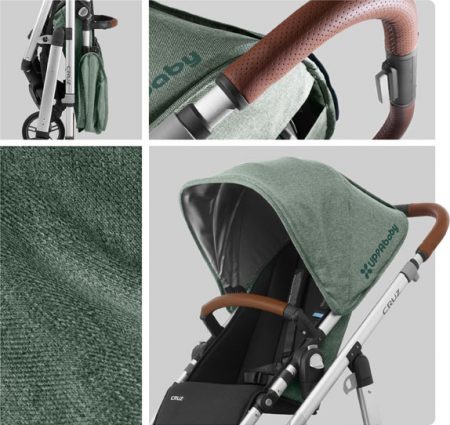 Fashion
UPPAbaby CRUZ 2018 will be available in 2 new color versions: Emmet (Green Mélange) and Jordan (Charcoal Mélange). For previous models UPPAbaby offer mélange fabric only for one color version. I must admit – I'm very excited that they add more colors for this fabric because it gives stroller even more chic look.
Fabric
UPPAbaby also upgraded fabric texture for 2018 models. The fabric on the canopy and the seat has new type of texture and is less shiny than it was in previous version. Now it has more mat finish.
Except for this changes UPPAbaby CRUZ 2018 is the same awesome single stroller for everyday city use and its other functions remain unchanged. You can read more about the previous model in my review of CRUZ 2017.
---
Other features of UPPAbaby CRUZ 2018
Seat
This stroller is equipped with a roomy seat which is suitable for infants from 3 months and can accommodate a passenger up to 50 pounds. The seat is very comfortable thanks to soft padding and has adjustable 5-point harness.
This seat is reversible so the baby can ride facing parent (which is useful when the baby is little) or the World (great option for curious toddlers). Reversing the seat is super simple, everything just clicks into the frame. It literally takes few seconds. And of course there is a one-hand recline and an adjustable footrest to create a cozy space for nap on-the-go.
Canopy
CRUZ 2018 has the same large and extendable canopy like the previous model. There is also pop out sun visor with UV protection. Thanks to it you can enjoy strolls on summer days without worrying about your baby getting sunburns.
Wheels
Last year UPPAbaby updated the wheels for 2017 model and CRUZ 2018 also has those wheels. They have high-quality and durable PolyUrethane tires. The wheels are rather on smaller side so they work better on flat terrain (like sidewalks, pavement, asphalt or gravel), but they don't handle rough, dirt trails.
Storage basket
The new model of CRUZ also has the same AWESOME storage bin with capacity of 25 lbs. It provides enough space for shopping bags or essential gear for day trip. Large diaper bag easily fits in this basket.
Ease of use
I like that this stroller has adjustable handlebar which telescopes in and out – I prefer this type of adjustment more than rotating handlebar. So, the stroller is convenient to push for shorter and taller parents, however on more rough terrain or in tighter spots it requires using two hands.
Weight and size
CRUZ 2018 weighs 21.5 lbs, just like the previous model. The size also remains the same.
Folding
Folding is a piece of cake and takes literally 5 seconds, however it has to be done with two hands. To fold the stroller you don't have to bend all the way to the ground. CRUZ locks automatically and stands on its own. To open the stroller you will need to bend a little bit, but it's also very easy to do in few seconds.
Keep in mind
CRUZ 2018 doesn't come with many accessories – it has only two shields included. If you would like to have a tray or cup holder, you need to buy them separately.
This stroller is design for city use only, it doesn't handle unbeaten, dirt roads.
3 Reasons Why You Will Love UPPAbaby CRUZ 2017
1. This stroller is a smaller and lighter alternative for UPPAbaby VISTA. Not every parent needs large expandable stroller! But if you need high-quality stroller for one child at a time for everyday use CRUZ is perfect choice.
2. The whole stroller is made of top-quality materials so you can be sure it is durable and will last at least several years.
3. Thanks to oversized basket you will always have enough space for your gear, no matter if you are going for a day trip to the zoo or shopping with your baby at the mall. 
CRUZ 2018 or CRUZ 2017 – which model is better?
Although the changes for 2018 are great and make CRUZ look even more chic and sleek, they don't affect the overall performance (like maneuverability, steering or quality of ride). If the fashion is important for you and the price doesn't matter I recommend you the new model. However, if you love how CRUZ operates, but you have to stick to your budget, go for the 2017 model and you will be satisfied too!
UPPAbaby CRUZ 2018 Price
Curious if the new model of CRUZ will be more expensive than the previous one? Well, it will cost few dollars more. The cheapest version will be for $549 while the most expensive one will be for $579.
UPPAbaby CRUZ 2018 Release Date
Recently the brand informed on their official website that UPPAbaby CRUZ 2018 release date is scheduled for February 2018.

Hello Moms! I am Zooey. I am a wife and a mother of three amazing kids: 3-year-old Haley and almost 1-year-old twins Jesse and Matthew. I am a jogger, cooker and blogger
If you have a question or a comment, do not hesitate to write to me! 🙂