Black Friday and Cyber Monday 2020 ended but you still have a chance to save money! I've prepared for you a list of the best deals for baby products that are currently on. You can get strollers, baby carriers, car seats, baby swings, toys and more at much lower price. Are you ready for the shopping madness? 🙂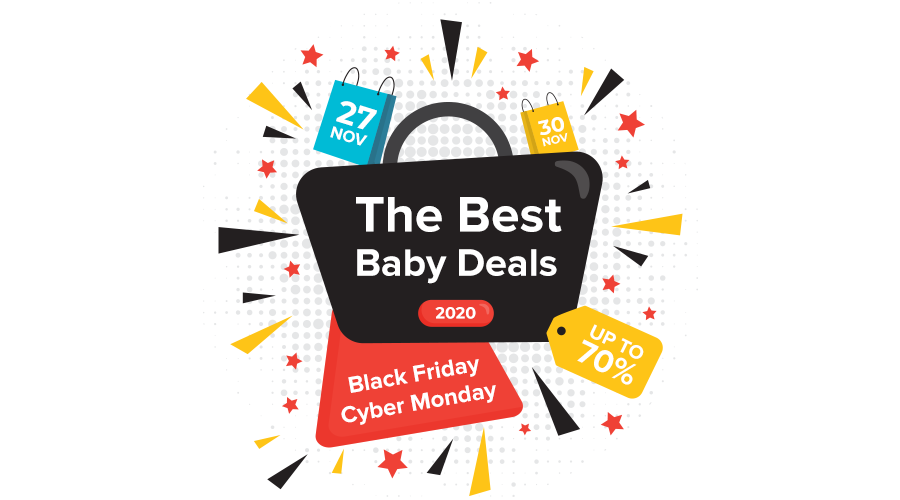 This article contains affiliate links. 
Black Friday & Cyber Monday are perfect opportunity for parents-to-be and those who already have kiddos, to purchase baby products much, much cheaper and save hundreds of dollars!
And let's be honest – you don't want to miss this chance. Most of baby stuff like strollers, baby carriers and swings are usually quite expensive and we all love sales that allow us to save our family budget.
Whether you're expecting and looking for your first stroller or thinking about buying baby carrier for your toddler, you're in the right place.
I gathered here fantastic promotions for baby and kids stuff that are currently live on Amazon or PishPosh Baby. You will also find here information about popular brands sales, including: Ergobaby, Lillebaby, Boba, Solly Baby, Willow, Lovevery, UPPAbaby and many more!
The Best Black Friday & Cyber Monday Deals
2020 Black Friday & Cyber Monday sales are finished, but I still have for you many fantastic promotions for baby and kids stuff! Only top brands and biggest savings
Here is my list of 30+ TOP post-Black Friday and post-Cyber Monday 2020 deals for baby products and coupon codes.
SOLLY BABY – BREATHABLE WRAPS, SWADDLES & MORE
1. Solly Baby Wrap Bundle  (discount: -40%)
Buy one wrap and get the second 40% OFF! Solly Baby Wraps are available in multiple cute and adorable patterns. According to International Hip Dysplasia Institute these wraps are hip-healthy which means they are safe for baby's hip joints and keep the baby in natural, healthy frog position. 👉 Grab your discount here with code: WRAP40!
2. Solly Baby Swaddle Bundle  (discount: -13%)
If you decide to order two Solly Baby Swaddles, you will only pay $40 ($46). These swaddles are also recognized as hip-healthy which means they keep your newborn baby in natural and safe position. Use the code SWADDLE at checkout to collect your discount!
3. Solly Baby Sleep Bundle  (discount: -21%)
Choose two sleeping products: crib sheets, sleepers or sleep gowns and pay only $60 ($76). All Solly Baby products are available in various gorgeous patterns which I'm sure you're going to love! Use the code SLEEP at checkout to receive the discount.
PRO TIP: Those of you who like shopping on Amazon should check this list of coupon codes. The discounts are available for baby strollers, baby carriers, monitors, toys, clothes, diaper bags and lots of other useful baby stuff.
---
ERGOBABY – CARRIERS, STROLLERS & MORE
4. Ergobaby Omni 360 Carrier – Heart To Heart  (discount: -40%)
Omni 360 is one of the most popular Ergobaby carriers and there is a reason for that. It can be used from birth and offers multiple carrying positions, including the front facing out. Now you can get it 40% OFF – this is the biggest saving ever! Keep in mind that the discount applies only to Cool Air Mesh – Heart To Heart version. It's really breathable and the design is really cute and gender neutral. BTW, Omni 360 comes with a useful detachable storage pocket. 
Use code HOLIDAY at checkout.
5. Ergobaby Omni 360 Carrier – Black Stars (discount: -30%)
Ergobaby has one more amazing deal for Omni 360 carrier. The adorable Black Starts version is now 30% cheaper. It has mesh vents to keep you and your little one cooler, plus it's suitable from birth without any infant inserts and can hold a child even up to 45 pounds.
6. Ergobaby 360 – Chambray (discount: -30%)
If you're on smaller budget but would like to get an ergonomic carrier that offers facing out position, the Ergobaby 360 is a fantastic choice. It offers 4 positions, and can serve you well into toddlerhood with the capacity of 45 lbs. Just keep in mind it's suitable from 12 lbs (4 months) with an insert. If you want to use it from birth you will need an infant insert.
7. Ergobaby Metro Stroller (discount: $100)
This stroller has never been cheaper! There is an amazing Ergobaby Black Friday sale and the brand offers a huge discount: $100 OFF Metro. If you need a lightweight, compact stroller with cushy & comfy seat, that is also suitable for newborns (with carrycot), you will love Ergobaby Metro.
Choose your favorite color of Metro here and use the code METRO at checkout to save $100.
8. Ergobaby Sale Items  (discount: up to -30%)
You can find there discounted baby carriers, baby sleep bags, infant inserts and other accessories. Keep in mind that the supplies are limited and there might be some restrictions.
9. Baby Sleep Bag Bundle  (discount: -20%)
If you decide to get two Sleep Bags, you will receive a discount of 20%! Choose your favorite colors and save up to $14.
10. On-The-Move Sleep Bag Bundle  (discount: -20%)
If you'll order two On-The-Move Sleep Bags, you will save 20%! There are two sizes available: from babies from 6 up to 18 months, and for toddlers from 18 to 26 months.
11. Swaddler Bundle  (discount: -20%)
Ergobaby offers a discount of 20% if you order two swaddles. Just check how cute they are! You should also know that Ergobaby swaddles are recognized as hip-healthy by the International Hip Dysplasia Institute. They are designed to give your newborn baby cozy and soothing feeling of being cuddled, without blocking movements of their hips.
12. Newborn Baby Bundle  (discount: -30%)
Get Embrace Newborn Carrier, Classic Sleep Bag and On-The-Move Sleep Bag as a bundle and save 30%! Each product is available in multiple colors and patterns – I'm sure you'll find something that you and your little one will love!
---
UPPABABY
UPPAbaby Sales are still on!
13. UPPAbaby VISTA (discount: up to -27%)
Get AMAZING discount for UPPAbaby VISTA stroller! Save up to 27% OFF William and get a 20% discount for Jordan color from 2019 collection. This is one of the biggest UPPAbaby sales ever! > Here is your discount <
My rate:
---
LILLEBABY
14. Lillebaby Sale Items (discount: up to -50%)
You can often find some great sales on Lillebaby official website. If you check it regularly you may get your favorite model of baby carrier even up to 50% cheaper. I also recommend you to check available open box carriers – their condition is like new and they come with standard warranty!
PRO TIP: You can also get Lillebaby carriers on Amazon. Some colors of the popular Lillebaby Complete All-Season – which I recommend as one of the best baby carriers for newborns, are right now even up to 36% OFF! >> Check current sales here <<
---
BREAST PUMPS
15. Willow Wearable Breast Pump (discount: $50)
Willow has AMAZING offer for LittleBabyGear readers: a $50 discount! This means you can get their fantastic hands-free breast pump $50 cheaper OR get milk containers for free OR get 96 milk bags for free! Use the code: LITTLE50 at checkout. > Collect your discount here <
16. Medela Sonata (discount: up to -43%)
Sonata is one of the best, advanced pumps, that work perfect for exclusively pumping moms. It has a strength of a hospital-grade pump – yet it's fairly small (but obviously not as portable as wireless Willow pump). It's a smaller version of Medela Symphony for at-home use. Now it's 47% cheaper on Amazon – and the set includes: the pump, carry bag; 2 sizes of breast shields, 4 5oz bottles, cooler & ice pack and few more accessories.
17. Medela Pump in Style Advanced Breast Pump (discount: up to -34%)
This set includes portable electric breast pump that uses 2-Phase Expression Technology, plus a tote bag for easy portability – for moms who are often on-the-go or needed to go back to work. This is one of the most popular breast pumps on Amazon, in a medium price range.
---
FEEDING – BABY BOTTLES, DISHES & MORE
18. Green Sprouts Kids Plates (discount: -30%)
Green Sprouts offers a set of 3 plates for kids, perfect for finger foods, snacks, picnics and on-the-go meals. They are made from plants, but are reusable and dishwasher-safe!
---
ORGANIC & NATURAL BABY PRODUCTS
19. Wooden Name Puzzles  (discount: -60%)
Child Universe makes adorable wooden non-toxic Montessori toys for babies, toddlers and preschoolers and now some of them are on sale. You can save 60% on puzzles collection.
Name puzzles are a fantastic gift idea for infants. This is an educational toy and beautiful memento – perfect to celebrate the arrival of a new family member.
20. Learn Words Puzzle, Alphabet Puzzles (discount: -60%)
If you're looking for jigsaw puzzles for toddlers or preschoolers, you will love these ones! They are made of wood and use only non-toxic paints. Learn Words puzzles are designed for 12m+, while the alphabet puzzles are perfect for 36m+ kids. They help them to learn new words, practice hand eye coordination and develop their cognitive skills (like memory and problem solving skills).
21. Lovevery Organic Baby Quilt (discount: $25)
Lovevery has recently launched new Organic Baby Quilt made of non-toxic and baby-safe materials. You can use it for tummy time, for overhead play and seated play as your child grows! Its design supports healthy brain development. Reversible design with high-contrast pattern stimulates baby's vision.
Now you can get the quilt 25%, when subscribing for the Play Kit Program which includes educational toys and books appropriately chosen to your baby's age and developmental stage. What's more you will save 10% on the Play Kits too! You can see what's inside the Play Kit here. Promo like this happens only once a year so better hurry up! Use code: BONUSCUDDLES.
22. Finn+Emma Sale Items – Organic Baby Clothes & Toys  (discount: up to – 50%)
Finn+Emma offer cute baby clothes and toys made of sustainably sourced and non toxic materials. Browse through their sale items: pajamas, jumpsuits, playsuits, bodysuits, hats and teethers. Some products are now even 50% OFF!
23. Honey Bug Educational Toys & More  (discount: -20%)
Honey Bug offers cute educational toys – lots of them are organic, wooden or hand-knitted, and made of non-toxic materials. You can also find there adorable baby clothes, teethers, blankets and swaddles, and many more! If you'd like to save 20%, use the code: CYBER20 at checkout.
24. Green Sprouts Short Sleeve Organic Cotton Bodysuit (discount: -30%)
You can now get a set of 3 bodysuits in white 30% OFF. They are made of 100% organic cotton jersey knit and have a built-in extender to grow with your little bundle of joy.
25. Natemia Organic Baby Nursery Essentials (discount: up to -30%)
Natemia offers organic bath and sleep time products like: bath robes, cute hooded towels for babies, swaddles blankets, crib sheets, sleeping sacks and many, many more! Now they are having amazing Holiday Sale and some of their products are even 30% OFF.
---
PISHPOSH BABY – STROLLERS & CAR SEATS
26. Baby Jogger Strollers & Accessories (discount: up to -44%)
Currently you can get a discount even up to 44% on Baby Jogger strollers and accessories! Remember that the discount varies for different models and colors.
27. Cybex Balios S  (discount: up to -22%)
First edition of the versatile Cybex Balios S stroller is now on sale. You can save up to 22% on Lavastone Black version and 15% on Denim Blue. Hurry up – the availability is limited!
28. Cybex Priam  (discount: -25%)
If you've been dreaming about getting the luxurious Cybex Priam, now it's the perfect opportunity. Now it is 25% CHEAPER! It is the hottest deal ever!
29. Thule Urban Glide 2 (discount: -20%)
This is probably the best opportunity to get this stroller at much more affordable price! Urban Glide 2 has been one of the best jogging strollers for the last few years – its quality is unbeatable. It rolls like a breeze, you can push it with one hand and the ride is so smooth for the baby!
30. Thule Spring (discount: -20%)
This is one of my favorite convertible strollers – it works perfect for families who live in the city but sometimes like to go for an off-road walk. This stroller is compact, weighs only 21 pounds and handles cracked sidewalks, gravel paths and grass really well. You can forget about bulky all-terrain strollers!
31. Thule Sleek (discount: -20%)
Have you been dreaming about a stroller that expands from a single to a double mode and can handle more than just a flat pavement? You will love Thule Sleek! It's a strong stroller that you can use for one or two kids (or even three kids if you add a standing board!). Limited availability – hurry up!
32. Mountain Buggy Nano (discount: up to -25%)
Nano has never been cheaper! Selected colors are now on a huge sale. Get this awesome lightweight stroller for just $149.99 ($199.99).
33. Bugaboo Bee5 Stroller  (discount: up to -25%)
This is probably the best opportunity to get this Bugaboo iconic stroller! Choose your favorite color option and save even 25%. This everyday stroller has 3 amazing features that you should know about: it weighs less than 20 pounds, it has truly upright seat (ideal for curious toddlers) and its backrest is extendable!
34. Bugaboo Lynx Stroller  (discount: up to -20%)
Some say that Lynx is the best Bugaboo stroller ever. It has a sleek design and compact footprint, versatile wheels that can handle various terrain and reversible cozy seat. Right now you can save up to $200 off Bugaboo Lynx!
35. Silver Cross Wave 2020  (discount: -23%)
Wave is one of the luxurious high-end strollers that expand from a single to a double mode. This promo package includes a single stroller with one toddler seat + a bassinet. Availability is limited – save $300 today!
36. Sitewide Sale – Stroller, Car Seats, Nursery & More (discount: up to -20%)
The product you're looking for is not on the list? Don't worry! With code: DEC20 you can get 20% OFF many items on PishPosh Baby. Pick your favorite stroller, bassinet, infant car seat, rocker, crib or toys and save money today!
---
AMAZON
37. Nanit Plus Smart Baby Monitor  (discount: up to -20%)
This advanced model of Nanit baby monitor has a camera with HD video and audio. It tracks your baby sleeping and breathing motion and sends you a notification on your smartphone. You can also receive real-time sound. It also monitors nursery temperature and humidity, and plays calming sounds and white noise. This is an amazing game-changer for new parents. Now you can get it even 20% cheaper! You can choose it with wall mount or floor stand, with Breathing Motion Wear included or not. > I recommend this package <
38. Evenflo Pivot Xplore Double Stroller Wagon (discount: up to $70)
This wagon can accommodate two passengers and it's a great stroller alternative for adventurous families! You can push it like a stroller or pull like a wagon. It can handle sandy beaches and park trails – perfect solution for day trips and exploring outdoors. If you've been thinking about getting a wagon for your kids, this is probably the best opportunity.
39. Maxi Cosi Zelia Travel System (discount: up to -15%)
Zelia features unique seat that converts from a toddler mode into a newborn bassinet! It's a convenient solution because there's less items to store and you have actually two options to use this stroller from birth: the bassinet or the car seat.
40. Infantino 4-in-1 Twist & Fold Activity Gym + Play Mat (discount: up to -20%)
This is one of the popular play gyms for babies. It comes with a colorful play may – for tummy time, plus a toy bar with 4 hanging toys, a teether, mirror and pillow. All items work great for visual stimulation and allow baby to practice fine motor skills.
41. Tiny Love Black & White Gymini Infant Activity Play Mat With Book (discount: up to -27%)
This black & white play mat is great for stimulating infant's vision. The book is useful for tummy time which is very important for developing muscle strength. The toy bar works great for overhead play and encourages baby to reach, grasp and manipulate. This is a perfect opportunity for the baby to practice finger strength and precise movements.
42. Grabease First Training Baby Utensils  (discount: up to -14%)
Grabease spoon and fork are one of the best utensils for self-feeding, as well as BLW. It has a unique design that distinguishes it from other baby spoons. It also makes learning the "food-to-mouth" motion and hand eye coordination much easier and convenient for babies.
43. KeaBabies Silicone Bibs (discount: up to -28%)
Limited time offer! These bibs are made of 100% food grade silicone and they are safe for babies and toddlers. Each has a large food catching pocket to keep mess contained during the mealtime. Suitable from 6 to 36 months.
---
I will be posting here new information about current sales and available discounts so stay tuned! For parents, season for savings lasts all year round!
If you want to be the first to know about the best deals and coupon codes, like LittleBabyGear on Facebook or follow us on Pinterest!
Your trust is really important to us: This post contains affiliate links. If you choose to buy something using these links, we receive a small commission, at no extra cost to you. Your support helps us run this blog. Thank you so much 🖤