So you're probably wondering: UPPAbaby VISTA 2017 or VISTA 2016? Which color, which accessories?
As a mother of three, who's been using VISTA for over 3 years now, I think I could help you to answer to this question.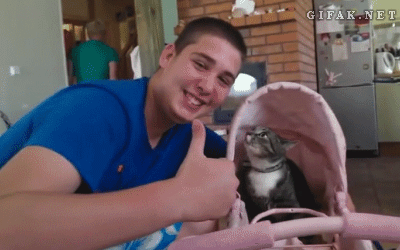 In fact, UPPAbaby VISTA 2017 and 2016 are very similar. That's why I divided this article into two parts and described both strollers. If you want to skip ahead to my UPPAbaby VISTA 2017 review ->click here<-.
You can also continue reading and see my overall review of VISTA first, and then see what are the differences and similarities between 2016 and 2017 versions.
>> Click here and check what other moms think about UPPABaby VISTA <<
UPPAbaby VISTA is a stroller beloved by many moms. When I was expecting with Haley I read so many good review about it that I decided to buy it as my first stroller. Here I present you my UPPAbaby VISTA review where you can find all of the important information about this stroller. Enjoy reading!
VISTA is a standard stroller with toddler seat and additional bassinet. It's a great option for parents who live in the city and are looking for an everyday stroller for running daily errands around town. This pushchair has so many features that it will definitely meet your needs.
Most Important Advantage
+ It's great multitasking stroller which has many seating options – the stroller can accommodate even up to three kids!
Most Important Disadvantage
– It could be pretty heavy for some moms
Verdict:
High quality, multifunctional stroller. If you want something for long period – the UPPAbaby Vista is perfect choice.
UPPAbaby VISTA has versatile seating combinations, depending on the baby age. You can attach into the frame a bassinet, if you want to stroll with your newborn, or you can use the standard toddler seat, when your child has developed neck and head control and can sit up.
UPPAbaby VISTA can be turn into a travel system, because on the market there is also an infant car seat designed by UPPAbaby – MESA.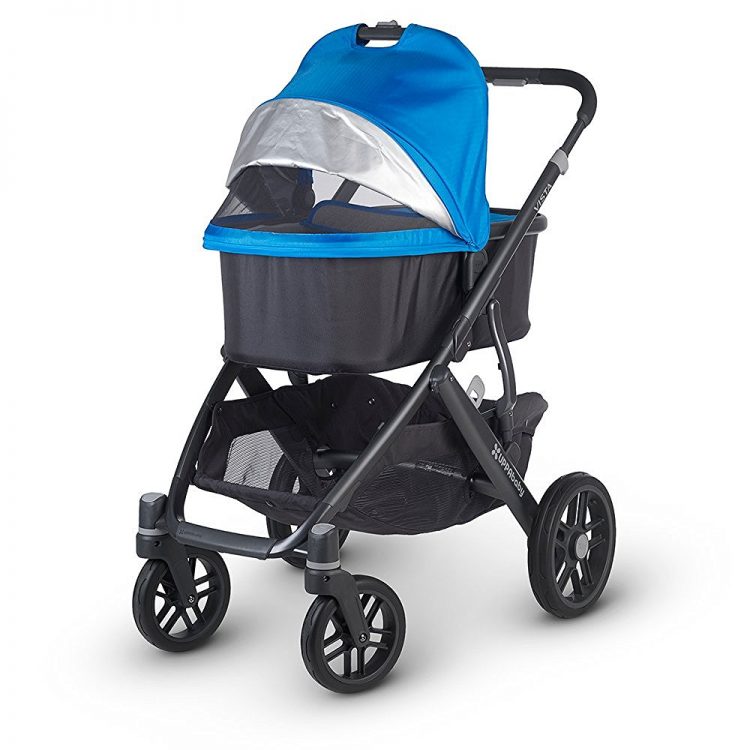 There are also couple car seats compatible with Vista with additional adapter (for example: Chicco Keyfit car seat and Maxi-Cosi Mico car seat). The beauty of strolling with a car seat is that you don't need to wake your baby up by taking him/her out of the car seat and putting to the bassinet, because you can stroll while your baby is still sleeping in a car seat. This is especially useful for parents who often drive before strolling.
"Personally, I have used this UPPAbaby Vista with bassinet and I'm still using toddler seat for Haley. I prefer bassinets in first months because it provides completely flat position for baby's delicate spin and I can regulate baby's temperature. I'm not a fan of using a car seat for long strolling, so VISTA and its bassinet was perfect for my needs." ~ Zooey
In my UPPAbaby VISTA review I described the most important features of this stroller, its accessories and a comparision to UPPAbaby Cruz 2016. For my review I've chosen the 2016 Vista, but at the end of this article you can find information about the 2017 version. Both versions are similar, but there are some upgrades and innovations in the newest model.
UPPAbaby VISTA review – see what this stroller can offer you and your baby
The basic set includes:
The frame made of aluminum and magnesium/carbon alloy (it depends on the color version, but they weigh the same)
Four wheels
Bassinet with bug shield and storage bag
Toddler seat with rain and bug shields
Bumper bar
Read my full article with UPPAbaby VISTA review to find out why so many parents have felt in love with this stroller!
Features
UPPAbaby VISTA has many great functions which allow the stroller to grow up with your baby.
Seat
VISTA is equipped with standard toddler seat which can be front or rear facing. The seat is reclining in six position which is very easy and you can do it with only one hand by pushing a button (as opposed to very common two straps on the back of the seat which require two hands)!
Fully reclined seat is 23.6° from the ground, which mean your baby won't be lying completely flat. The seat can accommodate a baby up to 50 lbs and 40". There is also very nice bumper bar for your baby safety.
The stroller also comes with a bassinet which you can use from day one until your baby is 20 lbs and 25". Mattress pad in the bassinet is perforated and breathable. The base is vented and has boot cover, inner liner and zip out liner. The bassinet has great ventilation. You can also unzip it in the back for extra airflow.
The newest version of VISTA adapts to growing family and even three kids can ride in it at the same time! With some additional purchases this model allows you to install infant car seats or bassinets and toddler seats (or two toddler seats) and there is also a place where the oldest kid can stand during strolling.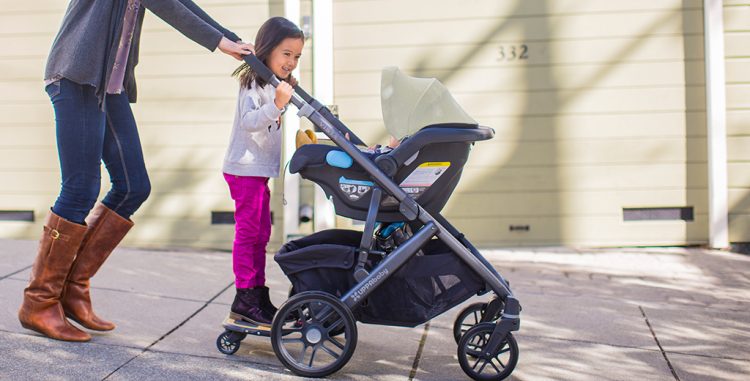 As you can see this is very multitasking stroller! If you would like to use VISTA with two or three kids you will need to purchase separately VISTA Rumble Seat and VISTA PiggyBack. Here you can see all of the seating combination for two or three kids!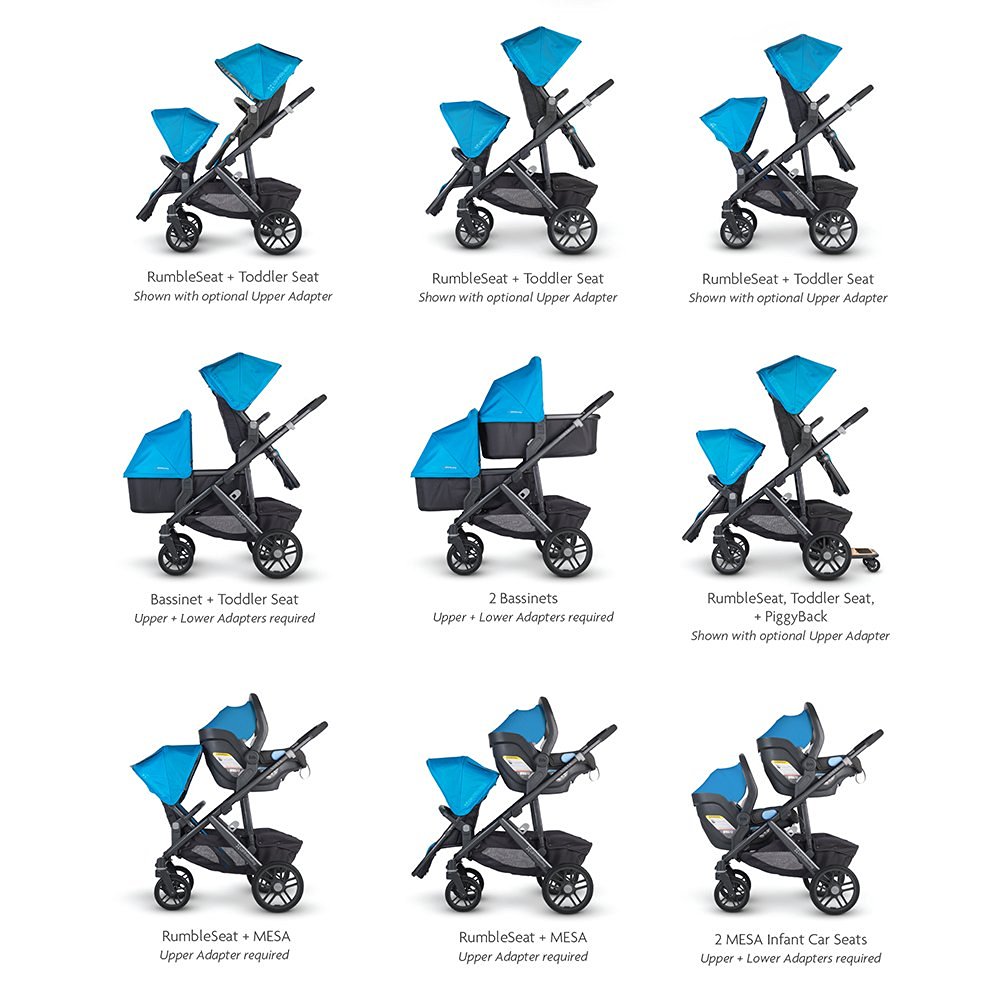 UPPAbaby VISTA gives flexibility. This stroller adapts to parents' needs!
Travel System
UPPAbaby VISTA 2017 can be also used as a travel system with UPPAbaby MESA infant car seat – and we don't need any adapters for it! It just simply clicks into the frame.
VISTA can be also easily turned into a travel systems thanks to compatibility with major infant car seat brands. In this case we will need a special adapter to install the car seat to the frame.
Thanks to it parent can use VISTA since birth not only with  a bassinet, but also with infant car seats. It's very convenient especially if parents drive a lot with their baby and want to quickly switch between stroller, car and home.
If you are looking for a travel system for your baby you might also like Britax B-Agile Travel System. Check out my full review here!
Leg and footrest
This is another amazing and unique feature of VISTA. It has adjustable, multi-position leg and footrest.
Wheels
This stroller has pivoting front wheels which can be locked for riding over tougher terrain. VISTA handles pretty well many types of surfaces, even wooded trails. The wheels are foam filled rubber, which gives the stroller more maneuverability and smoother rides and you will never get flat! 🙂
Front wheels are 8" and the rear ones are 11.5". UPPAbaby VISTA has also four wheel suspension which absorbs shocks.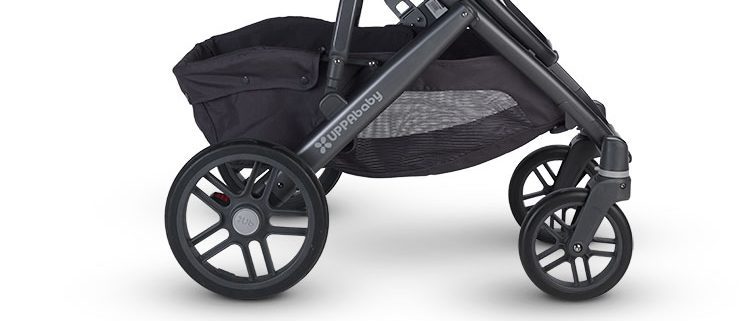 Maneuverability and pushing
UPPAbaby VISTA is very comfortable to push and easy to use. You can steer it with one hand, but this stroller is pretty wide so pushing with one hand decrease your control in the turns. When you are going through narrow spaces and tight turns it is more convenient to push it with two hands.
Brakes
VISTA has a foot-oparated parking brake. This is another excellent feature about this stroller. The brake pedal has green and red indicator that informs parents if the brake is set or released, so you can be sure that you set the brake properly.
VISTA takes care of your children's safety! You and your little one can enjoy strolling together.
Five-point harness
VISTA is equipped with five-point adjustable harness. It is very easy to put on the harness and to take it off. The harness is easily adjustable to fit your passenger and make his/her ride comfortable. There are three shoulder height positions and several crotch strap position.
When you adjust the straps properly you hear they click into the right place. The release button is placed in the middle and is easy to use, but it requires a little pressure which I find great because your little one can't take the harness off by him-/herself.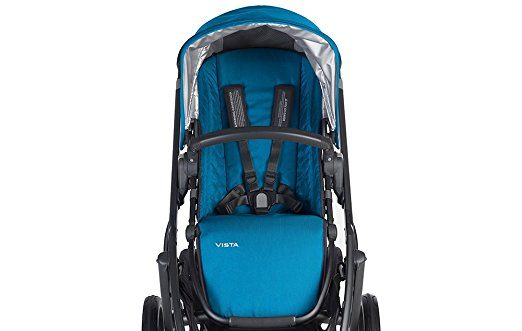 Handlebar
The stroller has also extendable telescoping handlebar which is a great feature for parents of different height. It just telescopes in and out of the frame which is great solution because tall parents won't kick the stroller during walk.
In majority strollers the handlebar adjust by rotating and tall parents sometimes push the stroller while being really close to it and are very likely to kick it. This issue is solved very well in VISTA.
"When my husband, who is 6"2′ and a foot taller than me, wants to stroll with VISTA, he just pushes the button and extends the handlebar up, until its height is comfortable for him. This handlebar is very similar to the one that Bugaboo Donkey has." ~ Zooey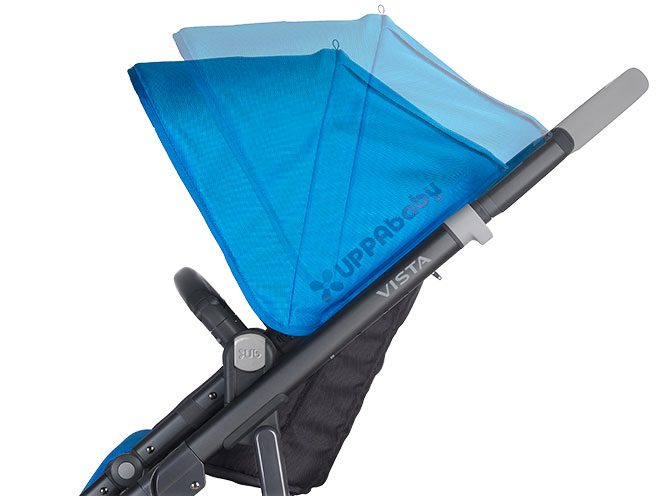 Canopy
This is one of the greatest features of VISTA and one of the best canopy I have ever seen. You can adjust the canopy height, which allows the stroller to grow with your child. When your baby gets taller you just slide the canopy up. But that's not everything!
VISTA has one of the largest sun shades in its category, equipped with SPF +50 protection! Besides, it has big peek-a-boo window with magnetic closure, which is great feature because it is silent (especially when compared with loud velcro closure).
With VISTA you can quietly spy on your little passenger! And the canopy has also great ventilation with additional mesh window.
VISTA is a great vehicle for strolling during hot summer days and cold, windy winter days.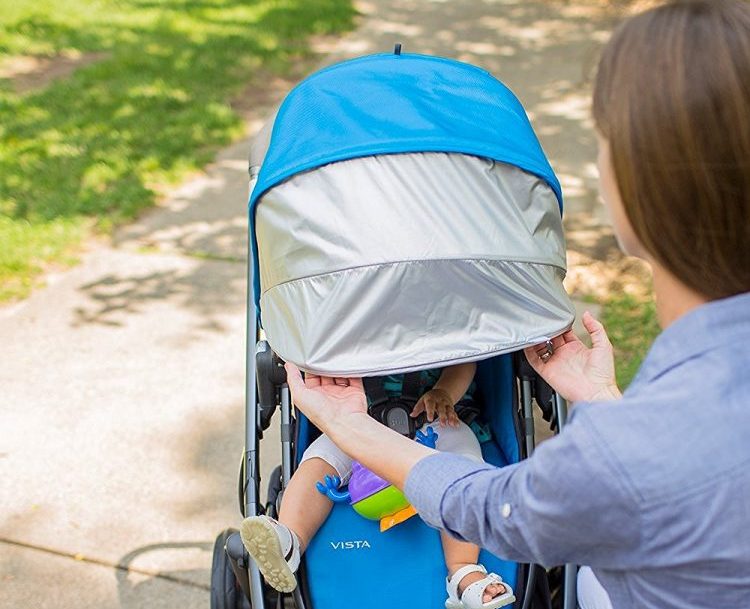 Folding
Folding VISTA is very simple, and in the new version is even easier and can be done with one hand. You can fold the stroller with the seat attached or you can remove it first.
The great thing about VISTA is that it has automatic lock which holds the folded buggy closed, and can stand on its own when folded.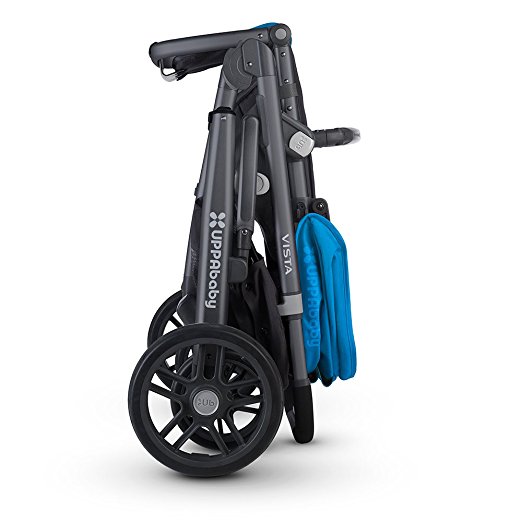 Storage
UPPAbaby VISTA has a HUGE basket under the seat where you can keep a diaper bag, snacks, your baby toys and other everyday essentials (together up to 30 lbs). The basket is very easily accessible from all sides.
You can walk out of the house for a whole day and all of your necessary supplies will fit in that basket. There is also very useful small pocket placed on the back of the seat, where you can put your keys and phone (it might be too small for a bottle of water). It has a zipper to protect your things from accidentally falling out during the stroll.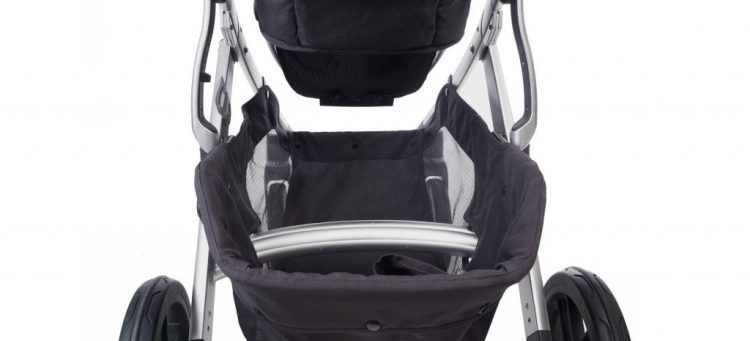 With this huge VISTA basket you will always have a lot of space for your essentials!
Comfort
Riding in VISTA is very comfortable and smooth for our little passenger, thanks to shocks absorbing suspension, rubber tires and nicely padded seat.
Materials
VISTA is made of high-quality materials so the stroller will serve you for decades. 🙂 The canopy and the seat are nicely padded and the material is very easy to wipe clean. The frame is made of aluminum and magnesium alloy and it is lighter than older versions.
Weight
Frame weighs 20 lbs, seat is 7.5 lbs and bassinet is 8.4 lbs. This may be not the lightest buggy in this category but I guess its features and versatility compensate its size and weight.
"I had also a chance to try another UPPAbaby buggy – G-LUXE lightweight stroller. In my review you can find more information about this product and a full comparision of all UPPAbaby strollers." ~ Zooey
Setup
This was our first stroller so we were a little nervous it would be hard to put it together. But it turned out it was very simple. It took less than 10 minutes! And one more great thing about VISTA is that there is another color indicator which inform if the seat is properly installed into the frame (green indicator).
Extras for the convenient ride
UPPAbaby VISTA comes with bug shield for bassinet and toddler seat. There is also a rain cover and specially designed storage bag. Notice that most of the higher-end strollers don't offer these conveniences. I think it is great advantage of the VISTA that it includes shields, because with my other strollers I had to buy them separately.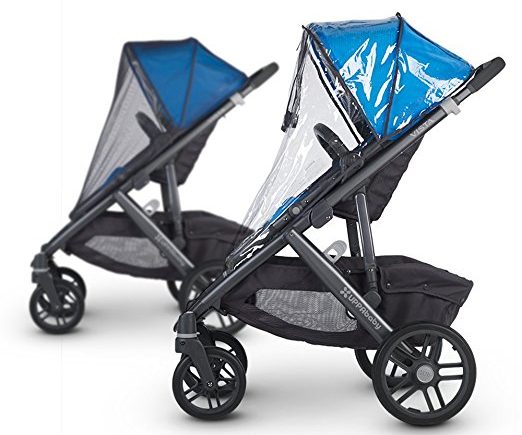 ➞ Check out other parents reviews on Amazon
---
Pros & Cons
| | |
| --- | --- |
| Pros | Cons |
| Many seating options – the stroller can accommodate up to three kids (with some add-ons) | Parent and child tray need to be bought separately |
| Lockable and pivoting front wheel | Pretty heavy |
| Multitasking, easy to use and steer | |
| Parking brake with color indicator that informs when the brake is set properly | |
| Extendable telescoping handlebar | |
| Large equipped with SPF +50 protection, peek-a-boo window and great ventilation | |
| LARGE basket under the seat (with capacity up to 30 lbs!) | |
| Few accessories included (like bug shield and rain cover) | |
---
Accessories
My UPPAbaby VISTA review wouldn't be full, if I didn't mention additional accessories for this stroller. Of course, there are few things which you can purchase separately.
There is also a possibility to buy all of these accessories as a set.
➞ Check what is included in the set!
---
Specification
| | |
| --- | --- |
| Stroller type | Standard, convertible stroller |
| Stroller weight | Frame: 20 lbs, Seat: 7.5 lbs, Bassinet: 8.4 lbs |
| Weight limit | Bassinet: 20 lbs, Seat: 50 lbs |
| Stroller dimensions | 26.5" x 37" x 39.5-42.5" (WxLxH) |
| Folded dimensions | 26.5" x 13.5-14" x 33" |
| Seat to canopy | 19-21" |
| Handlebar height | 39.5-42.5" |
---
Color versions
UPPAbaby VISTA 2016 is available in six color version: Taylor (blue), Denny (red), Georie (light blue), Jake (black), Lindsey (wheat) and Pascal (grey). The price may vary little bit depending on the color you choose.
---
UPPAbaby VISTA vs CRUZ – my comparison
On first sight, UPPAbaby VISTA and CRUZ may seem the same. But when we take a closer look we will see that these stroller have few differences. So, what features are similar in VISTA and CRUZ and what are the differences? Here is my short comparison of these two baby strollers.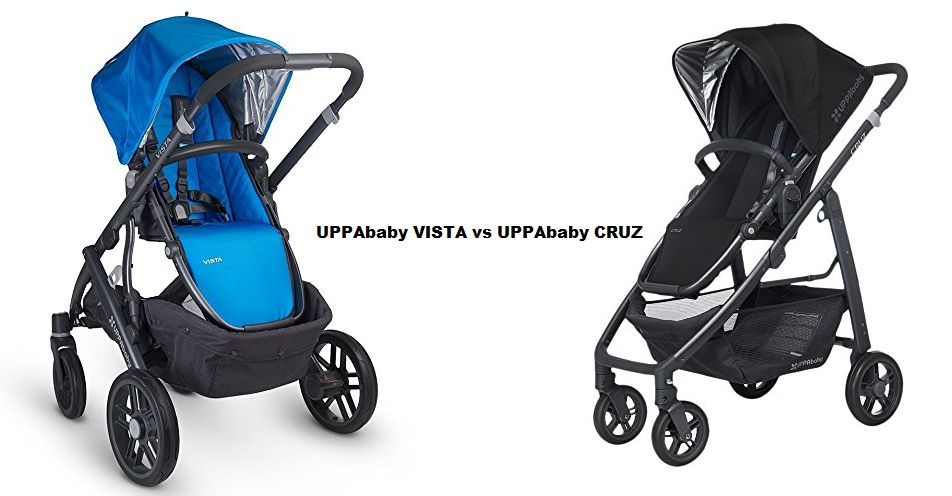 | | |
| --- | --- |
| Similarities | Differences |
| Both strollers are equipped with normal toddler seat which can accomodate a baby up to 50 lbs and 40". Both seats are reversible and reclinable and have bumper bars. | VISTA has four wheel suspension, in contrast to CRUZ, which makes it more easy to push and navigate. |
| VISTA and CRUZ are compatible with many car seats (with adapters) and there is also one infant car seat specially made for them, named MESA. | CRUZ has smaller wheels than VISTA (7" and 8.5" vs. 8" and 11.5"). |
| Both vehicles have foam filled rubber wheels which absorb shocks. | VISTA's brake is equipped with color indication that shows if the brake is set or released. |
| Both VISTA and CRUZ have extendable, telesoping handlebar. | CRUZ is lighter, smaller and tighter than VISTA. |
| These two strollers have large canopies, with sun protection and peek-a-boo windows. | VISTA's seat reclines more than CRUZ's (23.6° vs 27.8° from the groud). |
| CRUZ and VISTA have automatic lock and they stand on their own after folding. | VISTA has bigger basket underneath the seat than CRUZ (weight limit 30 lbs vs 25 lbs). |
| Both strollers come with a bug shield and rain cover. | |
| Both products are high-quality and very easy to use. | |
UPPAbaby VISTA 2017 – what's new in the latest version?

VISTA 2017 has upgraded wheels to new solid, polyurethane ones. They are more durable and provide smoother ride. There is one more great news! These new wheels are sold separately, therefore if you own the older version of VISTA (from 2015 or 2016), you can upgrade your beloved stroller!
The newest version of this stroller is 1.5 lbs lighter than the previous model (thanks to new wheels). 2017 version of VISTA weighs 26 lbs.
The UPPAbaby VISTA 2017 is 1" narrower at the rear wheels.
There are four new color versions: Austin (Hunter green), Loic (White), Dennison (Bordeaux) and Henry (Blue Marl). Apart from these colors, we can buy 2017 VISTA in four previous color versions: Sabrina (Orchid), Jake (Black), Pascal (Grey) and Taylor (Indigo). You can see all of the colors inthe picture above.
For handlebar and bumper bar there is a leather cover available.
Covers for handlebar and bumper bar are sold separately. therefore, if you already have felt in love with them, but own VISTA from 2015/2016, you can still purchase these covers because they zip over bars!
The canopy is made of new woven fabric. This upgraded material doesn't wrinkle as much. Besides, sunshade has a better lock now. When we slide the canopy up and down it stays in the place better.
There are also new accessories for VISTA 2017. For evening strolls lovers there are wheel reflectors available! UPPAbaby takes care of our little passenger safety.
UPPAbaby VISTA 2017 is lighter, narrower, has even better wheels and fabrics, new color versions and new accessories!
Last time when I checked on Amazon they had FREE SHIPPING to every buy. I'm not sure if it's still free so


don't forget to check it here

.

To sum up…
UPPAbaby VISTA is an everyday stroller for urban parents. This buggy is made of high-quality materials, is very easy to steer and push, and definitely will grow with your child(ren). In my UPPAbaby VISTA review I tried to show that it is a standard stroller and a travel system at the same time.
It is hard to find better stroller in this category, especially that its price isn't the highest one! VISTA is a multifunctional stroller and offers more amazing features and high-quality than other products even with higher price. If you want a good value product which you will use for couple of years this one is definitely worth its price and you will be satisfied!

Let me know if you enjoyed my UPPAbaby VISTA review or if you have some questions about this stroller!

Hello Moms! I am Zooey. I am a wife and a mother of three amazing kids: 3-year-old Haley and almost 1-year-old twins Jesse and Matthew. I am a jogger, cooker and blogger
If you have a question or a comment, do not hesitate to write to me! 🙂