Are you jogging or hiking lover? Is your stroller not working on bumby grass, forest and park paths or other rough terrain? Well, it seems like you need a good jogger! And BOB 2016 Sport Utility is one of the best strollers for jogging.
It is designed for active parents who love to run off-read and likes adventures. It will definitely meet expectations of every parent who loves running on the most challenging terrains.
Large wheels with wide tires, great amortization and famous BOB adjustable suspension system will protect your little passenger from shocks and will provide you with smooth ride on bumby old sidewalks, uneven terrain, rocks, roots, sandy beaches and grassy paths. The fixed front wheel provides excellent stability even on tough and bumby surfaces and allows you to easily push the stroller while jogging.
You can use BOB 2016 Sport Utility also for your newborn, if you purchase car seat adapter and infant car seat and turn this jogger into travel system. There are a lot car seat brands compatible with this stroller. Besides, there are a lot of great and useful accessories for this stroller, which you can buy separately. For example: cooler bag, where you can keep your water bottle, but also milk or juice for you little sportsman (or sportswoman:)).
---
Basic information
This model has many clever solution that will enchant every jogging lover, especially the one who loves running on rough terrain.
It has wrist strap attached to adjustable and padded handlebar, hand brake, parking brake and five-point harness to increase your baby's safety.
The stroller frame is made of lightweight and durable materials. This model weighs 28.6 lbs (which is 2 lbs less than PRO 2016 model). The seat can accommodate a child up to 75 lbs, so the stroller will serve you for a long, long time.
BOB 2016 Sport Utility is designed for off-the-road jogging and riding on bumby trails. This stroller is not good for shopping, because it is quite big and doesn't have swivel front wheel. If you are looking for a stroller which you could take to the store, you should concider other BOB models with pivoting front wheel which makes stroller easier to push and navigate.
I would give BOB 2016 Sport Utility 4 out of 5 stars because it has many great features which are neccessary in joggers. I only wish it has automatic lock and swivel front wheel. Nevertheless, BOB 2016 Sport Utility is excellent stroller for active parents and serious joggers.
BOB 2016 Sport Utility has some new features that prior models didn't have. It is equipped with larger basket and the seat can accommodate a child up to 75 lbs, which is 5 lbs higher weight capacity. But this version is also 2.6 lbs heavier than prior models.
---
Which BOB model should I choose?
I know that all the BOB models look very similar and it can get confusing what model you should choose. Remember that they have different size of the wheels, some of them doesn't have hand brake, not every model has swivel and lockable front wheel or adjustable handlebar. But other than that, they have similar feature like huge canopy, great adjustable suspension system, reclining padded seat and plenty of storage. Oh, there is one more difference – the price of course! 🙂 You will find some models around 200$ and others for 400$. The price depends on features, accessories and specification.
---
Features of BOB 2016 Sport Utility
Suspension system
This model is equipped with adjustable suspension system. Looser suspension is great for heavier child and stiffer one is for lighter baby. This amazing suspension system guarantees an incredibly smooth ride.
Large wheels
There are two 16" wheels in the back with knobby mountain pumped tires which will get you over rough terrain and absorb shocks. The tires are not only large, but also air-filled, and thanks to it the stroller will handle bumps, uneven terrain and different types of surface very well. The front wheel is fixed which gives you more stability while you are jogging or hiking, even when the trail is rough. I only wish the front wheel was pivoting. Then the stroller would be also wonderful for running errands in the city and for trips to shopping malls.
Parking brake
As in other BOB models this brake is located between the wheels in the back and it is foot-operated. But be careful while wearing flip-flops – it can be a bit more difficult to operated the brake.
Hand brake
One of the main advantages of BOB 2016 Sport Utility is an additional brake, which is hand-operated. It is very useful during jogging downhill and allows you to easily control the speed.
Canopy
All BOB strollers have really a great large canopy with big peek-a-boo window which allows you to watch your baby during the stroll. The canopy is adjustable and has multiple positions. It goes pretty far down to provide a shade for your little one.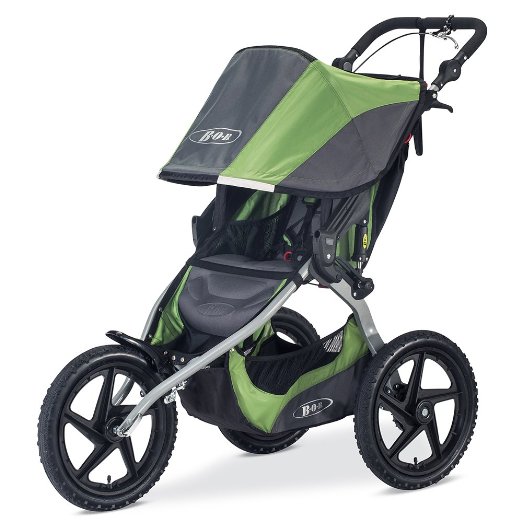 Seat
BOB 2016 Sport Utility has very cushioned seat with soft padding on the back and the bottom. The stroller is also equipped with a detachable padding for your baby's lower back. You can recline the seat down to 70° from vertical, by pulling two straps located on both sides on the back of the seat.
Remember that you can use this stroller for running when your baby can hold up his/her head (around 6-8 month). If you want to use it for your newborn you need to purchase a car seat adapter and infant car seat, because the seat in this stroller doesn't fully recline. You can also find a head rest for the baby, until he/she develop full head and neck control. This stroller has also a good support for legs and feet.
Five-point harness
This one is absolutely necessary for your baby safety. The harness is nicely padded and has release buckle in the middle.
Wrist strap
The wrist strap is attached to the handlebar and gives you extra protection so the stroller won't run away from you. You should be careful with this strap during jogging, because if you fall it may pull the stroller down with you.
Handlebar
This model has nicely padded handlebar that can be set in one of nine positions, which is great for parents of different height. My husband is a foot taller than me (6'2") so he used different position of the handlebar than me, but he found it very comfortable to push this stroller. In older versions of this stroller there were no adjustable handlebar so I found having it as a big advantage.
Plenty of storage
BOB 2016 Sport Utility has plenty space for yours and your baby gear. You can keep your shopping bags, diapers or change of clothes in the basket underneath the seat. For your essentials like keys, cell phone, wallet or wipes, there is a backseat pocket. This stroller doesn't come with an adult console, so this pocket will be very handy. If you will need an adult tray you can purchase it separately for about 30$. This models has also two mesh pockets, one on each side of the seat, hwre you can keep your baby toys or snacks.
Folding
You can fold BOB 2016 Sport Utility in two steps, using both hands. The whole process is pretty easy. Like in other BOB models there is no automatic lock. After you fold the stroller, you need to bend down and use a clip which is attached to the wrist strap and manually lock the stroller so it will stay closed. Even when folded, this stroller is quite big (L 41" x W 25" x H 18") and it takes significant amount of space for storage. You can remove the rear wheels to make it more compact and make it easier to travel with it or transport the stroller in a car trunk.
Also assembling the stroller is quick and simple – it can be done within 15 minutes.
Size and weight
BOB 2016 Sport Utility is a quite large and heavy stroller. It weighs 28.6 lbs. I would not recommend traveling with it. Also this isn't a shopping stroller. But it is DESIGNED for outdoor use and it serves this purpose excellent! Remember that all jogger are large, quite heavy and bulky, especially those high-quality ones. If you want a frame made of good materials, large canopy and big wheels for uneven terrain, you need to be prepared it will take up some space.
---
| Pros | Cons |
| --- | --- |
| Amazing suspension system that absorbs shocks | No pivoting front wheel |
| Large air-filled wheels | No automatic lock |
| Safety features: wrist strap, five-point harness, parking brake and hand brake | Pretty heavy and bulky |
| Large multiposition canopy with peek-a-boo window | |
| Padded reclining seat | |
| Adjustible handlebar | |
| Large basket and back pocket for your essentials | |
---
Video review
I coudn't find a video review of the new version of BOB 2016 Sport Utility. But here you can watch a review of the BOB Revolution SE, which is very similar.
---
Specification
| Stroller type | Jogging stroller |
| --- | --- |
| Stroller weight | 28.6 lbs |
| Weight limit | 75 lbs |
| Stroller dimensions | 50'' x 26'' x 44'' (LxWxH) |
| Folded dimensions | 41″ x 25″ x 18″ |
| Handlebar height | 40″ |
| Seat to canopy height | 23″ |
---
Color versions
BOB 2016 Sport Utility is available in one color: Meadow (green). You can see it here. The older version (without adjustable handle bar, 2 lbs lighter) is available in orange. Both version vary in pricing.
---
Waranty
BOB Revolution has limited five-year warranty on the frame and limited one-year warranty on other components and fabric.
---
Accessories:
There are many great accessories that work with many BOB models. Here is the list of things you may need and can purchase separately:
Car seat adapter which works with many popular infant car seats,
Snack tray for your baby,
Adult console with cup holder which is very useful while jogging (grabbing a bottle of water from a backseat pocket might be quite difficult),
Weather shield and sun shield for protection from different weather conditions,
Travel bag for parents who often travel, especially by plane.
---
Summary
BOB 2016 Sport Utility is made for the long-run. It will grow with your child. It is designed to handle the toughest terrain and provide your baby with smooth and safety ride. This stroller is stable, chunky and perfectly suited for non-paved roads. If you want to include your child to your active lifestyle and you are looking for a stable, safe stroller for off-road jogging, this one will definitelly meet your expectations.

Hello Moms! I am Zooey. I am a wife and a mother of three amazing kids: 3-year-old Haley and almost 1-year-old twins Jesse and Matthew. I am a jogger, cooker and blogger
If you have a question or a comment, do not hesitate to write to me! 🙂