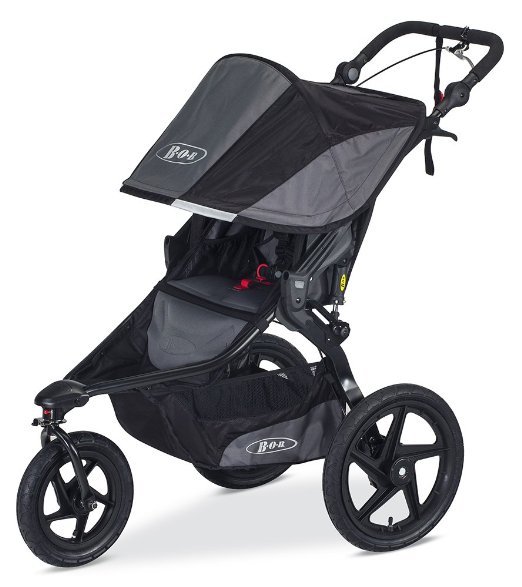 BOB 2016 Revolution PRO is by far the best jogging stroller we have ever used. Me and my husband were finally enjoying long walks and joggings without worrying about a stroller, which was the case with many other models we have tried.
This one has lockable swivel front wheel which makes the product really multifunctional. During running you can lock it, which gives more stability. Swivel option gives you greater maneuverability and ease of navigate in narrow spaces. Thanks to this stroller your baby's ride will be ultra-smooth, even on bumby roads.
BOB Revolution PRO is perfect solution for parents who want to jog or roller skate with their baby. The stroller can be used also for daily trips to the city, strolling to the park or forest. BOB Revolution PRO is not only for parents who plan to have intense workouts with their baby. It is also great for casual strolls over park paths or bumby grass because your baby won't get bumped around too much.
Few things about PRO 2016
BOB 2016 Revolution PRO is the right stroller for you if you plan to run up and down the hills a lot. It has a hand-oparated brake, therefore you have great control on stroller speed and you can slow down quickly, if necessary.
Swivel frost wheel, perfect suspention nad three big wheels with air-filled tires, make the stroller easy to push through country roads, rough surfaces and tight corners. It breezes over any bumps on the road.
PRO 2016 has five-point harness, parking brake and hand brake for your baby safety. It is equipped with large basket below the seat, two mesh pockets inside of the seat (for example for your child's toys) and large mesh pocket on the back for your essentials.
This model has also nine-position adjustable handlebar, which is great for parents of different heights. It is very useful for me and my husband because he's a foot taller than me.
BOB 2016 Revolution PRO is also quite easy to fold in two steps and convenient to storage or for transportation in a car trunk.
You can start using jogging stroller when your baby has good head and neck control and can sit up. The seat can accommodate a child up to 75 lbs.
Great thing about BOB 2016 Revolution PRO is that you can turn it into travel system, so you can use it from day one. You just need a car seat adapter or pram adapter. This stroller is compatible with many popular car seats, for example BOB B-Safe 35 by Britax.
PRO 2016 is very similar to Flex 2016, except for different color versions and weight. Besides, PRO model has a hand brake which makes it better for running up and down the hills. If you'd rather like to jogg in the park at even pace, then Flex model is better option for you, because it doesn't have hand brake to disturb you during running.
PRO 2016 model has few little disadvantages. First of all, it is quite heavy (heavier than the 2015 model). Also, automatic lock and standing fold would be a great addition. But despite this, it is the best jogging stroller on the market in my opinion and I gave him 5 out of 5 stars.
---
Features
BOB 2016 Revolution PRO has many great features which make the stroller really multifunctional.
Large wheels with air-filled tires
Thanks to air-filled tires BOB 2016 Revolution PRO is very stable and agile. The wheels roll on any type of terrain: grass, gravel or mud. The majority of average strollers don't handle that kind of terrain! Many other strollers we've tried bogged down and we had to carry it.
Air-filled tires make all the difference in maneuverability and riding. Front wheel is 12.5", the rear wheels are 16". The tires have updated function of quick-release.
The front wheel is swivel and lockable. Not every jogger has a front wheel that can be set in fixed position, so I found this feature as a big advantage of BOB 2016 Revolution PRO. I've been using this jogger with my Haley on different occasions.
Pivoting front wheel worked great when I was jogging on tough terrain as I usually run through wooded trails or park paths. We lived in a rural area and there were many wooded trails, hills and grassy roads which we often hit, and my Haley didn't ever complain (in fact, she often fell asleep during my jogging).
Locked front wheel was perfect for strolling in the city center while running errands as it gave the stroller more maneuverability.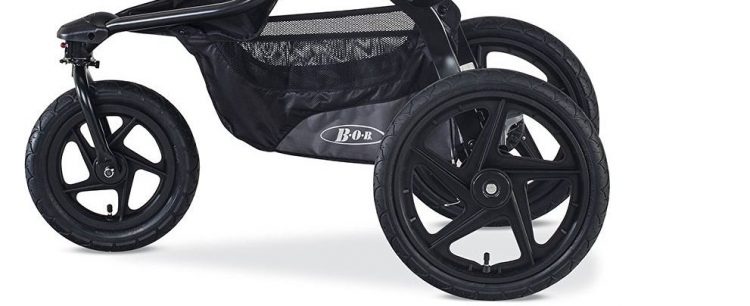 This stroller handles well inclement weather (also thanks to the big canopy and many covers that you can buy separately). Few times when I was jogging with my Haley, it started to rain heavily and we were in a park. There were many puddles, even mud and BOB 2016 Revolution Pro handled them perfectly and we got home safely.
This stroller is very agile and easy to push, even with one hand! We did use it even on sandy beaches when we were running along the water of Pacific. This stroller has air-filled tires, however it doesn't come with an air pump. You can purchase it separately or just use a normal bike pump.
Great suspention
Provides your baby with smooth ride on different terrains. This stroller moves effortlessly through grass or over gravel. The suspention system has two positions, depending on your baby weight and the terrain. Two different shock adjustments make the ride more smooth for children of different age and weight.
Hand brake and parking brake
Hand activated brake is very useful if you often run up and down the hills. Thanks to hand brake you can control the speed of the ride, like in a bicycle. Thanks to the hand brake I have never felt that the stroller was dragging me, I could always keep it at my own pace.
The addition of hand brake makes the stroller much safer to use on hilly terrain. Earlier I have often worried that I wouldn't be able to control the stroller and its speed.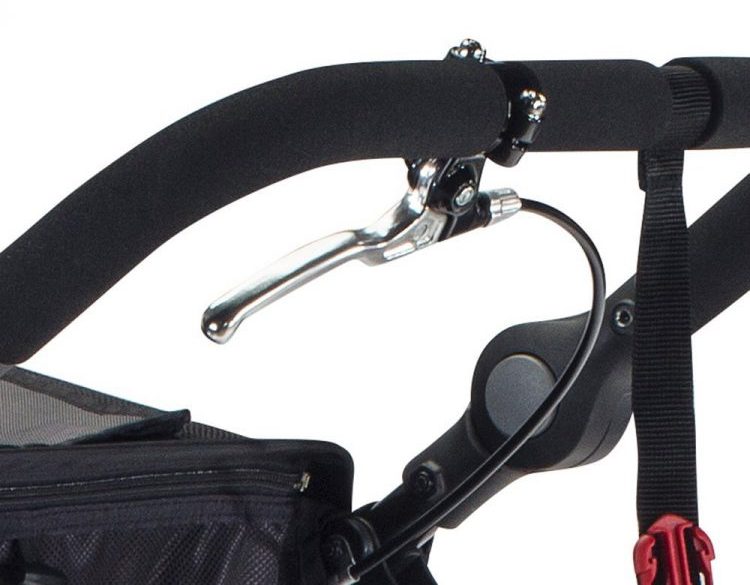 The hand brake is placed conveniently and is easy to reach and use. Because of the rear drum brakes this model is 2 lbs heavier than the Flex model. Hand brake was important and useful for me as we really like to run in a hilly forest.
The second brake is foot-operated and should be used everytime we take a breake and stop strolling or running. What is important, this brake is really nicely placed – it doesn't get in your way while you're jogging or just strolling.
Safety wrist strap 
The strap should be put around your wrist to prevent the stroller from running away from you. It's an extra security for your little one. The strap has also a lock which we use when the stroller is folded, since there is no automatic lock.
Five-point harness
Very important for your baby safety. The harness is nicely padded and straps are really thick. Besides, straps are adjustable to fit the baby properly in the stroller. They ensure that your little passenger stay in a proper position the entire stroll or run.
Roomy and comfy seat
You can use it for at least 6 month old baby and up to 75 lbs. On the BOB's website it says that the seat is designed for 8 weeks baby, but remember that an infant doesn't have enough head end neck control at this time and this seat won't provide enough support for your little baby.
I would recommend using this model (and every other jogging stroller) from 6 months. In PRO 2015 model recline system was two-hand, in PRO 2016 it's one-hand recilne. To bring the seat back up you will of course still need your both hands.
In the newest version, the seat has more upright position, which is great for your baby to look around and explore surroundings. The seat is very well padded and durable since it's made from high quality fabric and has water repellent coating.
The fabric is very easy to clean. BOB Revolution PRO has such a comfortable seat that my Haley prefers to sit in it, rather than in her umbrella stroller!
Adjustable handlebar
This model has nine different positions of handlebar, from 34" to 48" from the ground. It is great feature for parents of different heights. It is useful for us, since my husband is a foot taller than me and he always complained about our old stroller's handlebar, because it was to low for him.
With this model, we are able to adjust the handlebar height that is convenient for both of us! I am 5'2'' and I have rather short legs so I always lowered the handle bar, but my husband (6'2'') can set it higher anytime.
Hudge and adjustable canopy
Protects your baby from different wheather conditions.  This sun shade has many different positioning options and covers almost the entire seat. Nevertheless, to protect your baby from the rain you will still need a rain cover. Canopy is equipped with large peek-a-boo window so you can have an eye on your little passenger.
Plenty storage
There is a large basket underneath the seat (for baby gear like wipes, diapers, clothes, food, drinks etc.). PRO 2016 has also two mesh pockets inside the seat for baby's toys and one big pocket on the back for your essentials.
Adapter for add-ons

 
You can easily and quickly snap the pram or car seat into the stroller. However, you will need a special adapter to do that.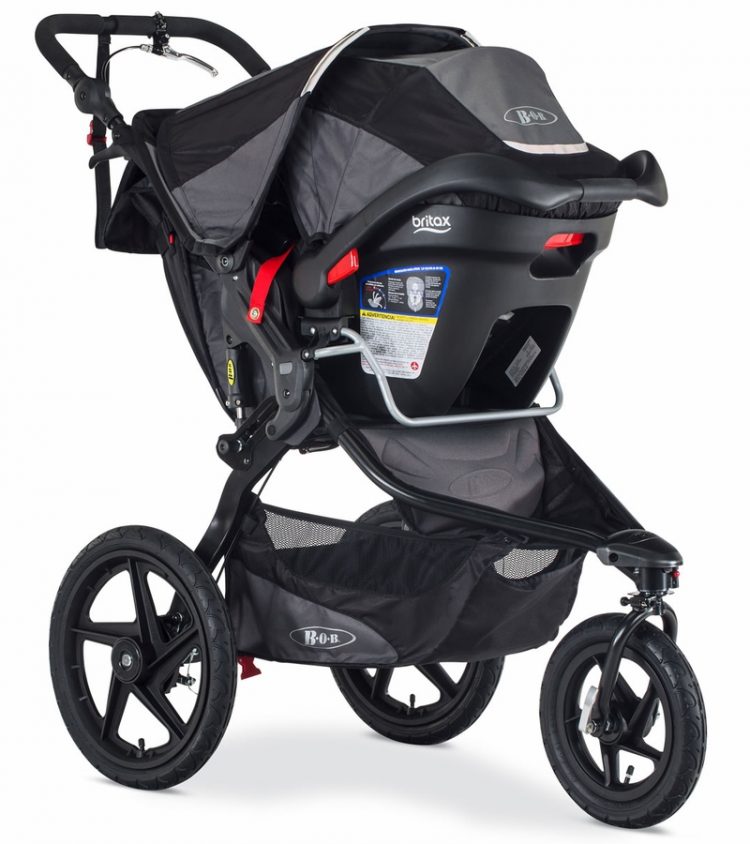 Easy folding

 
PRO 2016 can be folded in two-step process. It requires using two hands, although the producent says it is one-hand folding. But it is still very easy to do. After you fold the stroller you need to put it on the ground and to lock it with with a clip which is attached to the hadlebar. It can be quite difficult and fatiguing, especially for someone with a back pain or moms after C-section.
Weight
PRO 2016 model is quite heavy, it weighs 30.5 lbs (2.3 more than 2015 version, because of the rear drum brakes). Once it is folded you have to lift it and put it in the trunk or up the stairs, and we cannot ignore its big size and weight.
Big wheels, canopy and brakes are great when you're jogging, because they give you stability and safety, but their become disadvantages when it comes to storage and transport.
Size
Like almost every jogging stroller, PRO 2016 is bulky. Even when folded it is large (length: 39", width: 25.5" high: 16"), so it may be hard to storage or fit in the car trunk. The rear wheels can be removed to make it more compact.
Thanks to its features, this stroller is very good for comfortable and smooth ride on rough terrain, but it may not be the perfect primary stroller, since it's heavy and bulky. Especially if you want to use a stroller around town and you want to take it to the mall and shops, I would recommend someting more portable and lighter.
Lack of bumper bar
This jogger doesn't have a bumper bar, but you can get a tray for your baby and it can be used as bumper bar.
Lack of accessories
Parent tray and cup holder are not included in stroller set. So there is no place to keep a bottle (bending down during jogging and reaching for a bottle of watter to a backpocket is really annoying and in my opinion not very safety for your passenger).
I think cup holder is an essential equipment for a jogger! You have to purchase it separately, however the price is pocket-friendly. Nevertheless, I found it a little annoying that I had to pay extra for it.
---
| Pros | Cons |
| --- | --- |
| Large wheels with pumped tires for the toughest terrain | Pretty heavy |
| Swivel front wheel make the stroller more maneuverable | Large and bulky |
| Locked front wheel gives more stability | No bumper bar |
| Excellent suspension | No cup holder |
| Hand brake that allows to control the stroller speed while jogging down the hill | No parent and child tray |
| Safety features: wrist strap, five-point harness, parking brake | |
| Comfortable, padded seat | |
| Adjustible handlebar | |
| Large canopy with peek-a-boo window | |
| Large basket under the seat and three additional pockets | |
| Compatible with many infant car seats | |
| Easy to fold | |
---
Video Review
Here is a video that presents BOB 2016 Revolution PRO features.
Here is a video with BOB 2016 Revolution PRO review made recently by Baby Gizmo.
---
Specification
| Stroller Type | Jogging stroller |
| --- | --- |
| Stroller weight | 30.5 lbs |
| Weight limit | 75 lbs |
| Stroller dimensions | 44'' x 25.5'' x 43'' |
| Folded dimensions | 39'' x 25.5'' x 16'' |
| Handle bar height | 34''- 48'' |
| Seat to canopy height | 23'' |
---
What's new in the 2016 version
Basket: the basket is 15% larger and placed a little lower.
Weight limit: used to be 70 lbs and now the stroller can accommodate child up to 75 lbs.
Seat: fully upright seat for your baby to explore all the surroundings
Recline: it has one-hand recline system operated by strap. This system is very common on many strollers, but it's something new in this model.
Frame- the frame was redesigned and now it's made of more plastic, istead of metal and it's all black.
Wheels – updated quick-release of the front wheel to two step instead of one. This is little inferior than before.
Brakes – it has rear drum brakes activated by the hand. This is the reason why this model is 2.3 lbs heavier than the Flex. The manual brake is easier to engage.
Weight – the stroller is 30.5 lbs now, instead of 28.2 lbs .
Colors – BOB REVOLUTION PRO 2016 is available in new colors.
---
Available color versions
BOB Revolution PRO 2016 is available in three colors: Black, Canyon (orange) and Lagoon (blue). Depending on color the price of this stroller may be a little different. See the color versions here.
---
Warranty
The frame has a 5 year limited warranty and other components and fabric have 1 year warranty. Remember to keep the proof of purchase.
---
Accessories
You can purchase many accessories separately:
---
To sum up…
This stroller is quite heavy and bulky, but as a jogger it serves its purpose. It is great for active parents but its weight could be annoying during daily use. If you live near a wooded trails or recreational facilities with tough terrain or parks, it is definitelly stroller for you!
You can keep up your healty lifestyle, get back into shape after pregnancy or just spend time with your baby and be active at the same time! This stroller is also a great idea for parents who run occasionally, but would like to go on trails or hike.
BOB Revolution PRO is very agile, maneuverable, easy to steer (almost without an effort!), fold and store, and is made of durable materials. This stroller hits all of the key points! If you want to run or stroll with your baby a lot, PRO 2016 is a perfect combination of high-quality and comfort.

Hello Moms! I am Zooey. I am a wife and a mother of three amazing kids: 3-year-old Haley and almost 1-year-old twins Jesse and Matthew. I am a jogger, cooker and blogger
If you have a question or a comment, do not hesitate to write to me! 🙂