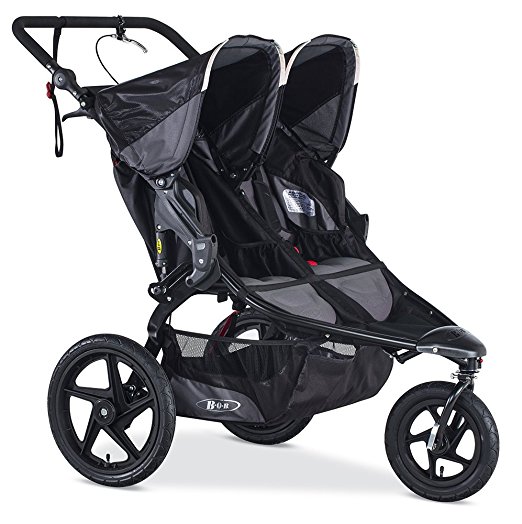 BOB 2016 Revolution PRO Duallie Stroller is a perfect solution for active twin's parents. The single version of this stroller is in my opinion the best stroller for jogging with one child and this one serves his purpose perfectly with two kids.
It is equipped with swivel front wheels which makes the stroller multifunctional. You can use it for running, hiking, roller skating and light jogging. With BOB 2016 Revolution PRO Duallie Stroller you can take your twins (or your newborn and toddler) for little shopping and run some daily errands.
Thanks to the swiveling front wheel and excellent suspension system you can easily ride on off-road terrain and fit into tight corners.
BOB 2016 Revolution PRO Duallie Stroller will provide your babies with very comfortable, smooth and, what's the most important – safe ride! This model has two brakes: one activated by foot and one hand operated, which gives you more speed control, especially during jogging on hilly roads.
This stroller is designed for active parents of twins or two babies of small age different, who don't want to give up their healty lifestyle. This stroller won't slow you down!
---
BOB 2016 Revolution PRO Duallie – functions
Let's see what this stroller can offer to parents of two kids!
Swiveling front wheel
It makes the stroller easier to maneuver, even in tight spaces and corners. You can also lock forward this wheel for more stability which is really useful when you are pushing the stroller on uneven, rough terrain. We tried this stroller on wooded trails, old bumpy sidewalks and sandy beaches. BOB handled everything flawlessly.
This model has polymer wheels with pneumatic tires that absorb shocks and allow you to jogg even on the toughest terrain. The front wheel is smaller – 12,5", and the rear ones are bigger – 16". The tires are filled with air and they need regular inflation in order to continue absorbing shocks. Inflating is very easy and you can do it with regular bike pomp.
Suspension system
Thanks to splendid suspension system, your babies will have smooth rides no matter what terrain you will choose. You can jogg on bumpy grass, beach, uneven paths in the park – this stroller will handle any type of terrain and your little passengers won't get bumped during the ride. The suspension system has two position for lighter and heavier passengers.
Hand brake and foot brake 
Many strollers have only the foot-oparated parking brake (which secures stopped position), but BOB Revolution PRO is also equipped with the hand brake which gives you more control on the stroller's speed. This is great feature for parents who like to run around the hilly terrain. You can be sure that the stroller won't get out of your control! The parking brake is flip flop friendly and it is easy to push even with bare foot!
Many moms were asking me if it's worth buying PRO version with the hand brake, which is little more expensive investment than the Flex version for example. I always say that the hand brake is a great investment especially if you will run or walk on hilly roads. The hand brake will give you more control of the stroller and its speed when you are running down the hill. The stroller is large and quite heavy itself and when you add the passengers' weight and the stuff you take with you (diapers, wipes, toys, snacks etc…), you are pushing at least 90 pounds! I can't imagine running with two kids and their gear without a hand brake in my stroller. Thanks to it I never lose the track. In my opinion, hand brake is an investment in babies safety!
Adjustable handlebar
This is another useful feature that not every stroller has. BOB 2016 Revolution PRO Duallie has nicely padded handlebar which can be set in nine different height positions. It makes pushing very comfortable for parent of different height. I'm quite short person, but my husband is much taller than me, so it is very important for us to have adjustible handlebar.
Safety strap
BOB really cares about your baby safety. That's why this model is also equipped with a safety wrist strap that is attached to the handlebar. You should put this strap around your wrist. Thanks to it the stroller won't run away from you.
Reclining seats
The seats are very nicely padded for your passengers comfort. Each reclines separately from vertical to 70°. Each seat can accommodate a child up to 50 lbs. To recline the seat you just have to pull the straps on the back.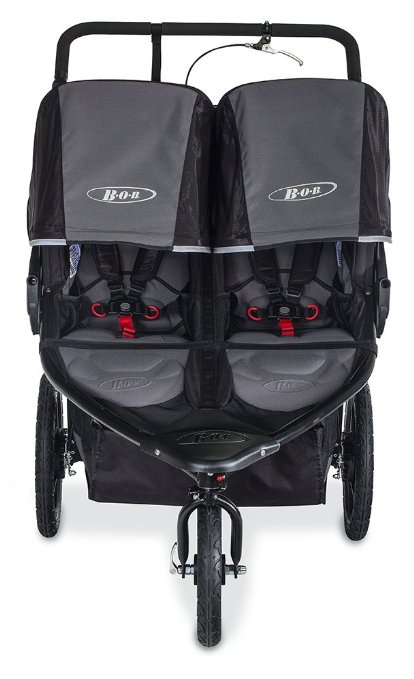 Adjustible canopy
Like every other BOB model this one is also equipped with a large sun shade which can be set in five different positions which gives you up to 125° range of coverage.
The canopy has a large peek-a-boo windows so you can watch your passengers during the whole trip.
Frame 
BOB 2016 Revolution PRO Duallie has a new black frame which gives the stroller more elegant and sporty look at the same time. The frame is made of lightweight materials and it is designed to fold in two steps.
Size, folding and storage
The stroller can be folded in two steps. Then you have to bend down and lock it manually, since it doesn't have automatic lock. The safety wrist strap is designed to provide a handy lock for folded stroller. You can also easily take off the wheels to make the stroller more compact. It is a double stroller after all, so it is quite big and it can be quite difficult to storage or transport. You should check what are the dimensions of the folded stroller and if they fit your trunk. We never had a problem with folding it or fitting into our SUV trunk.
Basket and pockets
There is a large basket underneath the seats, two backpockets – one placed on the back of each seat. You can keep there your essentials during running. There are also four mesh pockets inside the seats (one on each side) which are the perfect place to keep your babies toys or snacks.
Plenty add-ons
You can jogg with this stroller when your babies have perfect neck and head control (which is about 6-8 month old). Before that you can still use this stroller but you will need an infant car seat and adapter for it. BOB Revolution PRO is compatible with many car seats.
One drawback is that you can't swap into two car seats. The car seat adapter, which you need to purchase separately is designed to accommodate only one infant car seat. This was a little disappointing for me, beacuse I can't use it for my newborn twins.
So when we are going for a walk or jogg my husband is pushing the double stroller with one of our newborn sons and our 2,5 year old Haley, and I'm pushing the single version of BOB 2016 Revolution PRO with our other little boy.
If you plan to use this stroller with an infant remember to choose the right version of the adapter. There are special adapters for 2016 version of the stroller. We are using BOB B-Safe 35 car seats by Britax for our boys. Here you can see the car seat and the adapter for it!
The producent offers also many useful gear that unfortunately is not included in the stroller's price: parents and kids trays, weather covers, cup holders etc.
---
| Pros | Cons |
| --- | --- |
| Lockable swiveling front wheel | No automatic lock |
| Excellent suspension system and air-filled wheels for any type of terrain | Pretty large and heavy |
| Parking brake and hand brake for extra control of the speed | It could be difficult to fit into the narrow shopping alleys in malls |
| Adjustible handlebar with nine different height positions | No accessories included |
| Safety features: wrist strap, five-point harness | |
| Large, five-position canopy with viewing window | |
| Reclining, nicely padded seat | |
| Plenty storage | |
---
Video review
Here you can watch a video from BOB Gear, where you can see for example how to fold the stroller.
---
Specification
| Stroller type | Double jogging stroller |
| --- | --- |
| Stroller weight | 36.5 lbs |
| Weight limit | 100 lbs |
| Stroller dimensions | 53.5x 31.5-47.5'' x 31'' (LxHxW) |
| Folded dimensions | 39'' x 16'' x 31'' |
| Handlebar height | 31.5'' - 47.5'' |
---
Color versions
BOB 2016 Revolution PRO Duallie Stroller is available in three color versions: Wilderness (green), Orange and Black. The price may vary a little bit depending on the color version you choose. Normally this stroller costs around 700 dollars but I saw that now there is a discount and you can buy it in a very attractive price! Check out the price here.
---
Summary
To sum up, BOB 2016 Revolution PRO Duallie Stroller will provide your babies with smooth, bump-less ride, whatever the terrain is. It will handle grass, gravel, sand and old sidewalk cracks. Thanks to the amazing suspension system and big air-filled tires the stroller is very easy to steer and turn, especially as for a double! You can push it literally with one hand and it still feels very stable and sturdy.
Of course it is quite large and heavy, but remember it is a jogger and double stroller at the same time! It is not perfect for shopping in the malls as sometimes it could be hard to fit into the small alleys without hitting any counters. But it is not designed for it! 🙂 It is designed for jogging and it perfectly serves its purpose.
It has so many excellent features that compensate its weight and size. The stroller is sturdy, made of high-quality materials, rides smoothly even on rough terrain. It will provide a comfort ride for your passengers and for you.
I know that this stroller doesn't come up with any accessories, since you have to buy them separately, but in my opinion BOB 2016 Revolution PRO Duallie is a smart invesment, considering all its features that provides comfortable and safety ride.
This stroller is a great option for active parents, especially who live outside the city, in a hilly area and plan to jogg, run or hike on tough terrain.

Hello Moms! I am Zooey. I am a wife and a mother of three amazing kids: 3-year-old Haley and almost 1-year-old twins Jesse and Matthew. I am a jogger, cooker and blogger
If you have a question or a comment, do not hesitate to write to me! 🙂