Me and my husband love active lifestyle. Sport, especially running is very important part of our life. We jog, run marathons and half marathons. That's why good jogging stroller is very important for us. Below you can read my review of best jogging strollers in 2017! Enjoy!
Jogging with an infant?
When our daughter came into the world, we knew we wanted to encourage her from an early age to physical activity. And the most important: we wanted to spend with her as much time as we could, but without giving up or sacrificing our passion.
To do that we needed a stoller we could run with. And when Haley was born we made a decision: we are buying a jogging stroller.
We knew a lot about jogging, but not about jogging strollers. We did a lot of research, read many reviews and tested couple of models. After few months we finally found the right jogger for us.
For us, as for any other parents the most important thing is our baby's safety and comfort, which is gaining importance especially during strolling and running together.
We also know that the stroller specification won't tell you everything. The most important is baby's safety and how the jogging stroller works on different terrains.
Having a baby doesn't mean you have to give up jogging!
Couple months ago we became parents for the second time. Our twin boys came into the world: Jesse and Matthew.
For almost 9 months I was preparing myself, searching and buying new baby gear. And I was determined from the very beginning – I'm going to jog with my twins! I have no intention to give up my active lifestyle!
Birth of a child is life-changing. But the fact that your life is focused on the baby, doesn't mean you have to give up your hobby.
Of course you will have less time for trainings, but proper time management and proper equipment will make it easier for you.
Thanks to jogging strollers we can spend time with our babies outdoors in an active way. It can be fun for your whole family.
You don't have to give up running when you have a little baby. I will help you to continue your hobby.
Let's find the best jogging strollers!
Choosing the right jogging stroller is not an easy decision. I tested and reviewed well-known brands, solid and high-quality products that guarantee the safety of your child and excellent driving comfort.
If you want to find out how to choose a jogger, I invite you to read my jogging strollers reviews. And if you ever get lost in the world of joggers, let me know and I will try my best to help you!
The most important joggers' features
Buying a standard stroller requires careful reflection on what we really need and what features will meet our expectations.
When we are looking for a jogger the task is even harder, because we will be running, so the baby will be exposed to more bumps and shocks than during a stroll. We have to find super-safety and comfy vehicle so our little one could join us during running!
Wheels
Most of the joggers has three wheels with pumped tires. Thanks to large and "bicycle" wheels joggers handle any type of terrain.
Besides, usually they absorb shocks very well, so the passenger doesn't get bumped, even during riding over the tough ground.
Air-filled tires requires regular pumping. Don't worry! It's easy and you can use a standard bike pump to do that.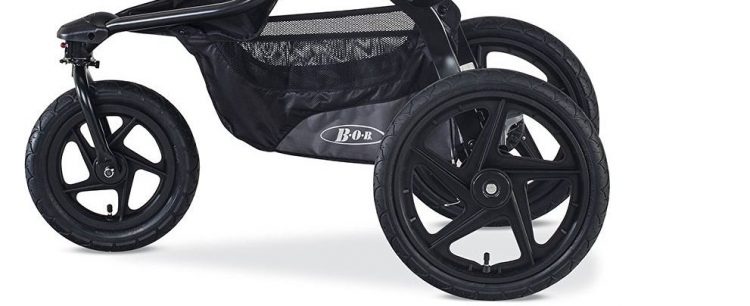 Suspension
Many strollers for jogging have special suspension system. BOB Revolution joggers have THE BEST suspension I have even seen and tried.
They provide such a smooth and comfortable ride, that my kids always fall asleep, no matter if I'm running on grass, beach or bumpy county roads!
I know that some parents go for a bumpy ride to get their baby fall asleep. However, remember that babies have delicate spin and head, and strong shocks aren't good for them in any way! That's why the proper suspension absorbing shocks is such an important features in joggers.
Brakes
Another feature that we should look for when buying jogger is hand brake. Parking brake is a standard, but hand-operated brake is pretty unusual, so I find it a big advantage.
Having a hand brake is very useful especially if we ofren run through hilly area. This brake gives you more control on the speed during jogging down the hill.
Of course not every jogger has an additional, hand-oparated brake. For me this is one of the most important thing in strollers designed for running. But that's my opinion because I'm a big fan of off-road jogging over hilly terrain.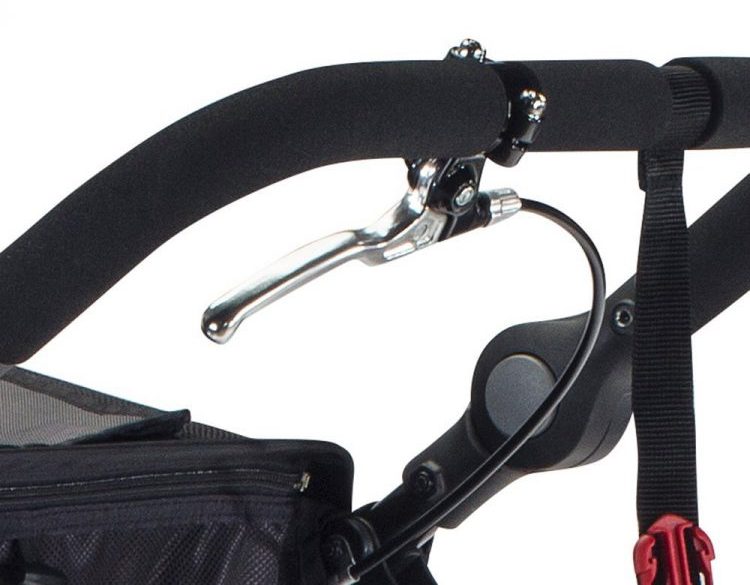 Remember that joggers are designed for running, so the most important is yours and your baby comfort and safety.
Size
I know that most of the joggers is bulky and heavy, which often makes them not suitable for shopping or using public transportation. But this is not their purpose. 🙂
Usually jogger are pretty big, even after folding. They often weighs around 25-35 lbs which can be quite a lot for some women, especially if you have to bring the stroller up the stairs every time. You should keep that in mind, if you had or will have a C-section.
Infant car seat compatibility
Another important thing – we can run with our babies when they have proper neck and head control and can sit up. Before that we can still use the jogger for strolling but only with an infant car seat.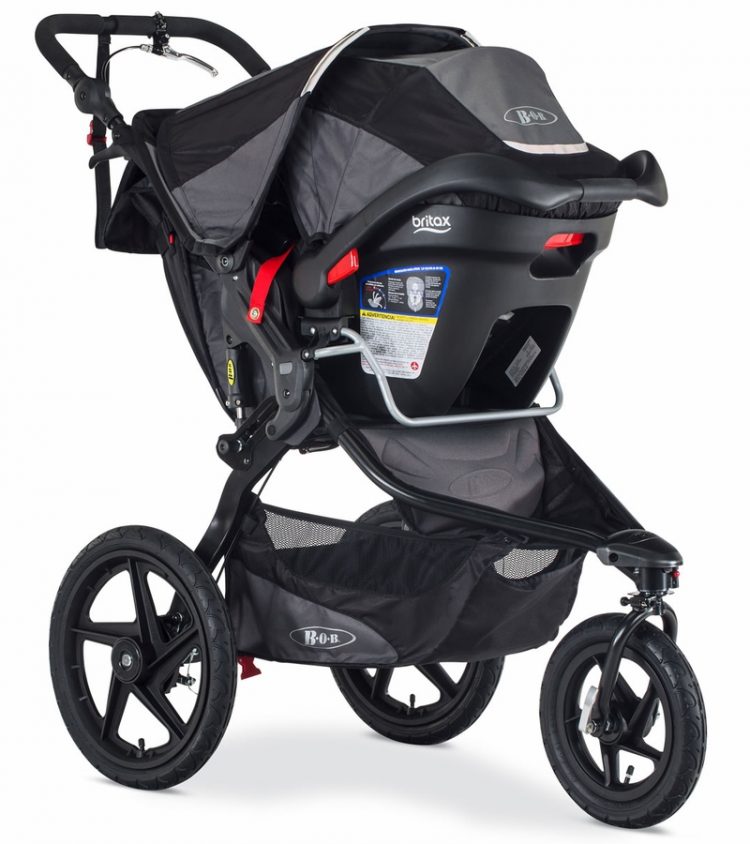 My favorite jogging strollers
My favorite jogger is BOB 2016 Revolution PRO, which has AMAZING suspension, foot-operataed parking brake and additional hand brake and large air-filled wheels for the most challenging terrain.
You can read my BOB 2016 Revolution PRO review here. I also bought this model in double version, when my twins were born.
I have also use couple more strollers for running. I tried BOB Revolution SE and its double version BOB Revolution SE Duallie and they both are great strollers.
I have an opportunity to try BOB Revolution CE, which actually is not a jogger, but an amazing stroller for city use which will also handle rough terrain. But this stroller is not designed to run with it.
If you would like to jog with a stroller, you may consider BOB 2016 Sport Utility. When it comes to joggers from BOB, you certainly won't be disappointed!
If you have two kids and are looking for a heavy-duty stroller that will work excellent on any terrain, I would recommend you Baby Jogger 2016 City Mini GT. It is not a jogger, but handles tough terrain and has many great functions. It will satisfy any parent!

Hello Moms! I am Zooey. I am a wife and a mother of three amazing kids: 3-year-old Haley and almost 1-year-old twins Jesse and Matthew. I am a jogger, cooker and blogger
If you have a question or a comment, do not hesitate to write to me! 🙂