During the first few months we can use a pram for strolling with our baby. The pram consists of a frame, bassinet with a canopy and a basket below it (in most of the strollers). We can use pram from day one, until the baby is 6-8 months old – it depends on the baby's development pace.
Let's find the best baby prams in 2017! Enjoy my reviews!
Pram or infant car seat frame?
I know that when many future parents thinks about strolling with their baby through neighbourhood, park paths or city streets, they imagine a stroller with a bassinet. When I was looking for my first stroller, I only considered buying this type!
The other option for the first months is using an infant car seat frame. Strolling with a baby in an infant car seat during first months is pretty unusual idea, especially for the first time parents. This is of course very convenient alternative, but you can say what you want and I will still be a big fan of prams. 🙂
Many parents decide to use infant car seat frame with their second or third child, because it's simply more convenient. It's easier to transfer from the car and house and we don't have to wake our sleeping baby by taking him/her out of the car seat and putting into the bassinet.
In my opinion, both strollers have some advantages and their very own application. Prams are better if we often go for long walks. Thanks to it baby lies flat and can nap comfortably. Infant car seat frame is a better solution if we don't go for long strolls, but often run errands and drive with a baby.
What to love about prams?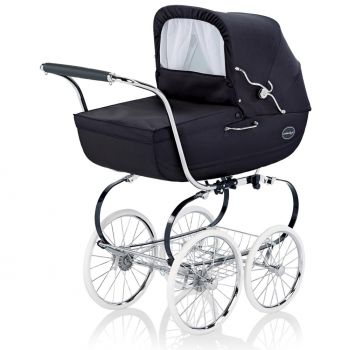 It may seem weird, but the smaller babies, the greater stroller they need, that's why I think baby prams are the perfect solution for newborns and infants.
Only the bassinet provides fully flat position and perfect support for the infants' back which is the best for their delicate spine and lack of head and neck control.
Of course we can also stroll with our little passenger sleeping in an infant car seat. It's very convenient, especially if we often drive before going for a stroll or if we are running errands and often change between driving and walking.
But remember, that infant car seat is not proper for long rides. It doesn't provide a proper position for sleeping newborn during long stroll.
Things to consider when buying a baby pram
If we decide to buy a pram for our little rider, we should choose big, roomy and comfortable bassinet. Our baby comfort is one of the most important things.
Another key aspect is baby's safety. Therefore we should check stroller's stability, maneuverability and durability.
Wheels
Many baby prams don't have large wheels and such an amazing amortization as for example joggers, but we should look for the one with the best possible suspension system and wheels big enough for bump-less rides.
Canopy
Another important thing is the sunshade. It should be big enough to protect baby from the sun and wind and provide nice coverage. The best canopy is the one that is extendable, has a flip out visor and provides good air-flow.
Bassinet and matress
We should also pay attention to the bassinet itself and choose the one that is big and roomy and offers proper stability. The matress should be comfy and soft but also thick enough to provide support for baby's back and head and protect baby from bumps and shocks.
Old prams and modern prams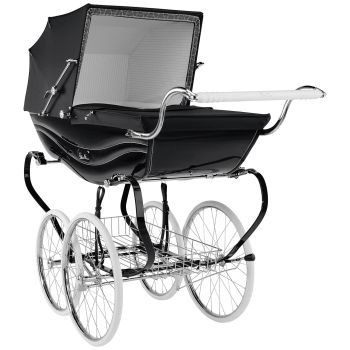 Couple of years ago, when the choice of baby strollers wasn't so vast, parents often bought prams as a first buggy and a small lightweight stroller as a second vehicle for the baby.
Nowadays, we can find on the market only few strollers that are just prams. They usually are stylished as an old model. They look very fancy, but often lack amortization and enough suspension.
Today, we have many convertible strollers, which are very popular and practical. This type offers a normal toddler seat with an option of installing bassinet of car seat.
Pros and cons of baby prams
As any other type of baby strollers, prams have many advantages, but also couple features that parents might not like. Here is my list of prams pros and cons.
Pros
♥Bassinet provides fully flat position which is the best for infant's back.
♥We can find many convertible models which offer huge versatility: we can use that kind of stroller with a bassinet, infant car seat or normal toddler seat which can be switched, depending on our needs.
♥Many models are lighter than joggers or travel systems.
♥I must admit – strolling with a pram is very stylish! 😉 We can use it only for few months – babies grow sooo fast, so we should use this time!
♥There are few models with really great amortization and suspension.
Cons
×Some models are pretty big, wide and heavy.
×Storaging or transporting might be a little difficult. This type of stroller often takes up pretty big space.
My favorite baby prams
There are few models on the market that I really like, not only for stylish look but also for great functions, versatility, safety features and durability.
This is my favorite one. This stroller offers huge versatility. We can use it for two newborn by installing two bassinets. The second seating option is one bassinet and one toddler seat, which is great if we have two kids with a small age difference. Third option is using two toddler seats which means this stroller actually grows with babies.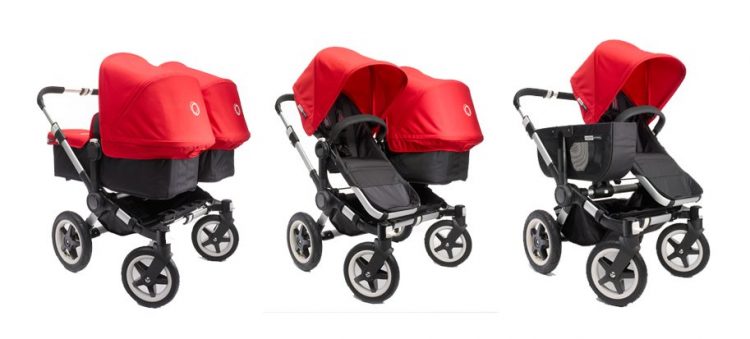 Another great thing about Donkey is that we can use it only with one seat: for toddler or newborn, and the other one switch for an additional basket. It is very multifunctional stroller. Besides, Donkey has great wheels with pneumatic tires and extendable telescopic handlebar – which is very useful for parents of different height like me and my husband. Here you can read my full review on Bugaboo Donkey Twin Stroller.
This stroller can be used from birth to toddlerhood. We can push our infant in a bassinet and when he/she developes head and neck control we can switch it for a toddler seat. This seat can be parent or forward facing.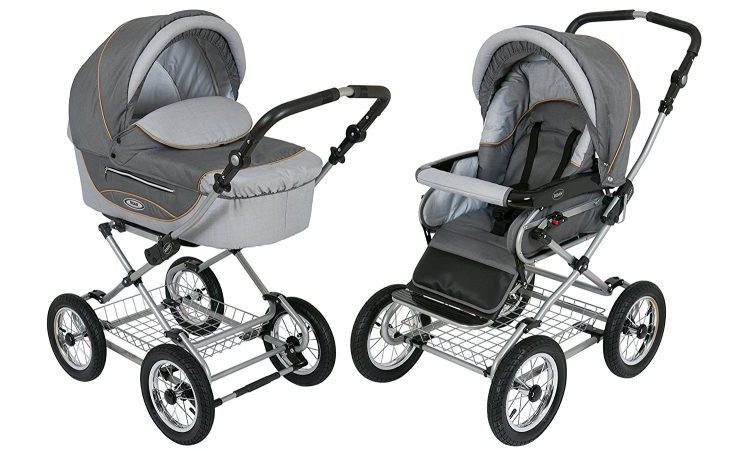 Roan Kortina Clasic Pram offers great suspension and multi-terrain air-filled wheels for comfortable and smooth ride. It has also adjustable handlebar and large, spacious basket underneath the seat. Toddler seat has adjustable footrest and backrest, and it is equipped with five-point harness for baby safety.

Hello Moms! I am Zooey. I am a wife and a mother of three amazing kids: 3-year-old Haley and almost 1-year-old twins Jesse and Matthew. I am a jogger, cooker and blogger
If you have a question or a comment, do not hesitate to write to me! 🙂